Most years aren't like this one. We don't usually have Arctic weather, and you don't think of southern Indiana as a perfect place for skiing.
But Clyde "Chip" Perfect, general manager/co-owner of Perfect North Slopes, would disagree with the second point.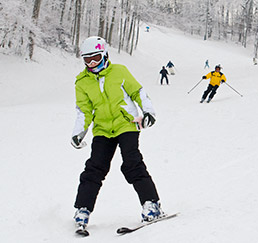 The top peak is 400 feet at Perfect North. (Photo courtesy of Perfect North Slopes)
Perfect—who, in addition to being an entrepreneur, running for state Senate, serves as the first-ever Midwest-based chairman of the National Ski Area Association—has been in the uphill/downhill business since 1979. That's when his parents and siblings opted to sell some cattle and transform their Dearborn County family farm into a ski destination, hoping to draw visitors from nearby Cincinnati and beyond.
"People in the community thought we were crazy," Perfect said. "We were latecomers to the ski industry. We had no real experience. We were beginners, and so our orientation has always been toward beginner skiers. That's our primary market, and it has served us well. But we certainly didn't anticipate it becoming what it is."
What Perfect North has become is a park with 23 ski and snowboard trails, 25 lanes for snow tubing, two terrain parks, 230 mounted snow-making guns and, in the off season, a mud course with more than
40 obstacles. Perfect, who has run the show since his parents retired, employs 35 full-time and 1,200 seasonal workers. (Sixty percent of employees return year to year, compared to an industry average of about 20 percent.) Perfect North has also served as a site for the Indiana Special Olympics.
Perfect North also offers snowboarding and tubing. (Photo courtesy of Perfect North Slopes)
"The first year, we had about 700 visitors," Perfect said. "That's a typical Saturday for us now."
And those visitors add up. Perfect North attracts 300,000 of them annually, second only to Hollywood Casino in its draw, according to Dearborn County Convention, Visitor & Tourism Bureau representative Jennifer Clayton. According to a 2011 study, these guests drop an average of $83 per day per person at Perfect North, which has led to the need for more restaurants and hotels, including a 180-room Doubletree Hotel set to open in late spring.
With investments in a wide range of local businesses, including a local 10-screen movie theater, an Italian restaurant, a dirt-track speedway, and "a few other things," Perfect knows firsthand the multiplier effect. "When we first started, it was almost all day trips. Now we're more of a regional destination with people coming further distances."
One skier who didn't come far was Nick Goepper, a member of the 2014 U.S. Winter Olympic Team who grew up in the area.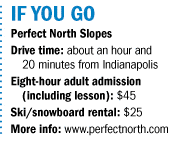 "Everybody here remembers him," Perfect said. "When he was a little kid, he'd come here every day. He was always pushing the envelope. As a teen, everything would come to a stop when Nick was out there. He was so fun to watch. He's a shining example of how, if you are passionate about something and you give it your all, sometimes the sky's the limit."
Perfect said the interest generated by the Olympics usually bears fruit a season later. More influential this season have been the biting temperatures that have made southern Indiana colder than Colorado. According to Perfect, the Arctic blast has been "a double-edged sword.
"We need cold weather and snow to get [potential customers] hyped up, but we are one of the southernmost ski areas in the country. People in this area are a little nervous about driving in the snow. We will actually do better on a blue-sky 40-degree day than a 20-degree snowing day."
That's because of Perfect North's ace-in-the-hole: snow guns.
Like most of its industry peers, Perfect North builds its own snow-making machinery, honing the process every year. And it's one of the leaders in terms of snow-making capacity—even when compared to areas five times its size—because it has to be. This year's blizzards may skew the numbers a bit, but Lawrenceburg's 19.54 days a year with an average of more than an inch of snow is never going to come close to, say, Aspen's 78.41 days.
Have there been overtures from potential buyers?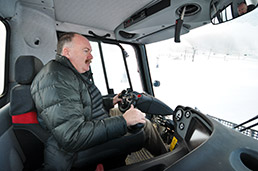 Clyde 'Chip' Perfect runs Perfect North Slopes on the family farm. (Photo Courtesy of Perfect North Slopes)
"The ski industry is a small industry. There's only really about 400 viable ski areas in the country," Perfect said. "I know those guys. They covet Perfect North and would like to have it. But it's our family farm. I don't think we're going anywhere."
Especially if he wins his bid for the Indiana Senate.
"There are some places I really didn't think I would end up," Perfect said. "But as a small-business owner, I can't help but feel the impact of government on businesses in a way that I didn't dream was imaginable"
He began imagining it when longtime State Sen. Johnny Nugent, who has represented the 43rd District since 1978, approached him about vying for the seat Nugent would be vacating. "He twisted my arm a bit, and I agreed to step up."
Pretty good for a guy whose resort has been mocked as having hills no larger than a pitcher's mound. (They're actually 400 feet.)
"It's a shame we don't get the respect in the media," he said.
But in the industry, Perfect North picks up more praise, not just for its innovative use of snow-making technology but also for being an important link in the chain to getting beginners into the sport.
"Ski areas offer an uphill/downhill experience—with snow as the coefficient—where we allow people to slide," said Michael Berry, president of the Colorado-based National Ski Area Association. "And Perfect North has captured that as perfectly as any place. If you look at the lifts, the buildings, the infrastructure, it's built to last.
"Perfect North," he said, "is an exemplary model of a small ski area."•
Please enable JavaScript to view this content.