T2 Systems Inc. recruiters admit that developing parking software doesn't jump out as an exciting job opportunity—especially considering the company needs people who can easily find work at much larger corporations.

Competing for talent against Indianapolis-based ExactTarget, Angie's List or Interactive Intelligence is hard enough without worrying about Google or Facebook, says T2 Human Resources Director Elise Crowder.

The 140-employee company, which makes software for managing commercial garages and parking lots, is among a rising number of growing tech firms in Indianapolis needing more skilled workers—quickly.

So the north-side office provides a children's playroom, an arcade game and a beer keg to lighten the corporate culture and entice workers.

"We're in the parking industry, so it's not like it's a totally cool, hopping, fun industry," Crowder said. "It's one of the ways we just keep the morale high."

Industry goliaths in Silicon Valley have thrown lavish perks at employees for years. But go back 15 or 20 years when the practice became commonplace, and Indianapolis' software sector was virtually non-existent.

Employment, while still far from the longer-established tech hubs, has skyrocketed in recent years. Jobs in computer- and math-related careers rose 8 percent between 2009 and 2012 as the rest of the job market fumbled, according to federal data. And annual pay grew 10.5 percent, to an average of almost $73,000, while other wages stagnated.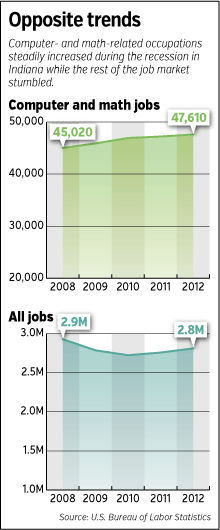 The trend has bolstered the local ecosystem for tech firms—but also means a lot more companies are looking for workers, heating up competition.

The situation—companies trying to be cutting-edge with employee benefits because of hot demand for workers—shows that a tech culture has arrived in central Indiana, said Kate Caldwell, director of career services for Indiana University's School of Informatics and Computing in Bloomington.

About a third of the school's undergraduates stay in Indiana after collecting their diplomas, which is the top destination. But local tech leaders still want to see that number grow.

"For some, it may play into, 'I want to be closer to home," when they decide to stay in Indiana after graduation, Caldwell said. "But there are really good opportunities here now."

Most of the city's software and computer companies are small, which means they have tough competition for recruiting employees, considering what major players can offer.

Publicly traded Interactive Intelligence boasts some of Indianapolis' highest salaries and most generous benefits, including tuition assistance and personal-computer loans on top of the usual insurance and 401(k)s. Then there are the amenities and fringe benefits: on-site health care; a fitness center with classes; and a climbing wall, a game room, and dry-cleaning pickup and drop-off, to name a few.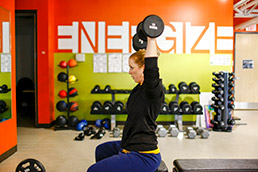 Betsy Patterson takes advantage of Interactive Intelligence's on-site gym. Other company benefits include a climbing wall, a game room and café. (IBJ photo/Aaron P. Bernstein)
All the offerings were enough to prod Interactive ahead of even such tech giants as Google on recent lists of best places to work. Employee-survey site Glassdoor in December ranked Interactive seventh in the United States. A post on prominent blog Mashable in January placed Interactive as the No. 2 tech employer.

Yet even Interactive, with all its spoils, has to provide something deeper to entice people with technology and engineering skills.

The 1,850-person company, which is relatively small by public-corporation standards, pushes its "entrepreneurial spirit." Interactive tries to win over prospective hires by telling them they can make a much larger impact than at major companies, said Kim Kean, vice president of human resources. It's something that connects employees more emotionally to the business than offering them the occasional massage or dry-cleaning pickup.

Indianapolis firms don't stand a chance against such deep-pocketed industry leaders as Microsoft and Yahoo when it comes to compensation and benefits, said Brian Dineen, a Purdue University associate professor specializing in human resources.

A virtual arms race among some of the biggest tech companies has existed for years but has escalated as multimillion-dollar, and in some cases billion-dollar, investments in facilities have been revealed in California.

"If you're wooing employees just on things like compensation and fancy perks, you're liable to lose them to the next person who one-ups you," Dineen said.

Tech grads scatter

Software developers and other tech workers usually have a little more say in where they find jobs after collecting their degrees because their skills are in high demand. They don't have to scour job postings in the hope of landing steady work like other graduates who have struggled in recent years.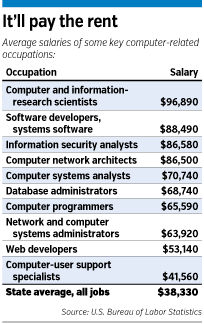 Instead, tech graduates frequently weigh multiple job offers, said IU's Caldwell.

At the informatics and computing school, 34 percent of bachelor's-degree earners remained in Indiana during the 2012-2013 academic year. Most of the others found work in the Midwest. Master's graduates scattered more, with 22 percent staying in Indiana while just as many moved to California.

Caldwell could not pinpoint a consistent lure for the students. Ultimately, it comes down to the basics: their skills, interests, values and personalities.

Office perks can draw a job seeker's attention to a company. Or into the field.

But the employer's deeper culture is usually what wins over prospects.

"It may not be as much about the rock wall or the fitness facility," Caldwell said. "But as they're walking through on the tour, they're seeing everyone saying 'Hi' to each other and they're working collaboratively or maybe they can work from home."

Bagels 'status quo'

Indianapolis won't be home anytime soon to an office like Apple's planned $5 billion corporate campus in Cupertino, Calif.

But in an industry where fun offices are often the expectation, not the exception, even the small companies need to keep up to a degree. Otherwise, they might miss out on prospective hires.

"I think the days of having snacks and bagels on Tuesday are almost a status quo," said Jenn Taylor, senior vice president of human resources for Appirio Inc., a San Francisco software firm with a 100-employee office in Indianapolis.

"By no means are we providing full meals like some of the other technology companies, but some of those basics are a given."

The company provides perks such as bicycles for getting around downtown Indianapolis because it's both affordable and different.

That sort of benefit also reinforces a deeper corporate value, Taylor noted. Allowing employees to take a bike out of the office demonstrates management's trust.

That part is free.

'Starts with people'

Recruiters and executives at several Indianapolis tech companies said the same thing: Over-the-top amenities can be good at hooking someone into an interview. But ultimately, it's camaraderie among employees that tends to win over job applicants in Indianapolis.

"Every win is a win for the entire team. A couple times a week you'll hear cheers in our office," said Dustin Sapp, co-founder and president of software firm TinderBox Inc.

"Everything starts with people—everything. You can buy toys all day long," Sapp continued, noting he recently installed foosball and air-hockey tables in the 40-person company's new office on Monument Circle. "I don't know if I've ever seen anyone play with them. That's not why they came to work with us."

Interactive Intelligence echoes the sentiment as it looks to fill more than 100 positions in Indianapolis.

The Glassdoor reviews that earned the company an Employees' Choice Award describe the work environment as "fun" and "low-stress." But management style was a major driver of the ranking. CEO Don Brown has a 99-percent approval rating after 223 reviews.

After the traditional questions about salaries or insurance, job candidates tend to care most about their opportunities to move up the corporate ladder, said Kean, the vice president of human resources.

"The fringe benefits—the rock wall, the fitness center, those types of things—they help differentiate us," she added.•