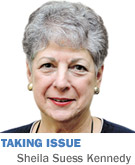 Tax cuts have consequences as predictable as the sunrise.
The politicians who cut taxes boast about their concern for taxpayers and their superior efficiency; they assure us that our low taxes will lure new business, then they run for higher office or otherwise head for greener pastures where the accuracy of those claims is unlikely to be tested.
The politicians who have been left to operate with less money engage in equally predictable behaviors. In order to get around the new constraints, they sell public assets; raid sinking funds; or offload expenses in other, equally creative ways. Most of these clever strategies have significantly negative long-term consequences—but as the saying goes, long term to a politician is just until the next election.
Here in Indianapolis, we've just had two reminders of how this works.
Reminder No. 1: Mayor Ballard recently announced his intent to initiate a car-sharing program using electric cars and charging stations. It's a good idea. However, in order to fully launch the program, the city will have to pay ParkIndy—the private consortium that manages the city's parking meters—$16.9 million for the privilege of using our own curb lanes. That expense might be enough to torpedo the program.
The city could have upgraded its own meters, but the much-hyped 50-year deal with a private vendor generated desperately needed "upfront" money. That deal also required the city to pay ParkIndy every time we take a parking meter out of service, either permanently or temporarily. The city has already had to fork over a considerable amount to compensate the vendor for temporary blocking of curb lanes due to construction projects.
There were two major objections to outsourcing the city's parking infrastructure: The private operator's profit significantly reduces the amount the city could have realized had it managed its own meters; and, there would be costs and problems associated with giving up control of the city's curb lanes, especially during development projects.
Chickens, meet roosts.
Reminder No. 2: Citizens has just announced a substantial water rate increase.
When the city sold its water and sewer utilities (a sale that made a lot of practical sense), the promise was that "proceeds" would be used for street and sidewalk repair. The problem was, the utilities had a negative value of some $3.5 billion. Essentially, the purchase price was an agreement to assume their liabilities. A straightforward assumption of liabilities, however, would not have resulted in "proceeds,"—the "upfront" cash windfall the city needed to repair infrastructure and supplement dwindling tax revenue.
What to do?
The city got creative; upfront money was generated through the modification of PILOT amounts (payment in lieu of taxes) payable to the city by Citizens Energy. Certain not-for-profit entities are required to make such payments under state law. As part of the transfer agreement, Citizens "voluntarily" recalculated the amount due annually to the city under the state statute requiring a PILOT payment. The city then issued bonds, secured by the amount of the increase, and used the proceeds of those bonds to repave streets and repair other decaying infrastructure.
The mayor, running for re-election, could and did claim credit for completing very visible public improvements "without raising taxes." But that's true only if you deny that you have turned ratepayers into taxpayers.
There is no free lunch. We can pay as we go, or we can believe in the low-tax fairy and pay (much more) later.•
__________
Kennedy is a professor of law and public policy at the School of Public and Environmental Affairs at IUPUI. She blogs regularly at www.sheilakennedy.net. She can be reached at skennedy@ibj.com. Send comments on this column to ibjedit@ibj.com.
Please enable JavaScript to view this content.