Anyone walking through Washington Square Mall's largely empty corridors would quickly conclude that the once-bustling shopping destination isn't much of a mall anymore.
Owner Simon Property Group Inc. seems to agree. In a filing with the Securities and Exchange Commission late last month, the Indianapolis company for the first time removed Washington Square from its mall listings, instead classifying it among a hodgepodge of "other properties."
The reclassification coincides with a precipitous drop in the mall's occupancy—which as of Dec. 31 was just 43.8 percent, the lowest of any of Simon's 295 U.S. properties, the filing shows. Occupancy was a respectable 86.6 percent in 2011 before slipping to 77.2 percent the following year.
Retail brokers say the recent free fall follows decades of economic setbacks on the east side, including the closing of huge factories along Shadeland Avenue that once provided middle-class wages to thousands of Hoosiers.
Retailers have opted to plant their flags in parts of the Indianapolis area where residents have more disposable income, said Bill French, a veteran retail broker who serves as senior managing director with Cassidy Turley.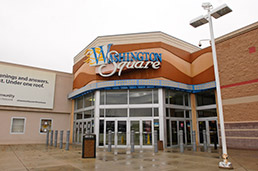 The east-side mall still has big-name anchors, but interior corridors are plagued with vacancies. (IBJ File Photo)
Another issue is that the original developer, Ohio-based DeBartolo Realty Corp., built the mall on Indianapolis' fringe in anticipation of more residential development in nearby Hancock County than has come to pass, French said.
The contrast is stark between the growth near that mall, which opened in 1974, and the growth that sprang up near Castleton Square Mall and Greenwood Park Mall, two other properties from the same era that also are now owned by Simon
Signs posted around Washington Square optimistically proclaim, "Lease this space and get more. More customer traffic year round." But on a recent weekday afternoon, shoppers were scarce. There was hubbub inside Foot Locker, but that was only because workers were packing up merchandise in preparation for moving to a nearby strip center.
The mall took another hit last month when one of its original tenants, MCL Cafeteria, closed for good after 40 years of operation.
Washington Square still has some big-name anchor tenants, including Sears, Dick's Sporting Goods and Target. And a few national players occupy the small shop spaces, Indianapolis-based Finish Line among them. But most of the small spaces that aren't vacant have second-tier tenants, such as Dr. J's Beauty Supply and MMA Fit Club, a mixed martial arts studio.
It doesn't help that the small shops have no visibility from Washington Street, unlike the occupants of strip shopping centers nearby, said Frank Swiss, the principal broker at Swissco Real Estate.
Asked how Simon could turn things around, Swiss said, "That is the million-dollar question."
Simon officials did not respond to requests for comment on their plans for the property, or on why they ceased classifying it.
In its recent SEC filing, Simon suggested the mall's financial performance might be stronger than its lowly occupancy would suggest. It noted that vacant anchor space is owned by another company "but we still collect rent and/or fees under an agreement."
Still, Simon appears to be deep underwater on the property, which has two mortgages totaling $27.8 million. After Simon fought property tax assessments on the mall for 2006-2010, the Indiana Board of Tax Review in 2012 sided with the company, valuing the property at just $9.5 million for 2010.
The problems at Washington Square are unusual for Simon, which built its reputation on Wall Street by running thriving upscale malls—properties like Fashion Mall at Keystone and The Forum Shops at Caesars in Las Vegas.
At an investor conference this month, CEO David Simon rattled off a long list of the company's achievements. He noted that its top 100 properties are 98-percent occupied and that those properties produce lofty sales per square foot of $758 and generate two-thirds of the company's operating income. And he noted that for 11 of the last 13 years, Simon's stock has outperformed the S&P 500.
Quoting a famous line from comedian Adam Sandler, Simon said, "That's not too shabby."•
Please enable JavaScript to view this content.