Cummins Inc. announced Wednesday morning that it will build its global distribution headquarters on the two remaining parcels of the Market Square Arena site downtown.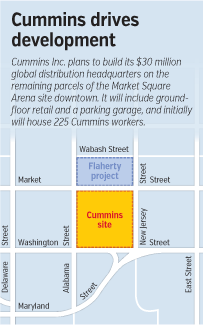 The $30 million development, which will include ground-floor retail and a parking garage, initially will house 225 Cummins workers but will contain space for a total of 400. The Columbus, Ind.-based diesel engine maker currently employs about 100 employees in in multi-tenant office space downtown. Those existing workers will be consolidated into the new building.
Mayor Greg Ballard announced the project early Wednesday. IBJ reported late last year the deal was brewing.
Cummins emphasized in the city's press release that its overall corporate headquarters will remain in Columbus.
Cummins will purchase the four-acre site bounded by Market, Alabama, Washington and New Jersey streets from the city for $4.3 million. The city said it will invest $3.3 million in infrastructure improvements and parking on the site and abate 70 percent of the development's property taxes for 10 years.
 
Cummins said it has not yet begun designing the building but is committed to contributing a significant architectural element to the downtown Indianapolis landscape.
 
Construction is expected to begin within the year, with the building opening by late 2016.
 
 
Please enable JavaScript to view this content.