Nothing less than the future profitability of commercial airlines rides on the jet engine that GE Aviation will assemble in Lafayette.
GE Aviation and its rival Pratt & Whitney are both rolling out next-generation engines that promise to use 15 percent less fuel, plus lower emissions and noise. And while General Electric Corp. has a significant backlog of orders, the long-term prospects of its LEAP engine are uncertain until airlines see whether it delivers the performance that's been promised in all-new technology.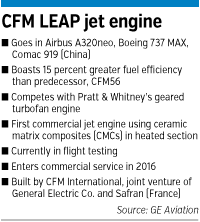 "It's cutting-edge technology that hasn't been proven yet in revenue service," said William Storey, president of Teal Group, an aerospace and defense market analysis firm based in Arlington, Va.
GE executives have been conservative in their projections for Lafayette, where on March 26 they announced they'll invest $100 million to build and equip a 225,000-square-foot plant in Park 350. They expect to hire 200 people by 2020, at which point they expect to crank out 600 engines a year, or about one-third of the total production.
The other production sites are in Durham, N.C., and France. (GE produces the LEAP, which stands for Leading Edge Aviation Propulsion, with French aerospace supplier Safran Group through the joint venture CFM International.)
If all goes well, the LEAP will follow in the footsteps of its predecessor, the CFM56, which is the most successful commercial aviation engine in history, Storey said. The LEAP is being flight-tested and is slated to enter service in 2016.
The LEAP is designed for narrow-body, or single-aisle, jets, which are a step up from regional jets and are the most common type of aircraft sold.
Boeing made the LEAP the only engine option for its new 737, the 737 MAX. But airlines buying the Airbus A320neo can choose between the LEAP and Pratt & Whitney's product.
The two companies took completely different approaches to the engineering hurdle of reducing engine weight and improving fuel efficiency. Their respective engine technologies represent the main improvements to the new aircraft, according to an analysis by Flightglobal Insight, the independent research and analysis arm of U.K.-based Flightglobal.
So when an airline chooses an engine for the Airbus A320neo, it is "tacitly taking sides in an ongoing, furious debate about the future of gas turbine engine technology," Flightglobal said in its 2013 report on the commercial engine market.
"Prospects for the long-term profitability of many of the world's airlines rests on the ability of CFM International and Pratt & Whitney to deliver the power plants that should enable the next generation of narrowbodies to provide a step-change improvement in operating economics," Flightglobal said.
GE began working on the LEAP in 1999 with a focus on new materials. The LEAP will be the first commercial jet engine to use ceramic matrix composites, which are lightweight but can withstand temperatures hot enough to melt even metals that are under a flow of cool air.
Pratt & Whitney took a completely different route to fuel efficiency by redesigning the structure of its engine.
With the CFM56, GE had the upper hand over Pratt & Whitney on maintenance costs, but it may have given up some of that advantage with the LEAP design, Flightglobal said.
So far, airlines buying the A320neo are evenly split in their engine preference. The LEAP is on 35 percent of Airbus' orders, and the PW1100G is on 31 percent. The remainder is undecided, Flightglobal said.
Even with the competition from Pratt & Whitney, GE thinks it will control about 75 percent of the narrow-body market. The company already has a backlog of 6,000 orders for the LEAP.
GE plans to break ground in Lafayette this year and start hiring in 2015
Big win
Indiana officials are counting the engine plant as a huge win, though at first blush, GE's investment and hiring projections seem modest compared with past economic-development deals.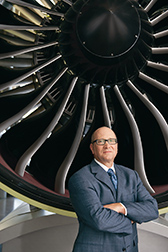 GE Aviation President David Joyce announced on March 26 plans to assemble a new jet engine in Indiana. (Photo courtesy of GE Aviation)
Honda, the last major manufacturer to come to Indiana, employs about 1,000 people in Greensburg and has produced 650,000 Civic sedans since the fall of 2008.
GE Aviation President David Joyce said his company's presence in Lafayette could grow over time.
"If things go according to plan and the facility works the way we think it will, then there'll be natural opportunities to expand," he said.
GE will enter a long-term lease with a developer for just one portion of a 100-acre site in Park 350, but the rest is being reserved, Tippecanoe County Commissioner Tom Murtaugh said.
One reason GE chose Lafayette was to partner with Purdue University on advanced-manufacturing research.
The plant will have the latest manufacturing technology available to GE, Joyce said. With a high degree of automation, the plant won't require numerous hands in the assembly process, but its work force will be highly skilled.
The projected average pay is $36 per hour, which works out to $74,880 a year, and Joyce noted that the line workers are actually industry-certified mechanics.
GE's projections for Lafayette belie the value of the engine business, now and over the next generation.
Teal Group projects that CFM will sell more than 1,200 LEAP engines in 2017 and a total of 10,812 through 2023, essentially picking up where its predecessor leaves off. Jet-engine makers really earn their profits on maintenance and replacement parts, so each engine that's installed now represents more business down the road.
"There's very little chance it will not be huge, if not a worthy replacement of CFM's accomplishments," Storey said of the LEAP. "It's a 25-year engine. It's a very lucrative outlook."
Teal Group pegs the value of LEAP sales at $3.3 billion in 2017 and projects they'll ramp up to $21 billion by 2020.
With GE expecting to ship one-third of its LEAP engines from Lafayette, that represents $46.7 billion of the $140 billion in sales that Teal Group has projected through 2023.
Indiana was one of five states in the running for the plant and ultimately beat out Tennessee.
Former Gov. Mitch Daniels said he first met Joyce late in 2012, when Daniels was one of several political leaders invited to GE's corporate headquarters. Knowing he might soon be named president of Purdue University, Daniels talked up the school.

Pence
"I was just doing what I did, trolling for business for Indiana," Daniels said.
The Indiana Economic Development Corp. learned last fall that the state was indeed in the running for the assembly plant. Gov. Mike Pence sought out General Electric CEO Jeffrey Immelt while he was in Indiana for a meeting.
"You know, it's not in the state constitution, but I understand I'm the salesman-in-chief for Indiana," Pence said after the IEDC approved a package of income-tax credits and job-training grants for GE on March 25.
Pence said the meeting with Immelt took place before he announced his 2014 legislative agenda, which included repealing the state's business-equipment tax. He said he sold Indiana as a total package, from low taxes to work-force innovation. "We just told Indiana's whole story."•
 
Please enable JavaScript to view this content.