Poor mortgage lenders.
Refinancing applications in January were down 60 percent from a year ago, and mortgages for purchases off nearly 20 percent, laments the Mortgage Bankers Association.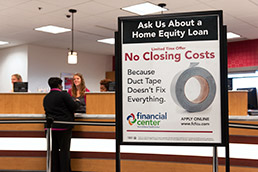 Financial Center Credit Union has begun marketing home equity loans again. (IBJ photo/Eric Learned)
But just when all seemed bleak, the product reviled and thought extinct after the 2008 housing crash that decimated property values may save the day for lenders: the home equity loan/line of credit.
Though still off 90 percent from its peak, home equity lending was up 26 percent in January from the same time last year—the first increase since 2006, according to Jacksonville, Fla.-based Black Knight Financial Services.
"The financial industry has seen a resurgence in home equity lending," said Jeff Leising, retail market manager of BMO Harris Bank in Indianapolis, citing stabilizing home values and rising homeowner confidence.
With many consumers having previously refinanced their first mortgages at historic low rates, "they're not going to touch their first mortgage. So the home equity is the product of choice right now," said Mike MacDonald, vice president of retail lending at Indianapolis credit union Financial Center.
Borrowing against home equity was all the rage during the boom times of the mid-2000s. Consumers cashed out a heaping of equity for vacations, vehicles, credit card payoffs and home improvements. They were lured by the prospect of a tax deduction, to boot.
But such loans also helped fuel consumer indebtedness. And after the financial crisis brought tumbling property values, some consumers owed more on their home loans than the house could sell for on the market.
Home equity borrowers who'd lived in their houses nearly 30 years struggled with the prospect of decades more of payments. They put their one big asset at risk by betting they'd have the cash flow to write the check each month, said Grace Worley, a principal of Worley Erhart-Graves Financial Advisors.
To rub salt in the wound, many plowed that equity into depreciating assets such as cars rather than toward improving the home, which generally is an appreciating asset over time.
"I think they're starting to use their homes like a piggybank, again," Worley said.
Death 'greatly exaggerated'
Indeed, a report issued late last year by Equifax and Moody's Analytics declared that reports of the death of home equity lines of credit were "greatly exaggerated."
The financial tracking firms said new originations of home equity lines of credit were running at a rate of $20 billion per quarter last year—up 15 percent from 2012.
Of course, that's a far cry from $80 billion to $100 billion in monthly originations seen before the recession.
"Home equity lending will never reach the fever pitch it did during the housing boom," the report said, "when borrowers used second mortgages to avoid paying mortgage insurance and extracted their home equity with abandon to finance their consumption."

Reichmann
Local lenders generally declined to quantify their levels of new home equity business, citing the intensely competitive nature of the local market.
But Randall Reichmann, regional CEO of Old National Bank, said, "There's no question we're seeing a pickup. … People are feeling more confident."
Lenders say that, actually, they never stopped making home equity loans. But often, home appraisals didn't come in high enough to support loans customers sought, Reichmann said.

Newbold
"Home values have firmed up quite a bit, which opens that [home equity lending] back up again," said Mike Newbold, regional president of Huntington National Bank.
Pent-up demand
Not only has that situation improved, but so has the pent-up demand for money to install new windows and for other home maintenance projects that had been deferred after the financial crisis, Reichmann said.
Interest in home equity loans has been such that Indianapolis-based First Internet Bank has been conducting a pilot advertising program in states where it makes first mortgages around the United States, said Kevin Quinn, senior vice president of retail lending at First Internet.
The bank didn't go as deeply into home equity loans during the glory days, which perhaps is fortuitous given the mortgage delinquency problems incurred by many of its brick-and-mortar competitors.
"I think there was such a massive pullback from regional and super-regional [banks]," he said. "They had portfolio issues to deal with."
But many a lender lately has been rolling out attractive home equity deals, such as Old National's offer of a line of credit at 1.49 percent for the first four months and a 3.74 annual percentage rate thereafter. It also touts no closing costs.
Financial Center is offering similar deals lately, and even has bought space on a billboard to tout home equity offerings. It's nowhere near the omnipresent pitches for such loans before the financial crisis, and is still a rarity.
Lenders are buoyed that some prospective home equity borrowers have a better shot at qualifying now that home values have risen. In addition, many who refinanced in recent years did so for shorter periods than the typical 30 years, observed Shawn Niehaus, senior vice president of retail lending at Fifth Third Bank in Indianapolis. That has entitled them to borrow a bigger percentage of their equity.
Middle-age borrowers
Whether the financial crisis has made consumers more gun-shy about taking on home equity debt is hard to say.
Huntington's Newbold said those seeking such products are often in the 30-to-50 age range and often are thinking about reducing other debts in anticipation of retirement.
"The faces have changed, but the demographic stays pretty much consistent," Newbold said.
As for whether banks have raised the bar to qualify for such a loan, especially after regulatory reforms, local bankers claim there's not much change.
However, Black Knight Financial Services said the resurgence in home equity originations is concentrated in the "super-prime" borrowers—those with average credit scores in the neighborhood of 779 and up.
While things are looking up for home equity loans, trouble could be on the horizon for those who obtained them a decade ago when the getting was good.
In the next few years, many of those loans requiring interest-only payments for the first 10 years will start to reset. That could add hundreds of dollars a month in borrowers' payments.
The Office of the Comptroller of the Currency projects that $167 billion in such loans will be reset in the next three years. Some may have to refinance their mortgages. Others might seek dispensation from their lenders to avoid foreclosure.•
Please enable JavaScript to view this content.