There is typically only one way to buy health care from a hospital: a la carte. But that is starting to change.
Indianapolis hospitals have begun to offer joint replacement surgeries to employers and insurers using "bundled prices." That means, instead of billing piecemeal for each individual service and supply, the hospitals wrap everything needed from just before to just after surgery into a package deal.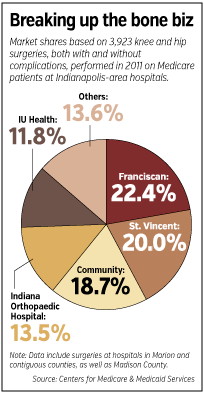 The Indianapolis Orthopaedic Hospital, Franciscan St. Francis Health and Community Health Network all started offering bundled prices in recent years. And now Indiana University Health is preparing to launch a bundled price on hip and knee replacements later this year. St. Vincent Health so far does not offer bundled prices for joint replacements.
Even though the bundles provide a discount on surgeries that can cost as much as $60,000, there have been few takers so far. For instance, Franciscan has had 15 patients choose the package deal in the past two years—though Franciscan's Indianapolis-area hospitals perform more than 2,000 joint surgeries annually.
But large employers are growing increasingly interested in the idea as they try to control spending on one of the most expensive health care procedures.
And Indianapolis-based health insurer WellPoint Inc. is adding fuel to the concept with its reference-based pricing program for joint surgeries, which required its health plan members to pay any amount of a joint replacement that exceeded $30,000.
"The market's going there," said Kevin Sliwa, a health benefits consultant for large employers at Indianapolis-based MJ Insurance, noting that more than one of his firm's clients is looking at using the concept in some form.
A 2013 count by the hospital consulting firm The Advisory Board found 37 bundled-pricing programs offered by hospitals to employers or insurers. Most of those were for either orthopedic or cardiovascular surgeries.
"I think that's just going to become table stakes," Sliwa said of hospitals' bundling prices for orthopedic and heart surgeries.
Hospitals, however, hope it can become more than just the price of entry. They hope bundled pricing brings them higher volumes of patients.
"We're looking to compete in a competitive marketplace, and we're looking to maintain and grow our volumes," said Keith Lauter, chief financial officer at Franciscan St. Francis Health. He said Franciscan wants to sign contracts with employers and insurers around the Midwest and possibly even around the nation, to bring patients to Indianapolis for joint replacement surgeries.
The Indianapolis Orthopaedic Hospital has been having similar discussions with national employers, but has yet to secure a contract, said Dr. Tim Dicke, president of the orthopedic hospital and the physician practice that owns it, OrthoIndy.
Franciscan hired Denver-based BridgeHealth Medical to market its bundled price on joint surgeries to self-funded employers and third-party administrators that they hire to process medical claims.
Lauter declined to say how much Franciscan discounted its joint surgery price over its usual charges. But, he noted, a bundled payment program started by the federal Medicare program for seniors calls for discounts of 2 percent to 3 percent.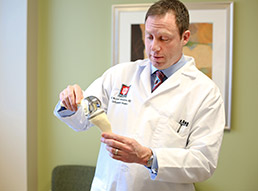 Dr. Michael Meneghini, director of joint replacement at IU Health Saxony Hospital, demonstrates an orthopedic knee implant. (Photo courtesy of Indiana University Health)
Medicare offers the larger discount if hospitals provide a bundled price not only on joint surgery, but also on the 30 days of follow-up care for surgery patients.
Currently, Franciscan is offering bundled prices—both to Medicare and to employers—that focus just on the surgery, but it is evaluating whether to expand its bundles to include the post-surgery care as well.
The Indiana Orthopaedic Hospital also offers a bundle that focuses just on the surgery, not the extended follow-up care.
But IU Health is looking at offering a bundled price that would include both surgery and follow-up care.
"IU Health is exploring a bundled payment model for hip and knee replacements that would cover the duration of a patient's stay as well as a period of time after they leave the hospital," wrote IU Health spokesman Gene Ford in an email. "Such an approach could benefit patients in multiple ways, including greater coordination of care across settings, and lower costs passed on to payers."

Dicke
Dicke, president of the Indiana Orthopaedic Hospital, identified two key issues that have so far held back the progress of bundled prices for joint replacements.
First, employers and third-party administrators often aren't able to handle some services differently than how they pay for everything else.
Second, employers have so far not been willing to steer their employees to one provider via financial incentives—rather than give them a full range of choices of doctor and hospital.
"There hasn't been a market for this as the self-funded employers have not carved out specialty care in their health care purchasing," Dicke wrote in an email. "Patients have not been incentivized to shop wisely because their out-of-pocket expense is usually capped by their health plan. With this, it doesn't matter to the patient if the hospital is being paid $50,000 or $30,000 for a joint replacement if their out-of-pocket maximum is the same."
Those problems might be changed by WellPoint's reference-based pricing program, which it is offering in conjunction with the medical price transparency company Castlight Health.
In California, the California Public Employees Retirement System saved 19 percent on joint-replacement surgeries in a one-year trial of reference-based pricing. The program capped payments for joint surgery at $30,000, which immediately caused patients to prefer providers with prices under that level and caused providers to cut their prices to at least that level.
Ken Weixel, a Deloitte health care consultant, said hospitals, insurers and employers all know they need to move away from paying piecemeal for health care, because that system has encouraged higher and higher health care spending that has now become unsustainable.
"We know we have to do something about this, because it's a sixth of our economy, the payment schemes don't work, they're antiquated, and they don't line up the risks and rewards right," he said.
Bundled pricing would be a better way to go, Weixel said, but the transition will be difficult and messy.
"This will be incredibly disruptive to the health care industry if we move to this form of payment," he said.•
Please enable JavaScript to view this content.