TV ratings for the IndyCar Series zoomed 44 percent this year for the races leading up to the Indianapolis 500, compared to the same period a year ago, buoyed in part by a strong showing for the new Grand Prix of Indianapolis. But overall viewership remains anemic—less than one-fourth the audience for most NASCAR races.

Several sports marketing agencies told IBJ that achieving at least an average Nielsen Media Research rating of 1.0 for IndyCar Series races, which would equate into 1.1 million homes nationwide, is key to bringing more and deeper-pocketed sponsors to the series.

Last year, 18 of 19 IndyCar races earned a TV rating lower than 1.0, and 12 of them earned ratings under 0.4. Three of the series' 2013 races had fewer than 200,000 U.S. households watching. By comparison, Game 1 of the NBA's Eastern Conference Finals pitting the Indiana Pacers and Miami Heat attracted 215,000 households in the Indianapolis metro area alone.

Low TV ratings have been an albatross hanging around the series' neck for years.

Moroknek
"The trickle down effect of the TV ratings is a really big issue," said Dave Moroknek, a former IMS executive who now runs MainGate Inc., an Indianapolis-based merchandising company licensed to sell IndyCar and Indianapolis 500 goods. "It not only hurts the series' ability to sell sponsorships, but also affects the teams' efforts."

The Indianapolis 500 was the only 2013 IndyCar race to earn a Nielsen rating higher than 1.0, but its 3.68 rating was down 15 percent from 2012. The new Grand Prix of Indianapolis on May 10 scored a .92, by far the best of the 2014 season so far.

"We keep hearing how great the IndyCar product is, yet the ratings continue to lag. So what's the problem? It's difficult to say other than to say moving the needle on TV ratings is notoriously hard," said Larry DeGaris, director of academic sports marketing programs at the University of Indianapolis. "That explanation isn't going to win you any sponsors. They need to get it figured out and turned around."

Miles
There are signs of hope as Hulman & Co. CEO Mark Miles, who was hired 17 months ago, puts his overhauled staff in place.

Through mid-May of last year the series had an average TV rating of 0.33 (363,000 households) for three races, according to New York-based Nielsen Media Research. During the same time period this year, the series has an average rating of .58, or about 638,000 households, for four races.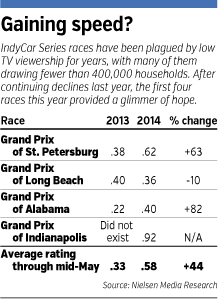 The series got a boost this year by having two of its first four races on ABC. Last year, the series' first four races were on cable channel NBC Sports Network.

"I'm not going to stand here and say we're working off the strongest base, but we're making progress," said C.J. O'Donnell, who was hired away from Ford Motor Co. by Miles in November as chief marketing officer over the IMS and IndyCar Series. "This is only the beginning. We have a lot of work to do."

Help is on the way

The series' viewership on NBC Sports Network has been putrid, but that could get a boost when NASCAR begins airing some of its races on the cable channel in 2015.

Another big bump could be coming from the series' new title sponsor, Verizon Wireless. Sources familiar with that deal—signed in March—said Verizon has promised to spend at least $5 million annually for at least the next five years to promote the series. Verizon officials wouldn't confirm that figure.

"We're fully committed to IndyCar," said Verizon spokeswoman Laura Merritt. "They're cutting-edge and we're cutting edge, so it's a perfect match. We're going to incorporate the series into our marketing in a number of dynamic ways. You're going to start seeing some big things later this year."

Despite the series' challenges, UIndy's DeGaris is bullish on Miles and his new regime.

"I sense that for the first time in a while, they're taking a more measured approach to building the business and building an audience," DeGaris said. "It took years of [deterioration] for the series to get in this condition. And it's going to take some time to rebuild."

Marketing budget increase

Important building blocks for future growth are being put into place, O'Donnell said.

O'Donnell cites a new plan to more closely partner with tracks hosting IndyCar races and a double-digit percentage boost in the marketing budget as signs of the new regime's commitment to increasing live attendance and TV ratings. The Speedway is spending 50 percent more this year than last to promote events at the track during May.

The new marketing initiative started in February with a social media campaign to get IndyCar fans to share their fond memories of IndyCar races. In the last month, the ad campaign has been expanded to print, TV, radio, billboards and more digital ads.

O'Donnell said year-over-year attendance has increased for each of the first three races this year. The fourth race, the Grand Prix of Indianapolis road race at the IMS, was a new event.

Good news at IMS, but ...

While the IMS doesn't release its attendance figures, Speedway President Doug Boles said the inaugural Grand Prix on May 10 exceeded its 40,000 attendance goal and that ticket sales for the Indianapolis 500 on May 25 appear to be headed upward.

"In 2011, for the 100th anniversary of the [Indianapolis] 500, we saw a big attendance spike," Boles said. "We maintained that in 2012 and 2013 and with the momentum we've built this year, we think it could increase."

Nearly 1.5 million U.S. households watched the Indianapolis 500 qualifications May 18, which is another sign interest in the Indianapolis 500 is growing.

This year, Miles launched a new shootout format for qualifications and it resulted in the highest TV ratings for qualifications in a decade.

If the IndyCar Series is to survive, Miles and his staff must focus their resources beyond Indianapolis, said Tim Frost, a Chicago-based motorsports business consultant.

"To have a healthy series, they have to have a healthy slate of races, and they've had some issues with disjointed marketing," Frost said. "The series and its race promoters haven't always been on the same page."

Merchandise sales—like so many things for the series—have been a mixed bag for IndyCar. While MainGate's Moroknek says his company's Indianapolis 500 merchandise sales are up 15 percent this year over last, sales of IndyCar Series souvenirs haven't grown in several years.

"The series has to build fan bases for their drivers," Moroknek said.

Copying Ford Motor Co. playbook

One of the keystones of O'Donnell's growth plan is implementing a program to make the host tracks' relationship with IndyCar mirror what Ford has with its myriad dealers. The plan calls for consistent marketing and promotions across markets, providing race promoters and tracks more "tools" and also sharing resources to save money.

"Our strong dealer body was one of our best tools at Ford," O'Donnell said. "Replace dealer with promoter and that's what I hope to create here."

O'Donnell also is working with Nielsen to launch a specifically targeted national TV advertising campaign, using viewer trends and preferences to get the series' message to the right audience. He calls the campaign "cutting-edge."

Meanwhile, he says with Miles blessing he's continuing to augment his staff with new hires.

"The general feeling is we're starting to climb our way back into people's minds," O'Donnell said. "What we've done so far is just the tip of the iceberg."•