When it looked like John Green's 2012 novel "The Fault in Our Stars" would sell out its first printing of 150,000 copies, New York Times op-ed columnist Frank Bruni wrote, "Those are big numbers in the beleaguered world of publishing."
Bruni was right. With young adult novels—where a 5,000 first printing is not unusual—150,000 was impressive. Nobody at the time, though, could have predicted where the book was headed.
On the brink of the June 6 national release of the 20th-Century Fox film version of the novel, there are now 10.7 million copies in print worldwide. No, those aren't "Da Vinci Code" numbers, but it puts Green into an echelon that includes Stephen Hawking's "A Brief History of Time" and the job-searching staple "What Color is your Parachute?"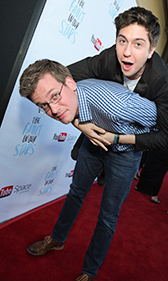 Actor Nat Wolff, right, and author John Green horse around at a "The Fault In Our Stars" promotional event. (AP photo)
Even if he contracted for only a standard 15-percent royalty on the retail of those 10.7 million books, said one publisher, that could put his earnings above $6 million. Or, as another national publisher—who would love to do a book with Green—put it, "The guy is rolling in dough."
And that doesn't include the movie deal and millions of dollars to date in merchandise sales.
Success for Green, 36, has been many years in the making. Born in Indianapolis, the Kenyon College graduate started to make his name writing for the wonky magazine Mental Floss while living in New York. His audience base grew through a video blog he created with younger brother Hank.
The blog helped grow a loyal fan base and draw readers to his early books, "Looking for Alaska," "An Abundance of Katherines," "Paper Towns" and "Will Grayson/Will Grayson" (the last co-written with David Levithan), all of which had reasonably successful initial sales figures. But all have gotten a boost thanks to the extensive coattails of "The Fault in Our Stars."
For those who haven't yet succumbed to friends insisting, "You must read this book," "The Fault in our Stars"—set largely in Indianapolis—concerns Hazel, a teen with cancer who, in a support group, meets a young man whose leg was amputated during his battle with osteosarcoma. Obsessed with her favorite novel, Hazel dreams of visiting its reclusive writer in Amsterdam.
No need to spoil the rest, but suffice it to say that it deals with illness and death in a far more realistic way than "Love Story," the go-to tragic romance of an earlier generation. Visit Goodreads.com and you'll find "Fault" at the top of the Popular Tear Jerker Books list, leaving Nicholas Sparks' "A Walk to Remember" in the dust.
After numerous false starts, Green wrote the novel after his wife, Sarah Urist Green, took a curatorial position at the Indianapolis Museum of Art (which she has since left to produce The Art Assignment for PBS Digital Studios) and they relocated to Indy's north side.
Marketing savvy pays
Green's marketing savvy—including offering to sign every one of the 150,000 first-edition copies of the novel—helped push the book onto (and off the) charts. Having 2.3 million Twitter followers and an army of "nerdfighters"—followers of his Vlogbrothers YouTube channel (now numbering over 2 million)—certainly helped as well. Just posting the title on Twitter caused the book to become number one for pre-sale at Amazon.com and BN.com before Green even finished writing it.
The book received additional boosts when reviewers used words like "luminous," "a triumph," "instant classic," "pitch-perfect," and "a smartly crafted intellectual explosion of a romance." Time Magazine picked it as the top fiction book of the year; it landed on the top 10 lists for Entertainment Weekly, The Wall Street Journal, and USA Today, and "The Today Show" selected it for its book club. (Green credits his Penguin books publicist, Elyse Marshall, with helping get adult critics to read a YA novel). In April, Time named him one of its 100 most influential people.
Consider this: The Indianapolis/Marion County Library has more than 230 copies in the system—all checked out or on hold—with more copies on order and 166 hold requests waiting in line. Expect that line to extend even longer when the film opens.
Box-office glory?
But will the rest of the movie-going public respond to a movie that is likely to be casually referred to as "that movie about the girl with cancer"?
Brent Lang, senior film and media reporter for Variety, said "Fault"—which stars Shailene Woodley and Ansel Elgort (both recently seen in another young-adult-hit film adaptation, "Divergent")—looks on pace for a $35 million opening, "which is pretty good considering that it's a mid-budget film [$12 million] going up against Tom Cruise in 'Edge of Tomorrow.'"
Lang predicts it will end up doing better than the Cruise action flick.
"In terms of other young adult books," he said, "it will not be the juggernaut that 'Hunger Games'/'Twilight' are and may be smaller than 'Divergent,' but it will do better than 'Beautiful Creatures' and 'The Mortal Instruments.'"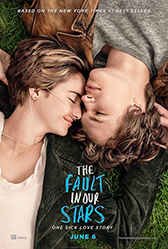 The Fault In Our Stars is set for national release June 6.
"Also interesting to note," he said, is that, although this is a young adult book, it has no "fantastical elements." That's true for all of Green's fiction. Unlike Harry Potter, Katniss Everdeen and those pale-faced "Twilight" vampires, Green's characters are grounded in the real world.
"It's about a young girl with terminal cancer," Lang said. "Which makes its box office climb all the more surprising."
Michael Phillips, film critic for The Chicago Tribune (who has yet to see the movie), is more guarded about its prospects.
"With futuristic films, there's a visual element that sparks curiosity. This one is going to have to be good to have a chance of finding an audience. It doesn't have what a lot of people require to get off their asses to see it. That's the bittersweet reality of it. But I hope it's good enough to get people to discover it."
How the Green factor will affect the film is difficult to tell. He's been vocal about his pleasure with how the film turned out, attending events both here (including a May 27 party and screening) and around the country.
"My expectations were very low with the film," Green told IBJ. "I have a lot of friends who have had movies made and it's usually a pretty unpleasant experience. I was lucky with the cast, with the screenwriters … the whole way through. I'm immensely proud of it."
(One less-than-ideal element: Although set in Indianapolis—including key scenes at the Indianapolis Museum of Art's "Funky Bones" outdoor skeleton statue, the film was mostly shot in Pittsburgh, which offered the filmmakers more attractive financial incentives.)
Its $12 million budget certainly makes profitability easier to reach. "Beautiful Creatures," which cost $60 million and grossed about the same amount, is considered a failure. If "The Fault in Our Stars" scores even that relatively modest amount, there shouldn't be much complaining.
Author as star
And that's where the John Green factor may come into play. While most readers would not be able to pick authors Cassandra Clare, Veronica Roth or even "Hunger Games" scribe Suzanne Collins out of a lineup, Green's visibility and presence in his fans' lives could help guarantee that those millions of book buyers transform into ticket buyers.
When 20th Century Fox launched a "Demand Our Stars" contest, where the public could vote on which city the movie's stars would visit, Green (a self-described introvert) was included as prominently as the young actors and was met with rock-star like reactions from thousands of book-clutching attendees.
Said a reporter for Cleveland.com: "Somewhere around 3,000 teenagers, give or take a gazillion, waited in a long line all day to see a 36-year-old writer and father of two who lives in Indiana and calls himself a 'nerdfighter.' They were screaming, and some were crying, not for a boy band. They were screaming because they were in the presence of an author."
"Here's the thing with John," said Justin Kroll, film reporter for Variety. "He is almost as beloved as his work is, which is rare. Most fans just flock to the material and leave the person writing it be. I think if ["Fifty Shades of Grey" author] E.L. James showed up at some kind of event, fans really wouldn't care. But if Green did, he would cause some kind of ruckus. His Instagram and other social media outlets really have an effect with fans and will only help this film and future films."
"Honestly," said film critic Phillips, "if they got a 10th of the book's audience, I think they would be pleased."
Locals are used to John Green exceeding expectations.
"When we opened Indy Reads Books," said Travis DiNicola, executive director of literacy charity Indy Reads, "Green was the author we wanted more than anyone. He agreed to read and sign at our opening and he was great. We had a line out the door with nearly 300 people."
He's also been a great seller.
"Our two best-selling authors are John Green and Kurt Vonnegut," added DiNicola. "Each month, we have an in-house contest to see who is selling better. Vonnegut was ahead for a little while in the winter but John has the lead again."
What's next?
When he talked to IBJ last winter, after being selected as one of the newspaper's Forty under 40 honorees, Green said, "I would be cool with going back to being a regular young adult writer. I don't want to sound ungrateful for the blessings of this book. I'm so grateful. But I never thought I'd find such a broad audience. I don't think of myself as a best-seller type of writer."
Try telling that to the millions hungry for his next book. Or film adaptation.
"[The film is] going to have an immediate impact," Variety's Kroll said. "You'll see studios chomping at the bit to get in business with this guy."•
 
Please enable JavaScript to view this content.