The decision earlier this month by WIBC-FM 93.1 to part ways with longtime newsman and host Steve Simpson has many radio listeners and advertisers wondering if straight-up news radio is dead.

Replacing Simpson with right-leaning Tony Katz as host of the news-talk station's morning show has just as many folks questioning the future of one of the state's oldest news-gathering organizations and most profitable radio stations.

"Steve Simpson became someone in this market people identified with and trusted," said Sue Doron, Indiana University director of media planning and a former ad agency media buyer. "So his departure is bound to create some questions. A lot of people want to know, 'What's next?'"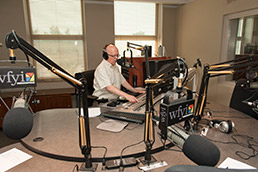 Don Hibschweiler is part of WFYI-FM 90.1's staff of nine newspeople. The public station is the only radio outlet left in town that produces dedicated news broadcasts without opinion.(IBJ Photo/Eric Learned)
What's next for Indianapolis-based Emmis Communications Corp.-owned WIBC is a new direction, in which station executives want their broadcasters to wrap the news in "opinion and perspective."

But intertwining news and opinion can be tricky for any business that brands itself as an objective news operation.

"Opinion does not necessarily mean partisan politics," said David Wood, WIBC's program director. "It's making the complex understandable."

But listeners and advertisers will have a hard time not noticing that WIBC's entire lineup is headlined by conservative talkers such as Greg Garrison, Rush Limbaugh, Dana Loesch, "Chicks on the Right," Abdul-Hakim Shabazz and now Katz, who will join the station June 30.

"If their lineup is right-leaning, their so-called interpretation of the news is going to be right-leaning," said Robert Unmacht, a partner at iN3 Partners, a Tennessee-based investment banking consultancy focused on radio.

Simpson
With Simpson's departure, the only local station that still employs non-opinion-oriented news hosts is WFYI-FM 90.1, a National Public Radio affiliate. Most Indianapolis radio stations air news updates voiced by local TV news personalities as part of partnership deals. WIBC plans to continue offering updates on local stories from its own news staff, alongside national stories from Fox News.

Wood defended the hire of Katz, who originally interviewed with WIBC last year for the afternoon slot that "Chicks" filled.

"Tony is definitely an opinion guy," Wood said. "But he's broader than just a conservative pundit. He's a character, he's a creative, he's curious and he's fun to be around on the radio. He's not just a guy who's going to be a replicator of Rush."

The approach of adding more opinionated talkers, Doron said, is a two-edged sword.

"Personalities sell talk radio," she said. "But personalities can also be polarizing and that can be something that some advertisers want no part of."

Radio stations nationwide felt that pain when Limbaugh, a syndicated host with a large audience, made controversial comments about Georgetown University law student Sandra Fluke in 2012. Forty-five advertisers reportedly pulled out of Limbaugh's show nationwide in the wake of Limbaugh's calling Fluke a "slut" on the air. Unmacht said there has since been a pullback on other opinion-driven talk shows that continues to hurt the sector.

While Doron said WIBC's format still draws an "older and affluent" audience that is attractive to a fair number of advertisers, Unmacht said there's little proof that Gen X, Gen Y and subsequent generations will embrace the format of opinion-driven talk radio the way aging baby boomers have.

"This is not a programming decision for the long-term future," Unmacht said.

WIBC's Wood said their research shows that opinionated talkers still sell in this market.

Political motivation?

Right or wrong, the decision to aim the station to a conservative audience is driven by business principles, not personal politics of WIBC or Emmis management, Wood said.

"If you want to stay in business in this industry, you make decisions based on ratings and research data," said Tom Taylor, publisher of industry radio trade publication Tom Taylor Now. "I think that's what WIBC has done."

Emmis made its decision to lean further right with Katz in the morning and "Chicks on the Right" in the afternoon only after studying a bevy of analytics and self-commissioned market research, Wood said.

He scoffed at the notion that WIBC was run by a homogenous right-wing staff as some have suggested on Internet message boards and social media in the wake of Simpson's departure.

Miles
"There's a large diversity of opinions in our building and in our news department," Wood said. "But we all have one goal. What we're trying to do is reach the largest audience we can."

WIBC's path might well have been set when the station brought on Limbaugh more than a decade ago. For years, he has attracted the biggest audience for WIBC, and radio experts said management found itself trying to retain that massive audience through the rest of its time slots.

That's particularly difficult to do with a straight news approach, Taylor said.

"It can be difficult to build a consistently solid listening audience with straight news, because people tune in, get the information they need and tune out," Taylor said.

There's another challenge as well, he said. "It's extremely expensive and often only works financially in the very largest markets."

WIBC's first attempt at retaining Limbaugh loyalists was to bring in Dana Loesch's show after Rush's noon to 3 p.m. time slot.

"We were not holding on to Rush fans at 3 p.m.," Wood said. "Our audience was falling off the face of the earth when we went to our afternoon news wheel. We had to do something."

WIBC officials brought on Loesch as a trial in early 2011 and, according to Nielsen Media Research, the station's ratings from 3 p.m. to 4 p.m. increased more than 15 percent.

Tough decision

The right-leaning foundation was set, and WIBC bolstered its conservative talk lineup last fall by adding Miriam Weaver and Amy Jo Clark to host "Chicks on the Right" from 4 p.m. to 6 p.m. and Shabazz to handle the 6 p.m. to 7 p.m. slot and other duties.

In recent months, Limbaugh brought in about 12,200 listeners per average quarter hour while Loesch brought in a relatively strong 10,900 and "Chicks" brought in 10,000. Simpson's morning show—a time slot that normally scores big radio listener numbers—meanwhile attracted an average of 8,400 listeners per quarter hour in recent months.

Wood declined to elaborate much about the decision not to renew Simpson's contract. Emmis' Indianapolis Market Manager Charlie Morgan said the move was simply a new direction for WIBC.

"Steve is a friend," Wood said. "And he's a good interviewer and broadcaster. That was a very difficult decision."

But Wood didn't hesitate to endorse the decision to bring on Katz and head further right.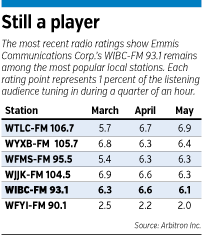 "In Indiana, a conservative state, that's a logical place to be," he said.

Some radio experts think WFYI's reputation for leaning liberal might have given WIBC officials a nudge on their current path.

WFYI officials bristle at the terms "liberal" and "left-leaning" when characterizing their public radio station.

"We work very hard to make sure everything is as unbiased as possible with our local reporting and our National Public Radio fare," said Richard Miles, WFYI's vice president of content strategy. "If we wobble off center too far, the feedback is pretty quick and pretty loud."

Some within the local industry have suggested WFYI could try to bolster its news operation with ex-WIBC employees, filling WIBC's void.

"Our plan is not related to WIBC in any way, shape or form," said WFYI President Lloyd Wright. "We don't spend any time thinking how we can position ourselves against WIBC, but how we can position ourselves to provide a better public service."

WFYI has a news staff of nine for its radio station and website, including two hosts and four full-time and three part-time news gatherers.

"Would we like more resources? Yes, please," Miles said. "We do see the need. But a lot of that is up to our members and supporters."

Sticking with news

WIBC has no intention of abandoning its news functions, Wood said. The station will continue to have local and national news updates at the top and bottom of each hour during the day plus every quarter hour in the morning.

It will continue to employ seven full-time and two part-time news staffers, he added, and will continue to cover the Statehouse and other political and community happenings full time.

"I don't feel our news department has been diminished," he said.

Doron, the former ad agency media buyer, said advertisers are still willing to pay a premium for advertising during WIBC's news updates. But Unmacht said that, over time, the station's credibility could be eroded with its wire-to-wire conservative programming.

"They'll run away their news image," Unmacht said.

If that happens, it's no small loss. WIBC has been one of the most lucrative local stations over the last two decades. It's reliably in the top five in its market in listener numbers, according to New York-based Nielsen Media Research.

Over the same 20 years, WIBC has consistently ranked among the top three in ad revenue, in recent years bringing in $7 million to $8 million annually—more than double the ad revenue of many other local stations, according to BIA Kelsey Inc., a Virginia-based media and marketing research firm. In May, WIBC had the second-highest advertising sales in this market, according to BIA.

"There's always risk involved with change," Wood said. "But we haven't gotten any negative feedback from advertisers about the Tony Katz hiring or our direction in general. Two advertisers have already asked Tony to endorse their products. Our sales department isn't too worried about a decline."•