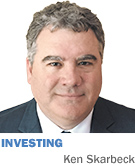 A cardinal rule of investing, "Know what you own," has vanished. Wall Street's propensity to create arcane products and sell them to investors within broad asset-allocation programs has increased portfolio complexity and altered overall performance.

In the late 1980s, the Yale endowment began investing in things other than stocks and bonds. Under David Swenson, the endowment shifted money into alternative investments: hedge funds, venture capital, private equity and commodities. Swenson's portfolio generated attractive returns, and today the "Yale Model" is widely copied and has reshaped institutional investing.

Ironically, today's institutional money managers now consider stock-and-bond portfolios to be the "unconventional strategy," too unsophisticated and "risky" to meet an institution's future obligations.

The Wall Street Journal highlighted the trend away from stock ownership in a front-page article last week titled, "Big Investors Missed Stock Rally." Consulting firm Milliman reported that the average college endowment fund had just 16 percent of its portfolio in U.S. stocks, while corporate pension plans held 43 percent in stocks, down from 61 percent in 2003. In place of stocks, alternative investments now compose 25 percent of assets versus 10 percent a decade ago.

However, more observers seem to be questioning this trend. Poor investment results at Harvard University's endowment, the world's largest at $33 billion, have led to a recent management exodus.

Last month, the city of San Francisco's pension fund proposed a major 15-percent increase in its allocation to hedge funds. One board member harboring doubt over the strategy wrote to Warren Buffett asking his opinion. Buffett scribbled on the letter: "I would not go with hedge funds, would prefer index funds." The city has postponed its decision on the hedge fund allocation.

South Carolina Treasurer Curtis Loftis has been relentless in crusading against the state's high-cost pension plan laden with alternative investments.

Over the last 20 years, the city of Tampa has had one investment manager handling its $1.8 billion pension plan. The fund's asset allocation is 65-percent stocks and 35-percent bonds. Tampa's investment manager, Bowen Hanes, charges a low 0.25-percent annual fee and has generated a 9.88-percent annualized return, placing it in the top 1 percent of public pension plans, according to Wilshire.

Norway's sovereign wealth fund manages the country's oil wealth, and at $886 billion is the largest in the world. The fund's portfolio allocation of 61-percent stocks, 37-percent bonds and 2-percent real estate earned 15.9 percent last year and has returned 6.3 percent annually over the last decade.

My firm, Aldebaran Capital, and another local firm, Woodley Farra Manion, have managed the equity investments of an Indiana community foundation the past 12 years with a 70-percent to 85-percent allocation to stocks, with the rest in bonds. We credit the foundation's board with having the courage and discipline to follow a rational and profitable strategy that in today's world would be viewed as improper by its peers and the institutional consulting fraternity.•

__________

Skarbeck is managing partner of Indianapolis-based Aldebaran Capital LLC, a money-management firm. His column appears every other week. Views expressed are his own. He can be reached at 818-7827 or ken@aldebarancapital.com.