Investors looking to share in the buzz created by craft beer and spirits are picking up the tab to help boost the burgeoning industry.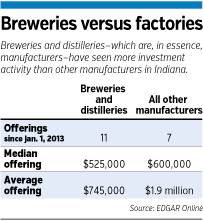 Six breweries and two distilleries in Indiana have sought outside investments since January 2013, a few of them multiple times, federal records show. That's up from just one brewery in both 2009 and 2010.
The numbers pale in comparison to growing investment activity among more common targets such as technology and life-sciences firms, yet the eight companies' 11 attempts to raise money top all other manufacturers combined.
Dedicated fan bases combined with bright industry forecasts have created a niche for breweries and distilleries in a private investment world that largely ignores traditional manufacturing.
"I think what's happening is that the industry has grown enough that it's gone from a niche—it's gone from an interesting thing to do, or a local brew pub here and there—to people recognizing it's an absolute massive trend," said Scott Fergusson, dean of Trine University's business school and founder of Chapman's Brewing Co. in Angola.
"It has now reached a certain point of credibility with the investing community," he said.
The state's craft-beer makers began ramping up a decade ago. Nationwide, sales of small-batch brews grew 20 percent, to $14.3 billion, in 2013 and the industry continues to siphon market share from major manufacturers, the Colorado-based Brewers Association reported earlier this year.
Also, Indiana implemented a law in July 2013 that allowed distilleries to sell their liquor directly to customers without going through distributors, giving rise to a new industry of artisans.
Then there is the "romance" behind breweries that woo supporters, said Omar Robinson, partner and president of Sun King Brewing Co. in Indianapolis.
Sun King opted against selling equity because the owners want to maintain control of the company, but Robinson understands why so many people were interested in putting their money into the businesses.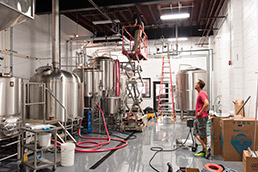 Lighting is installed at TwoDeep Brewing Co. as staff prepare the business to open in July. TwoDeep raised $200,000 last year from 12 investors. (IBJ photo/Eric Learned)
"A lot of the brewers are entrepreneurs. They're anti-establishment, if you will," he said. "They want to start out on their own. They don't want to work for the man. That's the romantic, Harley-Davidson type of mentality, and people get caught up in it."
TwoDeep Brewing Co. raised $200,000 from 12 investors whose backgrounds "covered the spectrum," said Andy Meyer, founder of the brewery opening in July on Capitol Avenue a few blocks north of the Statehouse.
"There were some very savvy investors on one end," Meyer said, and others "who had a few extra bucks lying around and said, 'Let's try to do something fun with it.'"
Upfront funding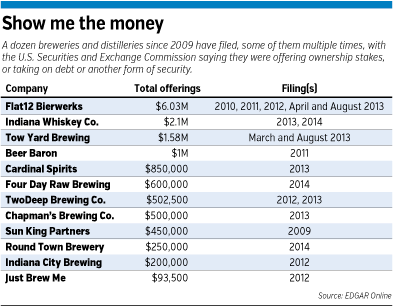 Like any factory, breweries and distilleries face hefty startup costs—fermenters, filters, bottlers and other equipment—on top of usual operating expenses such as sales and marketing.
And they need lots of space in which to operate, assuming they're looking to do more than sell their products at a conjoined pub or restaurant.
The expenses leave company founders looking for more cash than most friends and family can offer.
Banks are willing to make loans for equipment because it is easy collateral to collect on if the company defaults. But businesses still need funding to cover other costs.
Bloomington-based Cardinal Spirits, for instance, needed $850,000 for construction and operating expenses leading up to its fall opening. So it turned to Localstake, an Indianapolis brokerage that raises money online from accredited investors.
Other business owners likewise offered up stakes in their firms in exchange for help paying six-figure startup costs.
Also priming the pump: Breweries and distilleries boast much more appealing profits than the single-digit margins most traditional manufacturers produce, said Fergusson, whose company projects 30-percent profitability and is working on a $2 million funding round so it can expand.
"When you have those kinds of margins, yes you can do it," he said about raising investments.
Beer vs. tech
Investors put anywhere from $5,000 to more than $100,000 into Cardinal Spirits, co-founder Jeff Wuslich said. In all, 22 people in four states funded the company.
Investor Alex Shortle, a venture capitalist in Colorado, put his own money into Cardinal believing he's getting in on the ground floor in an industry set to shoot off like breweries did 10 or 15 years ago.
He acknowledged he invested largely because he knows the founders, but the business itself offers a more secure investment than what he could find in a technology company.
"I'd need to invest in, maybe, 20 software companies to get one or two hits," he said. "I'm young. I don't have the money to invest in 20 startups."
Distilleries and breweries generate revenue much more quickly than software or life sciences firms, many of which survive on seed funding as they spend months, if not years, developing a product, said Kevin Hitchen, a Localstake co-founder.
All a brewery needs to do is install the equipment and start cooking.
"There's been software that's been purchased for a billion dollars and never generated revenue," he said.
Still, since tech firms tend to be an acquisition target, investors typically can cash out more quickly, he said.
Breweries and distilleries, on the other hand, want to stick around long term, he said. So they need to figure out ways to keep investors on board, such as dividends or revenue sharing.
Easy to understand
There is one big reason investors buy into breweries.
"This is probably one of the best businesses for understanding it before you even say a word about it," Fergusson said. "If you say you own a brewery, they know what that is."
He knows the pains of winning over investors on complicated concepts. Before working at Trine or starting his own brewery, he owned a data firm. Investor pitches today are much different than in years past, when he had to explain "enterprise-level data aggregation for custodial banks."
Brewery and distillery owners also noted their businesses have added appeal because they offer tasting rooms, restaurants and other ways to draw customers.
"We are much more of a destination on top of being an actual beer manufacturer," said Meyer of TwoDeep, which will include a tap room alongside the brewing facilities. "A lot of investors that came on board were definitely buying into that idea."•
Please enable JavaScript to view this content.