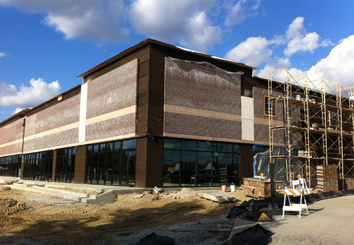 Strip-center owner and developer Sandor Development Co. is nearing completion of an 11,600-square-foot retail project near the northeast corner of 106th Street and Michigan Road in Carmel.
The modestly sized center serves as an important milestone for Sandor: It's the company's first retail development since it chose to halt construction during the recession.
"There was not an appetite for new construction, and the markets had to adjust," said David Eskenazi, Sandor's president for Indianapolis. "We just weren't developing then."
Sandor's footprint is much larger than just the Indianapolis area. In fact, with 8 million square feet of retail space in 23 states, the company is one of the largest strip-center developers in the nation.
Sandor began building Gateway Shops this summer along Michigan Road on the west side of the Marsh grocery. It had acquired the land at auction from Sun Capital Partners Inc. following the Florida-based private-equity firm's acquisition of the Marsh chain in 2006.
Conditions in the retail sector have improved enough to prompt Sandor to build on the land. The project should be finished later this month.       
"It's absolutely getting stronger, Eskenazi, 49, said. "The playing field is leveling a little bit. Tenants still drive very hard bargains, but we're seeing stronger interest from tenants."
Gateway Shops has space for six tenants and is 50-percent leased, he said. The remaining spaces are in various stages of negotiation.
Sandor declined to divulge the names of the tenants that have signed leases but plans to do so soon, a company spokeswoman said.
One is believed to be Jersey Mike's Subs, according to retail brokers familiar with the project. The restaurant chain has three locations in Indianapolis and one in Carmel, at Merchants' Pointe on the north side of 116th Street west of Keystone Parkway.
Bill French, a retail broker at the Cassidy Turley real estate firm, thinks Gateway Shops will benefit from its proximity to a busy intersection.
"It's going to be some great-looking space with good visibility on Michigan Road," he said. "It will lease up in a snap."
French isn't surprised Sandor is building again.
"The development world is back on its feet, and the appetite is there for retailers to open more stores," he said. "As a result, I think we're going to see a lot more new construction come along in 2015."
Sandor has offices in Indianapolis and Scottsdale, Arizona. It has 50 employees, including 35 locally.
Eskenazi's father, Sid Eskenazi, founded the company in 1963. It moved in 2010 from its longtime headquarters at 2220 N. Meridian St. to 10689 N. Pennsylvania St., just north of 106th Street. Sandor bought the 56,000-square-foot building in 2009.
Its local developments include a Kroger in Nora, the giant Wal-Mart-anchored College Park center at West 86th Street and Michigan Road, and Cherry Tree Plaza on the far-east side, where Aldi opened last month.
 
Please enable JavaScript to view this content.