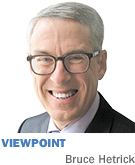 Count me among a minuscule minority, but as a newly relocated resident of a small Indiana town, I really wanted to vote in this month's midterm election.
In doing so, however, I wanted to know something about the candidates on the ballot. On rare occasions, I've picked racehorses based on their names, but when casting ballots, I'd rather be an informed voter than a random lever puller.
But it's not easy.
Along with voter ID laws, gerrymandered no-contest districts, civic illiteracy and public apathy, hard-to-get candidate information may well be among the reasons the United States in 2014 saw its lowest election turnout in 72 years and why, according to one report, Indiana ranked last among the 50 states.
There are many ways one might learn about candidates: in person, in the mail, via paid media, through news coverage, online.
But in 2014, for nearly every contender for nearly every office on my ballot, all these mechanisms failed. And I tried. Most folks don't bother.
In the 18 months leading up to the fall 2014 election, my wife and I met only one candidate for whom we'd be able to vote. A prospective county sheriff, he was manning a booth at a fall festival and took time to chat.
While we saw a few other politicians riding in parades, none made a speech at an event we attended, none shook our hands, none knocked on our door or invited us to a forum.
Once upon a time, one might get a letter from a candidate. Now, political mail is merely propaganda-laden postcards that more often distort an opponent's record than tout a candidate's credentials. I throw them away.
In days gone by, I learned about candidates in the newspaper—through news coverage, editorial endorsements or voters' guides.
I still read my local, county and regional papers. Their coverage of candidates in our community was cursory, at best, even for high-profile races. It was virtually nonexistent for offices below that.
Instead of offering biographical information on candidates, one newspaper's voters' guide asked why each candidate was running. Typical response: "I believe in America. Democracy is the greatest system on earth. I've always been committed to public service. I love this community. I want to give back."
Never mind that one candidate is a CPA and the other can't balance a checkbook.
Our county paper said it has, in the past, "conducted candidate forums for state representative and state senate. We elected not to do so this year because we believe local voters are generally familiar with the candidates and issues in those races."
No, they're not.
For years, I've given college students and prospective employees general knowledge tests. Many can't even name the three branches of government, the vice president, their senators or governor.
Finally, you'd think candidates would communicate online. Just about any politician could create a free website with credentials, policy positions, contact information and a public-appearance schedule.
Good luck finding those.
A few years ago, the Kernan-Shepard Commission on Local Government Reform recommended eliminating some little-understood, hard-to-hold-accountable, lower-level elected offices and assigning their work to appointed officials reporting to major officeholders.
But special interests objected, saying, "The best government is government closest to the people."
No, it's not. Not when that government is delivered by officeholders we know nothing about, in jobs most citizens don't understand, and for which only a tiny percentage of voters make an informed choice.•
__________
A Pendleton resident, Hetrick is visiting professor for the Indiana University Department of Journalism and Public Relations at IUPUI and president of the public relations consulting firm Powerful Appeals Inc.
 
Please enable JavaScript to view this content.