WISH-TV Channel 8 and WTTV-TV Channel 4 are at the center of the biggest shakeup the Indianapolis TV market has seen in 35 years. But the ripple effects are expected to rock the boat of every local station.

On Jan. 1, CBS will migrate to WTTV after a 58-year stay with WISH. As part of the move, the formerly independent WTTV has invested millions of dollars and hired 80 more employees to launch a massive daily news operation.

It's the first network affiliation change in Indianapolis since WRTV-TV Channel 6 and WTHR-TV Channel 13 swapped ABC and NBC affiliation in 1979. But most industry experts predict more tumult this time because one major player is becoming a hungry independent, and another is launching a news staff in a crowded market. A big question: Can Indianapolis support five local news operations, including WTTV's sister station, WXIN-TV Channel 59?

"There will be viewers and advertisers in this market that will be available that haven't been up for grabs in a very, very long time," said University of Indianapolis communications instructor Scott Uecker. "Every station will be eyeing their opportunities—and covering their vulnerabilities."

WISH and WTTV both have considerable obstacles to overcome.

"The biggest challenge for WISH is to get their advertisers to hang around and figure out what this change means for them," Uecker said. "Their morning and early evening news will be largely unchanged and the ratings might not dip that much. But they have to guard against advertisers making a wholesale change to WTTV."

WISH also has employee retention challenges. A handful of on-air personalities—including Julie Patterson, Pamela Gardner, Daniel Miller and Jessica Hayes—have departed since CBS' announcement in August.

Hayes took an anchor job with WTTV. And WISH lost its sales director, Julie Zoumbaris, to WRTV. The station also terminated a handful of behind-the-scenes staffers this month.

Despite all the departures, WISH General Manager Les Vann said the station is having little trouble holding onto talent and hiring more. He said the layoffs were "part of a restructuring, not a downsizing."

WTTV, meanwhile, has to convince viewers it's serious about news coverage and community involvement and is not just going to replicate news produced by WXIN.

Five for fighting

Two key tests for all local stations will be the February and May ratings sweeps, but media buyers say it could take most of 2015 to sort out where viewers land.

"There's going to be an awful lot of confusion in this market even for those paying close attention," said Rick Doyle, media director for Indianapolis-based Z Marketing Partners. "I can't even begin to imagine what's going to be going on in the minds of the viewers come January."

About 45 percent to 65 percent of a station's revenue comes from ads sold during local newscasts.

WISH's reliance on news ad revenue could increase to as high as 80 percent, with the loss of CBS prime-time programming and sports broadcasts, including NFL games, NCAA men's basketball tournament and The Masters golf tournament, industry sources said. If WISH's news ratings wilt, the station could be forced to make serious staff cuts.

That would fly in the face of WISH's strategy to expand its news offerings after losing the CBS deal. WISH said it would increase its newscasts by a total of 20 hours a week. WISH's Vann told IBJ this month that the news budget for 2015 and beyond would be higher than in 2014.

"This is a good TV-news-watching market," said Vann, a 40-year industry veteran who joined WISH in August. "I'm not concerned. Given the station's rich history in news and localism, it was an easy decision to expand our local news operation."

WTTV and WXIN General Manager Paul Rennie isn't sure if the market can support five local TV newscasts, but he's ready to battle for viewers.

"The stations that put out the best product and connect with the community will fly, and that's our goal," Rennie said. "It will be competitive, no question."

Indianapolis is the 27th-largest U.S. TV market, according to New York-based Nielsen Media Research, and Uecker pointed out that few similar-size markets have five local newscasts.

"I don't think the addition of WTTV is going to grow the TV-news-viewing audience, so it could be a real battle for survival," he said. "When you start thinking of five newscasts airing simultaneously in certain time slots, that's crazy."

Rose Durbin, vice president and media director for Indianapolis ad agency Hirons & Co., will be watching closely "how the local TV news audiences are fractionalized."

"I'm not convinced there's enough local money in this market to support all five news operations—not at the level they're currently operating," Durbin said.

"Detroit couldn't even support five local TV newscasts," Doyle said, and it is the nation's 12th-largest TV market, according to Nielsen.

As the ratings battle intensifies, Doyle said, he expects some stations to discount ad pricing. But if an advertiser has to be on five stations to reach all TV news viewers, he said, "that could make it a very tricky and potentially cost-prohibitive audience to reach."

Differentiation key

Each station seems keen to differentiate itself, and WTTV and WXIN—both owned by Tribune Co.—might be in an especially tricky situation.

"They have to make sure that WTTV isn't stealing market share from WXIN," Uecker said. "That could hurt both stations."

WXIN is positioning itself to go after the 25- to 49-year-old audience, industry sources said, while WTTV's target is 45-plus.

Rennie said he's made it clear to his WTTV and WXIN staffs that "we don't want to be delivering the same news to the same people."

WTTV's hiring former WISH anchor Debby Knox makes it "clear WTTV is going after WISH loyalists," Uecker said.

Wright
Capturing WISH's spot in the news ratings pecking order would be no small coup for WTTV. For years, WTHR has been the ratings leader and WISH has been No. 2, with WXIN nipping at its heels in several time slots.

"If Tribune could have the No. 2- and 3-rated newscasts in this market, that would be a strong offering and could lead to some good combo ad buys," Doyle said.

Durbin said there's something more important than on-air talent.

"The stations absolutely have to keep the news fresh," she said. "If they start running a news loop or recycling stories, advertisers will run from that."

Because of the uncertainty, advertisers and media buyers are shortening their buying cycles considerably during the first quarter of next year and demanding guarantees on audience size for their buys.

Many advertisers, Doyle said, have shortened buys from a 12- to a three-month cycle, with some insisting on only monthly buys. And if ratings aren't as high as projected by station managers, advertisers are demanding "make-goods"—additional spots run at different times, he added.

Promotional onslaught

WTTV will celebrate the CBS move starting at 11:30 p.m. Dec. 31 by airing Downtown Indy's New Year's Eve gala, complete with the slow drop of an IndyCar at midnight. Then WTTV will flip the switch, starting with "The David Letterman Show" at a delayed 12:15 a.m. start—with CBS' blessing.

At or near midnight, the station plans to unveil a new logo, likely some variation of CBS-4. Tribune officials declined to reveal details.

Meanwhile, WISH's Vann promised his station will embark on a journey to become "the No. 1 independent station in the country."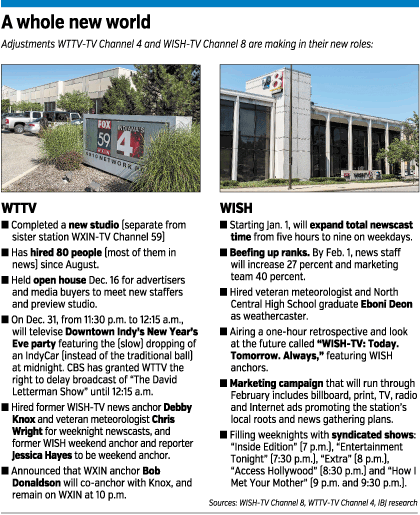 WTTV and WISH are launching major promotional campaigns to tout the upsides of their changes.

WTTV is trumpeting its "state-of-the-art" studio, and the hiring of well-known Knox and veteran meteorologist Chris Wright. There's still no word on who will helm WTTV's sports desk.

Several people who saw a sneak peak of the WTTV news set at an open house Dec. 16 said it rivals the set WTHR unveiled earlier this month.

WTTV also is launching a campaign promoting its CBS lineup, which includes popular shows such as "The Big Bang Theory" and "Mike and Molly."

WISH, meanwhile, is airing a one-hour special, "WISH-TV: Today. Tomorrow. Always," and is planning a barrage of TV, print, billboard, radio and online ads to run through February touting the station's news heritage and its future plans.

Other stations are bracing, as well. WRTV is planning a marketing campaign with a heavy online emphasis, and WTHR is making a splash with its logo on just about everything at the Fashion Mall at Keystone's food court.

WTTV has been rehearsing its newscasts, and WISH is putting together the final pieces of the programming puzzle for non-news hours.

WISH's prime-time plan
During prime-time weeknight hours, WISH will broadcast "Extra" at 8 p.m., "Access Hollywood" at 8:30 p.m., and "How I Met Your Mother" at 9 p.m. and 9:30 p.m.

Local stations usually pay syndicators for programming and get a portion of the ad spots to sell. There could be a wide disparity between the ratings WISH scored with CBS' prime-time shows and its independent lineup.

Some media buyers wonder if WISH will be able to do any better than its sister station, WNDY-TV Channel 23, which, while airing reruns or other syndicated fare, usually attracts audiences about one-fifth the size of network prime-time shows.

Hirons' Durbin said WISH's non-news programming strategy is important to the station's overall health because, "There are viewers you can find during prime time, even those watching reruns and non-network shows, that you can't find anywhere else."

But spots during local newscasts are the most attractive to advertisers, Durbin said. That's likely where 2015's local TV war will be won—and lost.

"A news viewer is an engaged viewer," Durbin said. "They are tuning in because there's news in the marketplace they want to know and understand how it has meaning in their life. That's not the same viewer who tunes in to be entertained during prime time."•