When the term "tapas" arrived in the popular American culinary glossary, it indicated a small plate with a decidedly Spanish accent. Harder to dismiss than an hors d'oeuvre and not just an opening act like a standard appetizer, tapas implied sharing and experimenting—an initial order of these dishes was often followed by a variation of the phrase, "Oh, let's try one or two more."

Rhapsody Global Tapas (1551 N. Green St., Brownsburg, 456-4949), which opened in November, stretched the borders to well beyond Spain for the creation of its slate of small plates. But what the restaurant lacks in purity it makes up for in its efforts to create a range of tasty offerings at a price point that encourages revisits.

Our quartet created a veritable buffet of offerings at our table and, with forks flying, found pleasure in just about all our choices. The dark, hearty Mighty Might Gumbo ($5) was impressive for a non-New-Orleans-themed place. Mango Jalapeno Shrimp ($6) offered a surprisingly subtle trio of shellfish that didn't attempt to set the house afire.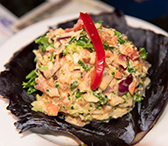 Curry Chicken Salad
Similarly, Curry Chicken Salad ($6) went easy on the curry powder but remained full of flavor, easily the high point of the meal. Potatoes Bravas ($6), better known in Spanish bars as Patatas Bravas, presented a dish akin to American home fries, only a bit spicier. Fried Pickles ($6) offered a surprisingly large portion of slender spears of the recently minted bar-food staple. Light frying made a big difference.

Baked Goat Cheese ($6), served in a tangy Spanish tomato sauce, included plenty of bread for scooping after the cheese had vanished. For dessert, Elephant Ear Cake ($3) was a delicious nod to the State Fair disguised as a cupcake.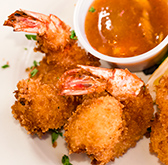 Mango Jalapeño Shrimp
With mix-and-match decor that clearly wasn't meant for a corporate meeting (there's still a Golden Tee machine available in the back), partners Todd Howard—who recently sold his interest in Bourbon Street Distillery—and Stephen Graham—former general manager for the Steakhouse at Indiana Grand Casino—have created a pleasant spot that's more an above-average neighborhood bar than a destination eatery.

Still, their creation, at risk of being overlooked next to Boulder Creek Dining Company, succeeds in small ways that add up.•

—Lou Harry