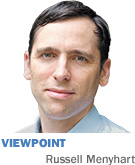 A trend I repeatedly encountered as a diplomat living abroad over the last decade was the growth in social entrepreneurship. From Shanghai to Buenos Aires, entrepreneurs are founding "mission-driven companies" that have a specific social or environmental mission as part of their core business plan.
Here in Indiana, Rep. Casey Cox has introduced House Bill 1015 that provides a special legal structure—called the "benefit corporation"—for mission-driven companies to incorporate in Indiana.
Cox's legislation is part of a movement that has seen substantially similar laws adopted in 27 states, all passing with bipartisan support.
The benefit corporation embeds a mission-driven company's values into its DNA in several ways such as stating its mission in the articles of incorporation, requiring directors and officers to consider social and environmental effects in all decisions, and mandating an annual benefit report detailing its actions and results. Benefit corporation status ensures that the stated mission will remain at the core of the company's behavior and that it will transparently measure and report its performance on mission-based as well as financial grounds.
In 2013, benefit corporation laws went into effect in Illinois and corporate-law leader Delaware.
"We've all heard about corporations wanting to 'do well' while also 'doing good'," said Delaware Gov. Jack Markell upon signing the legislation. "Delaware corporations will now have the ability to build those dual purposes into their governing documents."
The concept of mission-driven companies is no niche field for granola or patchouli producers. It includes well-known brands such as Patagonia, Odwalla, Method and Seventh Generation.
In Beijing, I met the founder of Shokay, a textile brand that develops premium products from the down of yaks to support Tibetan herders. In Shanghai, I spoke to young entrepreneurs seeking to profit from designing radically inexpensive medical devices for developing countries and plant-based systems to clean drinking water. And in Argentina, an American entrepreneur came up with the idea of giving away a pair of shoes in poor communities for every pair he sold, leading to the now-famous Toms Shoes.
There has been simultaneous growth in "impact investors," who seek out and invest only in companies that measure social or environmental performance with the same rigor as financial performance.
Goldman Sachs and Bank of America have launched impact investment funds. A 2014 JPMorgan study of 125 fund managers and foundations found they had $46 billion in impact investments, concluding that impact investing is moving "from a proof of concept phase to a growth phase."
When Bain Capital bought half of Toms Shoes last June, the Toms founder announced that he would use half of his (considerable) profits to set up a fund for socially minded entrepreneurs. Bain put up the same amount for social entrepreneurship investment. If Bain sees this as a sustained (and profitable) trend, it has passed from an experiment to a new reality.
Indiana sells itself as a state that works. To continue to do so, we want to attract as many innovative entrepreneurs as possible. Giving entrepreneurs the option of incorporating as a benefit corporation will keep us competitive in the global race for talent and investment. It also aligns well with Hoosier traditions of generosity, philanthropy and social justice.•
__________
Menyhart, an of counsel attorney with Taft Stettinius & Hollister, was a diplomat with the U.S. State Department for nine years. Send comments on this column to ibjedit@ibj.com.
Please enable JavaScript to view this content.