MUNCIE—The man who hit the biggest shot in the history of Ball State University basketball was back in town. Nifty suit, red tie, black Ball State cap. Everyone seemed happy to see him, as well they should.

We were talking, he and I, at the arena before a Cardinals game, and after he left, a fan walked up with a question.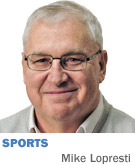 "Who was that man? He looked familiar."

"Paris McCurdy."

"PARIS McCURDY!"

Paris McCurdy. The guy who 25 years ago this spring scored three points with no time on the clock to beat Oregon State in the first round of the NCAA Tournament. The guy who helped upset Louisville in the second round to send Ball State to its only Sweet 16 ever. The guy who had the ball in his hands in the final seconds against UNLV, in an immortal upset that almost happened.

"I remember being in school and the old guys would come up and talk to us," McCurdy said. "I'm one of the old guys now."

Here are the basics we should know about the spring of 1990.

UNLV was the unstoppable national champion, mashing five of its six NCAA Tournament opponents by an average of 22 points, scoring 100.4 points a game, including a historic 103-73 crushing of Duke for the title. Ball State was a No. 12 seed from the Mid-American Conference.

On March 23, Ball State and UNLV met in the Sweet 16 in Salt Lake City and the Rebels barely escaped 69-67, with the Cardinals having a chance to tie or win at the end. And that was after Ball State had already knocked out Oregon State with Gary Payton and Louisville.

Before Butler or VCU or George Mason or Valparaiso created their Cinderella stories, there was Ball State.

"Butler and those other schools are really following in our footsteps," McCurdy said. "I went down to Louisville maybe three weeks ago and I had on a Ball State cap and they still remembered that year. That was an example of the impact our team made."

And here are the basics we should know about McCurdy. After leaving Ball State, he played pro ball in France; picked up dual citizenship; and learned how to speak Japanese, Spanish and French. Now he is an adult foster care provider in his hometown of Detroit, with four kids and a wife of 22 years.

He still loves Ball State.

One other thing. March of 1990 still thrills him, and also torments him.

First, Oregon State.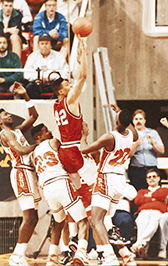 A no-time-on-the-clock basket—and a subsequent foul shot—by Paris McCurdy took Ball State to a Cinderella victory over Oregon State in 1990. (Photo courtesy of Ball State University)
The Cardinals trailed 53-51 with three seconds left, having to go the length of the court. What they needed was a Christian Laettner miracle. What they got was a long pass toward Chandler Thompson that was deflected out of bounds.

Two seconds left, under their own basket. The inbounds pass went to McCurdy coming off a screen. He caught it, shot it from about four feet at the buzzer, made it. Plus, he was fouled. No time showing, and a free throw to inexplicably win the game.

Ball State coach Dick Hunsaker had no thoughts he'd miss. "Not him," Hunsaker said, 25 years later. "He was the guy who relished the moment."

Rick Majerus also had no doubts. He had brought McCurdy to Ball State, but left for Utah that season. He was sitting near the court, and when McCurdy went to the line, Majerus turned and offered a bet to his neighbors that McCurdy would make it.

He did.

Eight days later, Ball State trailed UNLV 69-67 with 12 seconds left. The ball went by design to McCurdy, who had every intention of saving the game again. Only this time, hounded—and possibly fouled—by UNLV strongman Larry Johnson, McCurdy slipped and tapped the ball to a teammate. The Cardinals never got off a shot.

So how do the two moments fit together as the 25th anniversary nears?

"That one at Oregon State, I don't relive at all. That one's over and done with," he said. "The one that haunts me is UNLV, when I got the ball on the perimeter and slipped. That one right there haunts me to this day. I keep wanting to redo that play, and I can't. That game could have changed the campus of Ball State, and all of our careers. It would have shook up the world."

The next week, McCurdy watched in misery as UNLV thrashed Duke. "That [should have been] us. Give us a mulligan. We want a do-over."

No mulligans in the tournament, however. At the Final Four in Denver, UNLV guard Greg Anthony wore a Ball State cap, both to remind himself and his teammates how close they had come to extinction, and also to pay homage to the Cardinals.

"I can only imagine what the feeling would have been like if we had won," McCurdy said. "I can only equate it to jumping off a skyscraper and you're falling, and you find out you can fly. That's what it would have been like to win. But it was like jumping off that skyscraper and we just hit the ground. It was over, just like that. It was taken right from underneath us."

But he has done well enough without that ring. Good career, great family, wonderful memories.

"It means everything to him," wife Renee said of the Ball State years. "He relates a lot of the incidents with our lives and the kids.

"He has a man cave and everyone that's come through the door has seen that [Oregon State] play. He's an amazing athlete, dad, husband, everything. He wants to be the guy to either win or lose it. That's the way he is with his business."

Past NCAA Tournament highlights bloom every spring, just like dandelions. But how often do they show McCurdy?

"I never see on the national coverage those last three seconds of our Oregon State game," Hunsaker said. "For some reason, it gets lost in the shuffle. I don't know when the last time was a player was at the free throw line with the clock 0:00, and had one shot to win the game."

What McCurdy cherishes most are the relationships that are still strong from that special team, and that special March—his last at Ball State.

"I come back and see all the growth, and I think I'm a part of that," he said. "Every time I get on I-69 and come from Detroit, it's like I'm going home.

"One thing I think about all the time is, I didn't get to play with them long enough. I wish it could have lasted a little longer, just being around those guys. And I hate we had to get old."

Twenty-five years. They've passed like a blur. The Oregon State play transformed a program, but there are moments Paris McCurdy still has the ball in his hand, is still trying to drive around Larry Johnson. He always will be trying.•

__________

Lopresti is a lifelong resident of Richmond and a graduate of Ball State University. He was a columnist for USA Today and Gannett newspapers for 31 years; he covered 34 Final Fours, 30 Super Bowls, 32 World Series and 16 Olympics. His column appears weekly. He can be reached at mlopresti@ibj.com.