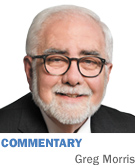 The Federal Communications Commission is scheduled to vote Feb. 26 on aggressive new rules regarding the U.S. government's regulation of broadband Internet access. The little-understood doctrine is called net neutrality and few people grasp the enormity of what's at stake.
What exactly is net neutrality, and is increased government intervention a good thing or bad? That's what I have been trying to figure out for a while now, and the answer is as clear as mud. What I do know for certain is the ramifications of this decision are huge for all of us as consumers. But the complexity of the issues has created a general lack of understanding of all the pros and cons of proposed actions.
Net neutrality is the idea that broadband Internet service providers should provide nondiscriminatory access to Internet content, platforms and the like without manipulating the transfer of data, regardless of its source or destination. What the heck does that mean? Basically, it's the definition of an open Internet. Consumers demand that their Internet provider not block or restrict any content. You should expect access to everything that's on the net without interference.
A fear of net-neutrality advocates is that ISPs (Comcast, Time Warner, Verizon, AT&T, etc.) can speed up (create a fast lane) for content providers that pay them money and slow down or restrict content from competitors or other content providers that can't or won't pay to play. The thought is that ISPs should not pick the winners and losers on the Internet.
On the surface, the concept seems like reasonable consumer protection, but the devil is always in the details. Not to get down too far in the weeds, in 2010 the FCC issued an open Internet order addressing some of these concerns, but the order was struck down in January 2014 by a federal court. The D.C. court ruled that, under current law and the way broadband Internet access is classified, the FCC lacked the authority to enforce a net neutrality order.
Since that time, we have a new FCC chairman, Tom Wheeler, a Democrat appointed by President Obama. Wheeler wants what Obama wants—to regulate the Internet to guarantee the strongest open Internet rules possible—plus he wants to fix the legal snafus from the 2014 court ruling. Critics say the FCC's involvement will lead to utility-like regulation. Would this level of government intervention and regulation be better or worse than the way things operate today? A good case can be made both ways.
A Republican, FCC Commissioner Ajit Pai, has gone public before the vote with his strong objection to the proposed rules, saying they will open the door to new government taxes and create more litigation and less innovation.
The FCC is composed of five commissioners: three Democrats and two Republicans. What should not be a partisan issue has become just that. What do you want to bet the vote will be 3-2 in favor of the new rules? If that happens, expect the GOP-controlled Congress to attempt to "rein in regulatory government overreach" by the FCC along with the "inappropriate pressure and influence" exerted by President Obama over an alleged independent government agency. Does all this have a familiar ring?
I have great confidence that little to no progress can be made by government entities to come up with a workable plan with common-sense compromises. I would expect a lot of litigation to follow the FCC vote. These complex issues will most likely be settled in the courts.
The concept of an open Internet is a good one. Even Comcast says it mostly agrees with the president, the FCC and the open-Internet initiative. Here is some of what Comcast has to say:
"We have publicly supported the FCC adopting new, strong Open Internet rules.  We have stated on numerous occasions that we believe legally enforceable rules should continue to include strong transparency, no blocking, and anti-discrimination provisions.  We don't prioritize Internet traffic or have paid fast lanes, and have no plans to do so." 
What Comcast does not support is reclassifying the Internet in the way that is being proposed. They believe doing so would harm future innovation and investment in broadband.
I don't have all the answers, but control of the Internet is something that shouldn't be taken lightly. It boils down to this: Whom can you trust? Reaching a consensus on that question is a tall order today.•
__________
Morris is publisher of IBJ. His column appears every other week. To comment on this column, send e-mail to [email protected]
Please enable JavaScript to view this content.