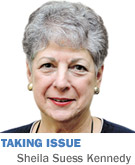 The General Assembly is in session, and citizens who follow legislative matters are watching this year's antics with reactions that run the gamut from bemusement to impatience to you've-got-to-be-kidding-me.
There are the usual head-scratchers: Do we really need Senate Bill 521, requiring retail establishments to make their "toilet facilities" available to customers with Crohn's disease? What is the agenda behind Senate Bill 38, which would nullify contractual agreements to submit disputes to foreign law "if doing so would violate the fundamental liberties" guaranteed by the Constitution? I guess I understand Senate Bill 370, which designates the P-47 Thunderbolt as the official state historical plane. (It was produced in Evansville.)
I didn't even know we had a state fossil, but Senate Bill 114 would grant the "elegant sea lily" that designation.
Actually, many Hoosiers would prefer to see our lawmakers occupy themselves with these sorts of issues, since they seem unwilling to address the real issues facing the state. Silly and trivial are definitely preferable to the more damaging legislation that is speeding right along through our one-party legislative process.
There's Senate Bill 569, the "Reliable, Affordable and Safe Power Act," which would throw lots of sand in the gears of Indiana's environmental regulators.
There's Senate Joint Resolution 12, which would amend the state constitution to protect a right to "employ effective agricultural technology and livestock production and ranching practices." Did it escape the sponsors' notice that those "effective practices" include the widespread use of untreated animal waste and hundreds of thousands of tons of pesticides that are currently polluting Indiana waterways?
If SJR 12 passes, corporate farms will have a constitutional right to pollute. Indiana—where you have constitutional rights to free speech, religious liberty and poopy, pesticide-flavored water! I wonder what other industries will demand that their businesses be given effective immunity from lawsuits, and protection from inconvenient regulations.
There has been a fair amount of attention given to Scott Schneider's proposed "religious liberty" bill. That measure is reminiscent of similar efforts in the wake of the civil rights movement, by folks whose "sincere religious beliefs" included a conviction that God wanted to keep the races separate. This go-around is intended to protect merchants and others who "sincerely" dislike LGBT folks and want to exclude them from operation of that "do unto others" admonition.
There has also been coverage of the vendetta against Glenda Ritz, a Democrat (who knew Indiana even had Democrats?) who had the temerity to win election to the position of state superintendent of public instruction. There has been less attention to lawmakers' ongoing assault on public education in Indiana. Voucher programs have been expanded while the public schools that most Hoosier children attend continue to be squeezed financially; worse, the teachers in their classrooms are repeatedly denigrated by lawmakers who haven't stepped inside a public school for decades.
Particularly offensive is Schneider's Senate Bill 527, which would allow charter and voucher schools to "opt out" of ISTEP, and to substitute any other test they choose.
Of course, if all schools getting our tax dollars don't have to use the same test, there will be no valid way to compare results—and no way to hold those schools accountable. Given the sanctimonious rhetoric about the importance of results, you might think we should have a way to tell what sort of performance our tax dollars buy us.
There's much, much more.
No telling what else they'll do to us before they go home.•
__________
Kennedy is a professor of law and public policy at the School of Public and Environmental Affairs at IUPUI. She blogs regularly at www.sheilakennedy.net. She can be reached at skennedy@ibj.com. Send comments on this column to ibjedit@ibj.com.
 
Please enable JavaScript to view this content.