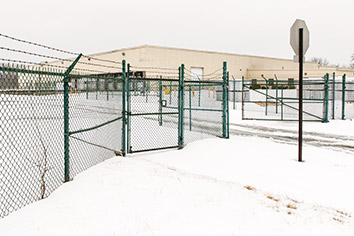 The owners of more than 20 polluted industrial sites in Indianapolis are hiding behind the legal protections of a state-run voluntary program to delay cleanup, Mayor Greg Ballard alleges in a letter to state regulators.
In at least one case, Indiana Department of Environmental Management officials share Ballard's concern. They point out that an east-side property owned by the chemical company Chemtura Corp. has been enrolled in IDEM's Voluntary Remediation Program 14 years, but the exact source of pollution remains unidentified, and there's no agreed-upon plan for cleaning up the industrial solvents.
Meanwhile, solvents have migrated into the sewer line leading off Chemtura's property and could release vapors in homes near Brookside Park.
IDEM warned Connecticut-based Chemtura that it could be kicked out of the program, but the agency isn't taking steps to remove any of the other brownfield sites that Ballard brought to the attention of Commissioner Thomas Easterly.
A city review of dozens of voluntary remediation sites found that more than 20 have been in the program for longer than 10 years, and several of those still do not have approved work plans, Ballard said in a letter to Easterly last year. "Our review of Indianapolis sites in the Program indicates that numerous applicants are taking advantage of its protections without fulfilling their corresponding duties to the public."
IDEM spokesman Barry Sneed said removing sites from the voluntary program is not necessarily simple. Nor does it guarantee faster progress. IDEM has to follow a legal process. "It's not exactly like we can say, 'OK, you're out of the program,'" he said.
Many cleanups, especially involving groundwater, take a long time because of limitations in technology, Sneed added.
Since Ballard's April letter, state regulators are doing a better job of keeping the city in the loop on those sites, said Cam Starnes, assistant administrator of the brownfields redevelopment program at the Department of Metropolitan Development.
"They have limited resources, as we do," Starnes said. "We have come together in that context and started to work a lot more closely and communicated a lot better than we have before."
Testing dispute
Ballard recently wrote to Chemtura urging the company to conduct soil-gas and air sampling in neighboring homes, as IDEM requested. The company disagrees that in-home testing is needed, and IDEM is trying to resolve the dispute, as provided under the rules of the voluntary program.
Expressing his "sincere frustration" with the situation, Ballard's letter also pointed out the city's interest in protecting Brookside Park. "The Park, created in 1898, is a beautiful, long-standing amenity for near east side residents, and I have directed my staff, including legal counsel, to evaluate every option necessary to investigate and hold Chemtura accountable for any impacts thereto."
A Chemtura spokesman did not respond to a message from IBJ. In a Feb. 16 response to Ballard, Chemtura executive David DiBoyan said he shared the mayor's concern for citizens' health but that the company's evaluation indicated "no known or reasonably predictable impacts" on individual homes.

Ballard
Chemtura is proposing to abandon and re-route the sewer line running from its property, and DiBoyan said that move would eliminate the risk of hazardous vapors intruding into the neighborhood.
Delays common
The purpose of the voluntary program is to speed cleanup and redevelopment, but significant delays are not a new phenomenon for Indiana.
By statute, participants have six months to submit their cleanup plans. A Fort Wayne Journal-Gazette investigation in 2007 found that the average was 22 months, and 35 sites had no cleanup plan after five years or more.
"The VRP is still a relatively new program and IDEM acknowledges that there has been a learning curve involved in determining the most effective and efficient way to run the program," Sneed said.
IDEM can refer delinquent sites to regular enforcement programs, but it might be facing a financial disincentive to do so. The voluntary program is fully funded by its participants, and IDEM, like all state agencies, has fewer staff members than before the recession.
"State agencies have been cut virtually every budget cycle since 2009. We know their total staffing numbers are down considerably," Hoosier Environmental Council Senior Policy Director Tim Maloney said.
"Some legislators may not be really fond of IDEM's regulatory role. On the other hand, doing things like trying to get brownfields cleaned up really contributes to economic development," Maloney said.
Redevelopment is the reason Ballard prodded state regulators in the first place, Starnes said. The 37-acre Chemtura site, for example, is close to Interstate 70, which could make it a good candidate, he said.
Multiple risks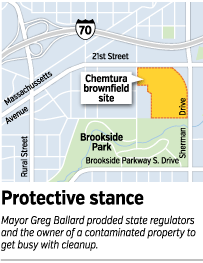 The industrial history of the former Connor Corp. property began with bedspring manufacturing in the early 1900s, then switched to automobiles and lead-acid battery containers, according to an IDEM summary. In addition to industrial solvents, there are heavy metals on the site, and IDEM documents point out, that could pose a threat to residents if people trespassed on the property and carried contaminated material back to their homes.
State regulators warned Chemtura nearly two years ago that it could be dropped from the voluntary program. At a site meeting in April 2013, and again in a letter that June, IDEM reminded the company that it could be referred for enforcement if it doesn't make timely progress toward an approved work plan, according to a January letter from William Holland, senior environmental manager.
Chemtura submitted its proposed cleanup plan in October 2013, but IDEM rejected it last March as incomplete. Among the 44 items IDEM cited was a lack of soil and air sampling in the adjacent neighborhood. Chemtura has resisted conducting those tests and in December filed a technical dispute.
Holland replied that IDEM didn't believe Chemtura had a true technical dispute, but nevertheless agreed to follow the dispute-resolution provisions of the voluntary program. "IDEM is further concerned that the applicant has a pattern of delaying action at this site that is not protective of public health," he said.
If the dispute isn't resolved, the matter could go before the Office of Environmental Adjudication, IDEM spokesman Sneed said.
Maloney at the Hoosier Environmental Council said IDEM doesn't have to take its cues from the property owner, even if the voluntary program is in effect. "If those are occupied homes and there's a contaminated plume going toward them, the state has other avenues to address that."
The former RCA/Thomson Electric site, spanning 49 acres along East Michigan Street at 600 N. Sherman Drive, is another oft-mentioned redevelopment opportunity that's under voluntary cleanup. General Electric, the company responsible for the work, has a plan approved by IDEM, which will require several more years of groundwater monitoring before it can close out the site, Sneed said.•
Please enable JavaScript to view this content.