Indiana's public colleges and universities, spurred by pressure from state lawmakers, are pumping out more graduates than ever.
But in spite of a 20-percent increase in degrees granted since 2010, the education level of Indiana's younger adults has barely budged, for reasons that aren't clear.
Compared with the rest of the nation, the state actually lost ground in the past decade on the chunk of its residents age 18 to 34 holding at least an associate's degree.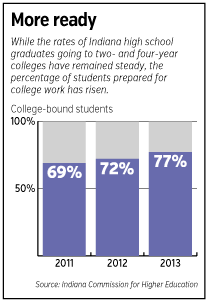 During a Senate committee hearing March 12, state leaders praised Indiana's public universities for launching a bevy of efforts the past five years to prevent students from dropping out or falling behind on their path to a college degree.
Sen. Luke Kenley, R-Noblesville, noted that the efforts have helped elevate the number of undergraduate degrees and certificates awarded by Indiana's public universities from 38,400 in 2010 to more than 46,100 last year.
"That is a huge change in achievement," Kenley, who chairs the appropriations committee, told lawmakers and university officials. "I think it's a credit on our institutions and credit on our commission."
The Indiana Commission for Higher Education has pushed universities since 2007 to be more productive and efficient by making 6 percent of the money the state gives to public universities hinge on performance metrics, such as graduation rates. The commission wants the Legislature to bump that up to 8 percent by 2017.
Rates of students completing their degree doubled from 2011 to 2013, and the number of students completing their degrees on time rose 40 percent, the commission says.
The commission has pushed on-time graduation via an information campaign called 15 to Finish, which called on students and their university advisers to take at least 15 credit hours per semester—the minimum to graduate in two years for an associate's degree or in four years for a bachelor's degree.
Two years ago, the state also changed its rules for students who receive scholarships from the Frank O'Bannon and 21st Century scholarship programs. They must complete 30 credits each year to retain their full funding
The commission has even worked with the Indiana Department of Education to help high schools get more of their graduates ready for college—so they don't need to take remedial classes.

Higher education commissioner Teresa Lubbers says public colleges are doing better at helping students graduate.
"We think this is encouraging news that shows when you link financial incentives with certain expectations, you change behaviors, both in students and institutions," said Teresa Lubbers, Indiana's higher education commissioner.
Perplexing dilemma
Indiana has struggled to increase college education levels as employers demand more talent.
Only 35 percent of Hoosiers age 25 to 64 held an associate's degree or higher in 2013, according to the most recent census data. Nationally, the rate is 40 percent.
Indiana's overall education attainment rate has risen 3.5 percentage points since 2005, the year the Census Bureau started collecting such data annually.
Indiana's gains in education levels have come almost entirely from Hoosiers age 35 to 64, many of whom went back to school after losing jobs during the Great Recession that began in late 2007.
But among adults age 18 to 34—those who are in or have recently come out of Indiana's college system—attainment has inched up only half a percentage point since 2005. Meanwhile, the nation grew 1.5 points.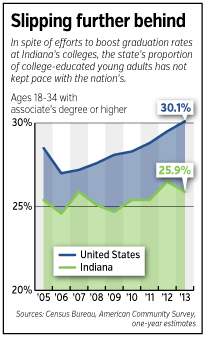 It's not entirely clear why the boost in degrees from Indiana's colleges and universities is failing to significantly improve educational levels among younger adults.
Some of the increase would be offset by population growth. From 2005 to 2013, the number of Hoosiers age 18 to 34 grew 11 percent, according to census data.
Some university leaders said they expect improvements to show up in future years.
Others noted that the state's higher education institutions import more students from out of state than the number of Hoosier natives who attend colleges in other states.
Purdue University, whose West Lafayette campus is the state's greatest importer of out-of-state students, has found that only 15 percent stay. Purdue and other public universities have ramped up imports in the past decade to offset state funding growth that lagged inflation.
Indiana could also be losing its young people to other states after they graduate from college—the so-called brain drain. But the national Baccalaureate & Beyond survey of college graduates one year after earning degrees shows that Hoosier grads stay home more than peers in other states.
Further gains needed
University leaders warned that their recent gains—and current funding levels—are too small to get education levels to where the economy needs it to be.
Lubbers and others have set a goal that 60 percent of working-age Hoosiers hold some sort of postsecondary credential by 2025. That's because roughly the same proportion of jobs is expected to require postsecondary credentials by then.
"We have not traditionally had the resources to match the demand for advising and ensuring that we track those students from freshman to sophomore to senior," said Ball State University President Paul Ferguson.
Jeff Terp, chief operating officer of Ivy Tech Community College, said Indiana won't reach its education attainment goals until Hoosiers writ large see education as their only route to healthy wages and until the Legislature bulks up funding for the state's community college system.
"Performance funding, the way it's currently designed, higher education funding, the way it's currently designed, will not let us get to the 60-percent goal," said Terp.
Ivy Tech wants an extra $83 million to restore per-student funding to levels of a decade ago.
Ivy Tech's leaders figure that three-quarters of the additional degrees needed to reach the 60-percent goal must be associate's degrees. That's because employer demand for the degrees is so high that Ivy Tech graduates earn more, on average, one year after graduating, than graduates of any of Indiana's other public universities.
But Ivy Tech leaders say they need more state funding to build systems to help all those extra students actually graduate. For example, Ivy Tech has only one adviser for every 1,000 students. It would like to double that ratio by adding 200 advisers.
Chris Bowen, an Ivy Tech accounting student, said advising was key in helping him shift from a teacher training program to accounting. He was given a series of tests to determine his strengths and interests, which identified accounting as a good fit.
Bowen, now Ivy Tech's student government president, said he's seen too many other students not get the advising they should have.
The adviser shortage forces students "to be your own advocate," Bowen said. "Until you get the one that's actually for your major, you just sit in an office and wait around" for someone to help you.
'Intrusive advising'
Indiana State University in Terre Haute has ramped up enrollment while also seeing modest gains in the number of students staying their entire freshman year and those making it to a third year of college.
One key to ISU's success was its 2012 creation of a University College, into which all freshmen are enrolled before they decide on a major. With half of ISU students being first-generation college students, and half also being from low-income families, ISU finds its students face more challenges than most in adjusting to college life.
University College has 23 student advisers who reach out to freshmen rather than waiting for the students to seek advice—something ISU calls "intrusive advising."
The advisers, who typically hold master's degrees but are not ISU professors, help students with everything from choosing classes, to consulting with their professors before they drop a class, to even walking them to the registrar's office or financial aid office to get questions answered and paperwork filed.
"We're trying desperately to reduce the number of drops, because of course it's hard to get to the 30 credits [per year] if you're dropping classes," said Linda Maule, an ISU professor who founded the University College.
But that means solving issues way outside the classroom.
"It's the psychological wear and tear of everything being difficult that finally makes our most vulnerable population give up," Maule said. "They're worried about money, and they're worried about their family at home, and they're having to deal with financial records, and their professors are using language that they're not quite sure what they mean, and they're not sure they should be here."
University College has worked with professors to move up interim grade reports from the 10th week of a semester to the sixth, so there's more time to help struggling students before the 16-week semester ends.
University College also directs students to other ISU resources, such as tutoring, mental health counseling, and even a food pantry that opened on campus last fall.
For freshmen who fall behind, ISU started a summer school program that allows them to take up to six credits for free.
"We think this is a very big social science experiment," ISU President Daniel Bradley said. "Will it achieve higher graduation rates? Time will tell."•
 
Please enable JavaScript to view this content.