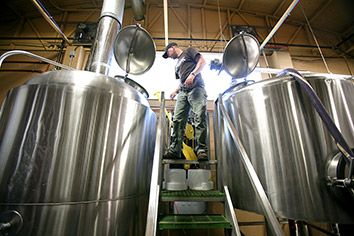 Sun King and other Indiana beer makers could produce more barrels of their product while remaining small breweries under a bill the House Public Policy Committee passed Wednesday.
Senate Bill 297, authored by Sen. Ron Alting, R-Lafayette, changes the maximum number of barrels that a small brewery can produce in a calendar year from 30,000 to 90,000 barrels.
However, the bill only allows a brewery to sell a third of that amount to retailers. Anything above that mark would have to be sold through a third-party distributor.
The bill's House sponsor, Rep. Edward Clere, R- New Albany, said the legislation is almost identical to the section involving small breweries in House Bill 1311.
Brewers—including Sun King Brewery owner Clay Robinson—voiced support for SB 297. Last year, Indianapolis-based Sun King nearly hit the 30,000-barrel production cap. Sun King, founded in 2009, does not sell beer out of state.
Under current law, brewers that want to exceed the 30,000-barrel production cap must switch to a different type of permit, which requires that sales go through a distributor and eliminates their ability to have a tasting room.
Robinson said the bill would allow his company to open another brewery and tasting room in Fishers where he has already purchased property. Right now, that project is on hold.
Rep. Matthew Lehmen, R-Berne, said he's concerned the bill violates the three-tier system in the state. The system divides the alcohol industry into producers, distributors and retailers. Producers can only sell to distributors, which sell to retailers, who then sell to customers.
Lehmen said SB 297 allows for producers, in the form of small breweries and craft beer producers, to sell to retailers and to consumers as opposed to selling through distributors. Initially, that exception was meant to help small breweries, but Lehman said he's frustrated that lawmakers keep making changes that expand the exceptions.
But Rep. Thomas Dermody, R-LaPorte, said debating bills such as SB 297 gives lawmakers the opportunity to review the three-tier system and whether the state wants to keep it in place or make exceptions.
The committee passed SB 297 unanimously. It moves to the full House for further consideration. HB 1311 has passed the House and is now awaiting action in the Senate Public Policy Committee.
Please enable JavaScript to view this content.