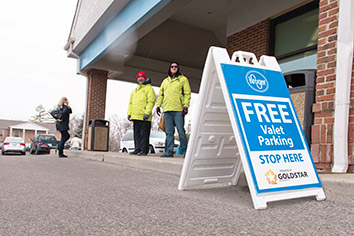 Four valet attendants maneuver hundreds of cars for Angie's List employees every weekday morning.
Since Goldstar Management LLC started valet parking for the Indianapolis-based company, 275 vehicles can be carefully crammed into a lot designed for 162.
"We're able to maximize and utilize all the dead space in parking lots," said Chris Kolditz, owner/CEO of Goldstar Management.
It is the parking company's only corporate client, but it's an area that could grow as valet service in central Indiana expands beyond upscale restaurants and luxury hotels to hospitals, casual eateries and even a grocery store.
At Angie's List, arrivals are usually packed into a two-hour window, making the morning hectic. The afternoons are easier, with departure times staggering. Employees text their assigned number when they're ready to leave; the valet staff receives the alert on an iPad and retrieves the car.
"That is something we are definitely really trying to explore and promote," Kolditz said of corporate valet parking.
Scotty's Brewhouse on Main Street in Carmel is another somewhat-out-of-the-ordinary client for Goldstar.
Kolditz said it's "kind of an odd place" for valet parking, but the restaurant brought Goldstar in earlier this month to offer customers the service for $6 per vehicle.
"They have a lot of limited three-hour parking," Kolditz said of the area surrounding the low-key restaurant. "And a lot of people aren't aware there's a parking garage there. … If that gets full, where do they go?"
Another new and uncommon venue for valet service is Kroger on Rangeline Road in Carmel.
Parking has been limited and cramped as the grocer operates out of a former Walgreens building while the main store undergoes a major renovation and expansion.
Kroger spokesman John Elliott said the store wanted to temporarily offer complimentary valet service for customer convenience and safety reasons. It's a first for Kroger, at least in the company's central division.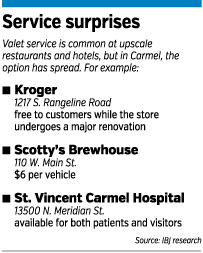 Elliott said a shuttle or bus service is usually offered to ease parking tensions when locations are renovated.
"The valet version is new for us," he said. "And customers like it."
The service will stop when the remodeling is complete, which is estimated to be in June.
Valet service isn't just about a lack of parking, though.
Eddie Merlot's on 96th Street in Carmel is surrounded by parking lots, providing plenty of spaces for customers only a few feet from the front door. It's more about convenience, according to General Manager Joseph Davey.
"The level of food that we're at, we try to provide an equivalent level of service," Davey said.
The restaurant uses Elite Management Services and offers the perk free to customers.
Rashel Coulter, director of sales and marketing for Elite, said a majority of the company's valet business is at restaurants in downtown Indianapolis. On the north side, Elite serves The Center for the Performing Arts in Carmel, Ruth's Chris at Ironworks on East 86th Street, and Harry & Izzy's at Rivers Edge shopping center on East 82nd Street.
"We're expanding into different markets," Coulter said. "Basically, for the north-side accounts, it's really just a nice amenity."
Parking at hospitals is also usually plentiful in large lots or multilevel garages, but a handful of medical centers throughout the area offer some form of valet service.
Riley Hospital for Children at Indiana University Health provides it for emergency room patients and parents; IU Methodist Hospital offers it free to cancer patients; IU Health University Hospital at its University Boulevard entrance offers it for $5.
In Hamilton County, St. Vincent Carmel and St. Vincent Fishers provide valet parking to patients and visitors.
"It's becoming more and more popular," said Mark Pryor, vice president of business development for Denison Parking Inc. "Because patients have trouble walking and, if you can drop them off closer to the door, it works out a lot better for them."
Denison Parking operates valet service at four IU Health locations, a couple of malls nationwide, and Oceanaire in downtown Indianapolis.
"We kind of do a wide variety," Pryor said.
He said readily available nearby parking doesn't tend to hamper valet success.
"Most of our valets are right next to self-park," Pryor said. "It's about convenience."
Kolditz said the market for convenient parking will continue to grow as density downtown increases and parking lots are replaced with new buildings.•
Please enable JavaScript to view this content.