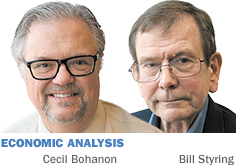 "Dorothy, you and Toto have to understand you're not in Kansas anymore." That's our reaction whenever politicians and pundits start making hay (or excuses) over the latest unemployment numbers.
Last month, Indiana's unemployment number rose from 5.9 percent to 6.0 percent. In Illinois, our basket-case neighbor, the rate ticked down from 6.2 percent to 6.1 percent. Illinois must be booming while Indiana is stagnating, right?
Well, no. The widely publicized unemployment rate is one of those chameleon numbers, where apparent good is sometimes bad, and vice versa. All is not always what it seems when you peek behind the wizard's curtain.
The feds generate a slew of different measures of the "unemployment rate." The one you hear about is something called "U3." U3 is the number of people out of work and looking for a job, divided by the labor force. The labor force is those with jobs plus those who are unemployed but looking for work.
This seems straightforward enough, but it isn't. Take Tom. Tom has been out of work for a long time but can't find a job. Tom gets so discouraged he stops looking. This is obviously a bad thing, but the unemployment rate goes down.
Tom was counted as unemployed while he was looking for work, but when the economy is so bad he gives up and stops looking, he is not. Tom is no longer counted as part of the labor force. He is a "discouraged worker."
If the labor market ever improves enough for Tom to regain hope and start looking again (a good thing), he will once again be counted as unemployed and the unemployment rate will go up.
There are other quirks in the unemployment numbers (for example, part-time workers who want full-time work are counted as full-timers), but you get the picture. Surface appearances can fool you.
Let's go back to Indiana versus Illinois. The Illinois population is almost exactly double that of Indiana. For all of 2014, Illinois gained 106,000 employed, but its labor force shrank by 31,000. Indiana gained 60,000 employees, but our labor force increased by 59,000.
So which economy is healthier? How many would pick Illinois? But the unemployment rate for Illinois for the year dived from 8.2 percent to 6.1 percent while the Indiana rate barely moved from 6.2 percent to 6.0 percent.
Whenever a politician starts crowing about "falling unemployment," ask Toto to yank back that curtain.•
__________
Bohanon is a professor of economics at Ball State University. Styring is an economist and independent researcher. Both also blog at INforefront.com. Send comments to ibjedit@ibj.com.
Please enable JavaScript to view this content.