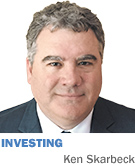 I wholeheartedly agree with the theme advocated last week by fellow IBJ columnist Mickey Kim that, throughout our country's history, a bet against America has been a bad bet.

The past week's events in Indiana have created a national firestorm that has seen Hoosiers take sides against each other and businesses rethink their future in the state. Despite the furor, I would suggest that a long-term bet against Indiana is also a bad bet.

Next year, in December, Indiana turns 200 years old. When one thinks about it, 1816 wasn't that long ago. Consider that some researchers believe a significant percentage of babies born in the state today will live to be a century old.

In reading James H. Madison's excellent book "Hoosiers: A New History of Indiana," one is struck by the dramatic progress and creation of wealth that has transpired since Indiana became the 19th state. Madison notes that, "in 1824 it took a single wagon to transfer all of the state's records and property from Corydon to the new wilderness capital on the banks of the White River. The trip took ten days."

In 1820, only about 147,000 people were living in Indiana and carving out a living on the frontier. In the 1830s, there were still Indian settlements in northern Indiana. According to the 1840 census, Indianapolis had 2,695 residents.

Today, the last I checked, the market value of Eli Lilly and Co. was $78 billion, not to mention the value of all the other businesses throughout the state, the value of the real estate, and the per-capita income earned by Hoosiers.

Here is a useful exercise. Imagine a public market where you could buy and sell stock representing ownership in Indiana. The press is swirling with opinions from a variety of sources both inside and outside of Indiana painting a negative future for our state. Without question, recent events would have sent the price of this conceptual share of Indiana stock sharply lower—not because the net worth of the state declined, but because investor perceptions and emotions would have sparked a selloff.

This uncertainty about the future for Indiana would mean such a stock would sell at a significant discount to its intrinsic value—the present value of the net worth and earning power of Indiana businesses, real estate and its people. For opportunistic investors, this would be an ideal time to load up on Indiana stock.

On the other hand, owners of the theoretical Indiana stock who were frightened into selling because of this uproar lost money or realized a price much less than fair value.

Our state government and people will undoubtedly reach a solution that resolves these issues because it is in everyone's interest to do so.

As Indiana prepares to celebrate its 200th birthday, we should "take stock" in the amazing accomplishments that have transpired in our state. Like Warren Buffett's statement on America, Indiana's best days assuredly lie ahead.•

__________

Skarbeck is managing partner of Indianapolis-based Aldebaran Capital LLC, a money-management firm. His column appears every other week. Views expressed are his own. He can be reached at 818-7827 or ken@aldebarancapital.com.