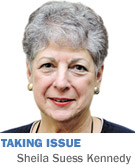 In the wake of a precipitous decline in his approval ratings, and the subsequent resignation of his communications director, Gov. Pence has reportedly asked the person who served that function on his congressional staff to leave his position with Koch Industries and come to Indiana to help him recover.
Critics of the administration—including a number of Republicans—have suggested the move is yet another indication that Pence fails to understand the nature of the criticism he has generated. The damage inflicted by his endorsement of the Religious Freedom Restoration Act wasn't due to poor communication. Hoosiers got the intended message—that was the problem.
The former staffer's relationship with the Koch brothers also sends a message.
If the RFRA battle focused Hoosiers on the conflict between a capacious understanding of religious liberty and our historic commitment to civic equality, the overwhelming influence of the Kochs highlights a different conflict.
The Koch brothers have become a political Rorschach test; national Republicans seek out their patronage, while Democrats warn that they are distorting the political process.
Their willingness to spend unimaginable amounts of money to influence public policy and protect their interests—especially their fossil fuel empire—is the subject of countless articles and political conversations, and their funding of academic "scholarship" favorable to those interests has roiled a number of college campuses. (Case in point: A recent Newsweek article by an author initially identified only as a "professor of political economy at Utah state" argued that wind power is really more costly than we think. It turned out his full title was Charles G. Koch Professor of Political Economy.)
Do people like the Kochs—or George Soros, for that matter—have the right to use their money and power to influence policy? Of course. The problem is not their right to participate and advocate. The problem is a lack of proportionate countervailing voices.
It isn't just that Citizens United gave wealthier Americans an enormous megaphone through which to exercise their First Amendment rights, although the results of that decision are increasingly and obviously detrimental. It is that traditional sources for competing points of view have been systematically weakened. The assault on labor unions, for example, has greatly diminished the voice of working-class Americans.
The issue is not whether one argument or another is better; the issue is whether Americans will get to hear all those arguments, and make decisions informed by free and full debates.
American public discourse tends to be bipolar and "zero sum." Policies are either right or wrong, good or bad. A right accorded to X must mean diminished rights for Y.
In the real world, however, the goal of policy is more nuanced. More often than not, we seek to achieve an appropriate balance between or among competing interests, all of whom are entitled to have their voices heard and their rights respected.
When court decisions and legislative actions create troubling imbalances of power, we risk substantial damage to our social ecosystem. Cases like Citizens United have upset that balance, allowing those with the most resources to dominate the civic conversation, muffle or drown out countervailing perspectives.
The philosophy of the First Amendment is the philosophy of the market. Just as consumers benefit from fair and robust competition to provide goods and services, citizens benefit from a full and free exchange of ideas.
When there is a monopoly in either marketplace, we all lose.•
__________
Kennedy is a professor of law and public policy at the School of Public and Environmental Affairs at IUPUI. She blogs regularly at www.sheilakennedy.net. She can be reached at skennedy@ibj.com. Send comments on this column to ibjedit@ibj.com.
Please enable JavaScript to view this content.