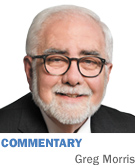 If you haven't already, PLEASE VOTE on May 5 in the local municipal primary elections. It's especially important in Carmel, Noblesville and Westfield, where the Republican primary will certainly determine the next mayor for each city.
The primary stakes aren't so high in Fishers, where the sitting mayor is running unopposed. And in Indianapolis, the mayoral primary election campaign has been quiet. The assumption must be that Republican Chuck Brewer will square off against Democrat Joe Hogsett in the general election on Nov. 4. Nothing is likely to happen at the polls in May to derail that matchup. The real action will take place shortly after the primary, when the two major-party candidates will begin making their case to voters.
But in Hamilton County, May 5 is the election. Carmel Mayor Jim Brainard is going for his sixth term. He faces longtime Carmel councilman Rick Sharp. Noblesville Mayor John Ditslear is seeking his fourth term. He is facing Mike Corbett of Hamilton County Media Group, publisher of Hamilton County Business Magazine. Westfield's first mayor, Andy Cook, is seeking a third term. He is being challenged by Jeff Harpe, a Pike Township firefighter.
Voter turnout has been falling like a rock in recent years, and that could prove to be a key factor in these local elections. The number of voters has been embarrassingly small. Check out these primary vote totals from 2011:
In Carmel, 12,025 votes were cast for mayor. John A. Accetturo was the top challenger with 2,590 votes. Marnin J. Spigelman got 1,979 votes. Brainard captured most of them, 7,456 votes.
In Noblesville, 3,382 votes were cast. Ditslear got almost 2,500 of them. Challenger Steve Brown pulled only 889. Ditslear's primary challenger this year, Mike Corbett, ran against Ditslear as an independent in the 2011 general election, which Ditslear won 4,233 to 2,292.
In Westfield, of the 3,409 votes cast in the last primary, Andy Cook beat challenger Russell Cameron by a slim margin, 1,735 to 1,674. That's just 61 votes. How many voters who favored either candidate decided they were just too busy or not interested enough to show up to vote that day? That's why we say every vote counts.
While Carmel Mayor Brainard didn't have a strong challenger last go-around, this time only one candidate is running against him, so the opposition vote won't be split. Rick Sharp is thought to be a strong challenger. Add low voter turnout to the mix and Brainard could be in for a surprise.
Beyond the mayoral races in these cities, you have city council races where almost every candidate aligns with the overall agenda of one of the mayoral candidates. The winning mayor gets council members who are either generally receptive to his initiatives or more combative.
In Hamilton County, in 2011, the overall voter turnout in the municipal primary election for all races was 14.6 percent. Only 24,174 registered voters came out to vote. Last year, in the midterm primary election of 2014, Hamilton County voter turnout was 12.1 percent. The voter count was up to 24,969, but the county had grown and added more registered voters—many of whom didn't vote.
I've focused on Hamilton County for this analysis because, as a lifelong resident, the politics there are familiar to me. And because in the three contested mayoral races, there likely won't be any candidates mounting a credible challenge in November.
This isn't unique to Hamilton County. Look at any county, city or township in the state, and you'll find important local races to be decided in a primary election. Many times, the primary is the only election that matters, which can work for Republicans and Democrats alike, depending on the county.
So please get out and vote. I don't care what political party or candidates you favor. Vote in the primary and vote in the general election. Educate yourself on the issues and the candidates and get involved.
More information about voting can be found on your county's website and at www.IndianaVoters.com. Thanks for reading IBJ and thanks for voting.•
__________
Morris is publisher of IBJ. His column appears every other week. To comment on this column, send email to gmorris@ibj.com.
Please enable JavaScript to view this content.