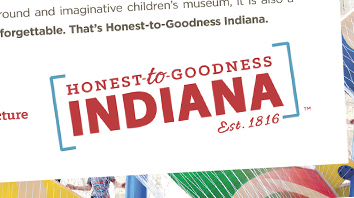 Fourteen months ago, state tourism leaders celebrated the creation of a new slogan and ad campaign.
Now the Honest to Goodness Indiana tag line might be on the chopping block, the latest victim of fallout from the Religious Freedom Restoration Act.
The slogan has been divisive from the start, with some arguing it's too folksy and down-home to mesh with central Indiana's ambition as a major-league sports city; convention destination; and tech, medical and business hub.
It has even more detractors now.
"It's difficult to see Honest to Goodness as a slogan for state tourism at this point in time," said Jo Wade, president of Visit Lafayette-West Lafayette. "People want to grab anything they can to remember their anger toward our state, and Honest to Goodness could be a flare-up. At the time we passed RFRA, people didn't see that as honest or good."
Bruce Bryant, president of locally based Promotus Advertising, agreed.
"Honest to Goodness is worse than ringing hollow," he said. "It begs people to remember the RFRA attack. The last thing the state needs is a memory peg to take them back to RFRA, and that's exactly what they have in Honest to Goodness."
Last month, state officials hired global public relations firm Porter Novelli to turn back the tide of negativity that's been rolling into the state since Gov. Mike Pence signed RFRA into law in late March. Many people derided the law as a tool that would allow businesses to discriminate against gay and lesbian customers.
The law was quickly amended to allay those fears, but much damage had already been done to the state's reputation. Now tourism officials say Porter Novelli's work can't get done soon enough.
"There's definitely a feeling of urgency here," said Carrie Lambert, executive director of the Indiana Tourism Association.
Lambert, whose organization represents convention and visitors bureaus statewide, said her constituency has felt considerable pain in the wake of RFRA, and area tourism officials said the Honest to Goodness branding isn't helping.
ITA received 500 emails from people "expressing their disgust" over RFRA in the days following the bill's passage, Lambert said.
There was other collateral damage, too. Columbus received 13 calls to either cancel or inquire about canceling events, Holiday World had people asking for a refund to the grand opening of the Thunderbird winged roller coaster in April, and Fort Wayne received six calls expressing serious concern about upcoming conventions from 2015 to 2018, Lambert said. She added that one of those calls resulted in Fort Wayne being removed as a possible site by the convention organizer.
The ITA last month issued talking points to its members to help them address RFRA-related questions.
The impact could be felt for years.
"Our biggest fear is the bid cycle that is going on right now," Lambert said. "We have a lot of meeting and tour planners telling us that now is just not the time to announce you're coming to Indiana. The bookings are drying up and that could cause a big issue in three to five years."
Visit Indy officials said it's simply too early to calculate the damage. By Sept. 1, Visit Indy will have data from this year's summer travel season, six months of post-RFRA data on the convention front, and year-over-year numbers on some of the city's biggest annual gatherings, including GenCon.
Only then, Visit Indy Vice President Chris Gahl said, will the organization be able to give "data-driven" analysis.
Honest to Goodness hot button
Tom Bannon, executive director of the Anderson/Madison County Visitors Bureau, said it's a shame the Honest to Goodness campaign is being sullied by the RFRA dust-up.



"It's a good overall campaign with some really good creative," Bannon said. "The campaign did a great job of highlighting all the fun and entertaining things to do in this state."
The state last fall hired Carmel-based Strategic Marketing & Research Inc., a nationally known hospitality research firm, to study the economic impact of the campaign. Though the study is complete, the state has not yet released results.
Strategic Marketing & Research Vice President Denise Miller said the results were positive.
"People in our focus groups liked the campaign," Miller said. "They weren't just positive. They were largely positive about the Honest to Goodness ads."

Miller
But she admitted that, post-RFRA, "There are some opportunities to take shots at the slogan."
"I think it's perfectly likely meeting planners and business executives will see Honest to Goodness as a negative," she said.
Leisure travelers have a shorter memory, she said. Miller's company recently did a study for St. Louis, and found the impact of the events in nearby Ferguson was minimal on the tourism sector. She found the same in Arizona over its recent controversial immigration legislation.
The Indiana Economic Development Corp. is set to finalize its $2 million PR deal with Porter Novelli by the middle of this month. The time line for the agency's work will be determined in the final contract, IEDC officials said.
New York-based Porter Novelli will take a statewide look at RFRA's damage, officials said. They declined to elaborate, but those familiar with the deal said the agency will look at the Honest to Goodness campaign.
Local tourism officials hope Porter Novelli will come up with a plan by mid- to late summer. Advertising experts think the fall is more likely.
"What Porter Novelli does and what direction they decide to take us will be very important," Lambert said. "We have a hurdle in front of us and we have to determine how to get over it."
Though Indiana Office of Tourism Development Executive Director Mark Newman declined to be interviewed for this story, he emailed IBJ a statement that said the Honest to Goodness 2015 summer campaign began in April as scheduled and will continue for the foreseeable future.
He also expressed confidence in Porter Novelli, which has offices in every corner of the world, including 12 in the United States. It counts T-Mobile, Pfizer, UPS, Roche Diagnostics and The Walt Disney Co. among its clients.
Local ad firms miffed
Local ad firms scoffed at the notion of bringing in an out-of-town agency.
Todd Muffley, CEO of Carmel-based Fat Atom Marketing, called surpassing "so many talented local firms" for an agency with less insight into state matters "asinine."
Though Promotus' Bryant said Porter Novelli is "very progressive," he added that the firm is "too far left and too liberal" for the job.
"I think [IEDC officials] chose the biggest, glitziest firm they could find," he said. "If they paint Indiana as too liberal, it's not going to be seen as genuine. That would cause more damage."
Muffley also is concerned with the authenticity of a campaign formulated by Porter Novelli.
"You can't cover up a mess with B.S.," he said.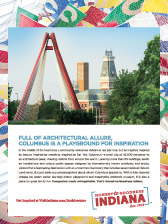 Many tourism leaders worry the Honest to Goodness slogan could be damaging. (Image courtesy of Indiana Department of Tourism Development)
Porter Novelli declined comment, referring all questions to IEDC. IEDC officials expressed confidence in their decision.
It's unclear how much it will cost to implement Porter Novelli's post-RFRA plan. The $2 million will mostly go toward formulating the blueprint.
But state tourism is about to gain financial marketing muscle. In April, lawmakers voted to more than triple the state tourism budget, to $11.6 million over the next two fiscal years. Much of state tourism spending is on marketing.
Despite the increase, Indiana will still be in the bottom quartile of U.S. states in terms of tourism spending. Strategic Marketing & Research's Miller said lawmakers' "idea of what it takes to promote the state is pretty out of touch."•
Please enable JavaScript to view this content.