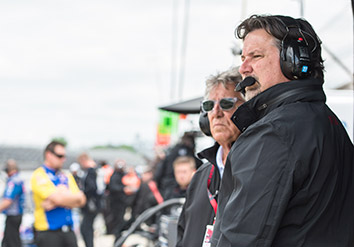 IndyCar Series team owner Michael Andretti listened intently to his race radio on May 12 as word spread that fire had engulfed his race car driven by Simona de Silvestro.
Andretti was concerned but calm—a trademark since his days as a driver—as people scurried about him. Word came quickly that de Silvestro was unharmed.
The 52-year-old son of racing icon Mario Andretti is accustomed to being at the center of a whirlwind. For this Indianapolis 500, his 120-employee Andretti Autosport team is trying to qualify five cars—all sporting brand-new, untested aero body work.
It's a big-budget enterprise, given that it costs $7 million—not including a driver's salary—to run a single car full time in IndyCar. He has three cars that run the full season and two part time—an operation motorsports experts figure costs around $30 million.
And Andretti isn't content being a powerhouse in just one series. His company also has teams in two IndyCar feeder series—the new all-electric Formula E series and Global Rallycross, a wild circuit of serpentine courses that are a mix of pavement and dirt. Those endeavors likely add another eight figures to the company budget.

Frost
"I'm involved in every single aspect of my team," Andretti said from the team's compound at the Indianapolis Motor Speedway. "But I'm not a micro-manager. I let my people do their jobs."
With Andretti's recent launch of an Internet television channel—AndrettiTV—and the expansion of his event-promotion and hospitality operation, there's plenty to do.
"Andretti is one of the most diversified companies in all of motorsports," said Chicago-based motorsports business consultant Tim Frost. "He certainly has the most diversified team in IndyCar. It's amazing what he's done."
He's done it without the deep pockets of someone like Roger Penske or a mega-sponsor like Chip Ganassi has in Target.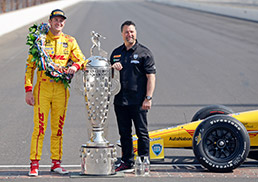 Michael Andretti has won four IndyCar titles and three Indianapolis 500s as an owner, including last year with driver Ryan Hunter-Reay. (AP photo)
"He's had the advantage of having the Andretti name—one of the most famous in motorsports—and he was a terrific driver in his own right, but he built his own team from the ground up," Frost said. "The growth that his operation has seen since he took over has been phenomenal."
In 2003, Andretti bought into the Team Green squad run by brothers Kim and Barry Green in CART. It became Andretti Green Racing and the team immediately moved to the IndyCar Series, then known as the Indy Racing League.
Success came quickly. The team claimed consecutive series titles in 2004 and 2005, with cars driven by Tony Kanaan and Dan Wheldon. In 2009, Andretti bought out his partners—Kim Green and Kevin Savoree—and changed the name to Andretti Autosport.
After a two-year non-compete clause with Green and Savoree ran out, Andretti launched Andretti Sports Marketing in 2012 to take on race promotions. He eventually expanded into other areas, including promoting National Volleyball League professional beach volleyball events.
Work at Andretti is a family affair. Son Marco, 28, is one of his full-time IndyCar drivers, and daughter Marissa, 24, works in client services.
'Hands on everything'
Robin Miller, a motorsports journalist who has covered American open-wheel racing for more than 30 years, never saw Andretti's move to the business side of racing coming.

Miller
"He's one of the best race car drivers of the last 25 years, but owning and operating a team is a whole different thing, and quite frankly, something he never seemed to show much interest in when he was driving," Miller said.
But Andretti has "ponied up his own money and jumped into the racing business with both feet," and the IndyCar Series has been better for it, Miller added.
Andretti dabbled in other enterprises: a chain of car washes, car dealerships, powersport stores, Quiznos restaurants, real estate. But in the last decade, he's divested all of that to focus on racing.
"Open-wheel racing needs people as committed as Michael Andretti," said Miller, who writes for Racer.com and does commentary for NBC Sports Network. "Penske and Ganassi aren't nearly as involved in racing as he is. He's involved in driver development, race promotions and operations, corporate entertainment … you name it. This guy has his hands on everything."
Andretti's co-workers said he works 12-hour days seven days a week during the season. Andretti said he works harder during the off-season.

And he loves almost all of it.
The worst part of his job is Dec. 15 through Jan. 1—when motorsports basically shuts down for the holidays.
"I hate it," Andretti said.
He said he is "climbing the walls" of his Fishers home during that time, even though he has 1-year-old twins—Mia and Mario—at home. He figures he drives his wife, model and actress Jodi Ann Paterson, just as crazy during the down time.
A part of his job he disdains almost as much is selling sponsorships.
"That process has such highs and lows," he said. "You get leads, you follow up, you have this long sales process, you think you have it, and it can so easily fall apart.
"It's very frustrating," he said, thrusting his fist through the air.
This spring, a sponsorship deal fell through at the 11th hour. Andretti is still fuming about not being able to field a fourth car full time in this IndyCar season.
He admitted his growing empire "is a hungry beast." So, courting sponsors "is a never-ending process."

Thormann
J-F Thormann, Andretti's chief operating officer, said Andretti's growth as a business operator is impressive.
"He has the memory of an elephant and a laser focus," said Thormann, who competed against Andretti on the track three decades ago. "He's developed a great way of dealing with people, whether it's a driver or a sponsor. He's very direct and very transparent. He can see through the B.S. very quickly. People appreciate that in him."
That laser focus means Andretti gave up golf and racquetball years ago.
"This is all I do," he said.
Promoting the sport
Andretti Autosport is the only team with entries at all levels of IndyCar—the main show and two feeder series. In 2013, Andretti joined Formula E, and last year launched a two-car Rallycross team. He also promotes races in both of those series.
The different series gives sponsors more options for involvement, he said.
"It's also good for the sport of auto racing," said Andretti, who makes no secret of his disappointment that other big IndyCar teams aren't involved in the feeder series.
"At some point, people have to realize a rising tide lifts all boats," he said. "And that includes their own."
No one can say Andretti doesn't do everything he can to raise the IndyCar tide. In 2012, when series officials asked him to become a race promoter, his firm first took over the struggling race in Milwaukee, then put on a street race over the Labor Day weekend in Baltimore. This year, Andretti Sports Marketing promoted a new road race near New Orleans.
Race promotion is a dicey business, however. Not everything has gone smoothly.
The Baltimore race was canceled for 2014 and 2015 because of scheduling difficulties and conflicts with local officials. The race in Louisiana was criticized for a lack of parking and seating and for being held on a track seldom used for professional races.
The new Formula E race Andretti promoted in Miami this year, however, was sold out and earned largely positive reviews.
"Promoting races can be pretty challenging, especially street races," Andretti said. "You have to deal with cities, government officials, unions, and on and on. … It just takes a lot of experience."
A big business
Motorsports experts estimate Andretti has to raise about $50 million annually to operate his business. He loathes the idea of cutting expenses, noting that it could sully his company's brand—and his famous last name. Andretti slashed his research and development budget in 2011 and two of his cars missed qualifying for the 33-car Indianapolis 500 field.
"If you make cuts, the sponsor is going to get what they pay for, and no one will be happy," he said.
Lining up sponsorship dollars is far tougher than it was when his father drove in the 1960s through the early 1990s, or when Michael Andretti dominated as a driver in the 1990s or 2000s.
"Corporate budgets are much tighter now and there's much more competition in sports marketing," Andretti said. "Every company wants specifics on a return on investment. They want data and analytics to back up their spending. It creates a lot of pressure."
Andretti also puts pressure on himself.
Asked if his shareholders ever get a dividend, he responded: "I am the shareholder, and I've yet to take a single dividend."
"I'd like to make a profit—someday," he added. "There are some parts of the company that are profitable. And some that aren't. It's been really difficult. We're just keeping the lights on."
Andretti said IndyCar officials need to do more to increase attendance and TV ratings. He said that would go a long way toward helping teams sell more, and bigger, sponsorships.
He is not a huge fan of the series' current 10-year deal with NBC Sports Network—which was signed in 2008 when the cable channel was known as Versus—though he declined to say why.
He also is not happy with the new aero kits, which he said cost an additional $1.7 million per car but do little to increase fan interest.
Andretti said the jury is still out on Hulman & Co. CEO Mark Miles and the staff he's put together at the IMS and IndyCar Series since taking the job in late 2012.
"There's still a lot of work to be done. In some ways, it's getting better. In some ways, it's not—it's getting worse," said Andretti, who declined to elaborate.
Miles and his staff have applauded Andretti's efforts to improve the sport.
"He's intensely competitive in everything he does," said IMS President Doug Boles. "No doubt, Michael Andretti and his operation have been really good for this sport, and they're continually pushing for more, both from themselves and the series."
Early introduction
Andretti got an early glimpse at the reality of the racing business.
Mario Andretti, the 1969 Indianapolis 500 winner and 1978 Formula One champion, had a foray into team ownership and hated it.
"It was tough," Mario said. "To assure your team has the absolute best resources, it's extremely difficult."
Michael Andretti experienced the business pressure of racing as a teenager. In 1982—while racing the Super Vee Series as a 19-year-old—he had money for only three races. He won all three, catching the eye of a sponsor, CGI, which then funded him for the rest of the season.
"I went on to win the Super Vee championship that year," Andretti said. "Without that start, I don't get that opportunity. That's the way racing is. Win now, baby."
Andretti, who dropped out of college after two years to pursue racing, said his father "thought I was crazy for going into team ownership."
But he has won four IndyCar Series titles and three Indianapolis 500 championships as an owner, including last year with a car driven by Ryan Hunter-Reay.
He had a storied career as a driver as well, winning 42 races, 32 pole positions and the 1991 IndyCar championship—under the CART umbrella.
But he also has the dubious distinction of leading more laps—431—than any other driver who hasn't won the Indianapolis 500. He had his share of heartbreak at IMS, including in 1992, when he led 80 percent of the laps. He was leading by two laps with 11 remaining when his car had a mechanical failure. He ended up 13th.
Andretti is confident he would have won at Indianapolis were it not for the rift between IMS President Tony George and CART leadership, which led to the formation of the Indy Racing League in 1996.
"I lost five years [at Indianapolis] in my prime. I feel I was cheated, and there's nothing I could do about it," he said.
He's convinced drivers weren't the only ones who lost out.
"We could be as big as NASCAR right now," he said. "We were bigger than NASCAR at the time of the split and [NASCAR] took complete advantage."
Andretti said his successes now are fulfilling, but they're different from winning as a driver.
"As a driver, you're like a spoiled kid," Andretti said. "You want everything and you really don't consider what goes into it. You're focused on yourself and the victories are personal. As a team owner, you see the bigger picture. And the successes are shared."•
Please enable JavaScript to view this content.