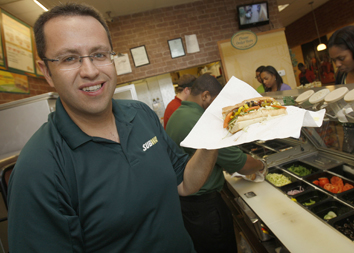 Before federal investigators raided the Zionsville home of Subway spokesperson Jared Fogle on Tuesday, the company was in the midst of rebranding him to revive stagnant sales.
No charges have been filed against Fogle, and FBI officials have declined to discuss the nature of the investigation. The raid came two months after the executive director of Fogle's charitable foundation was arrested on child pornography charges.
Subway issued a statement saying it was temporarily ending its 15-year relationship with Fogle just hours after FBI officials searched his house.
The upheaval has halted Subway's latest ad campaign—one that portrays Fogle as a family man keeping the weight off with a consistent diet of Subway sandwiches.
In an animated TV spot released this year, a narrated cartoon shows a sweater-clad Fogle as a new father taking his wife, Katie McLaughlin, and their two young children—the couple have a three-year-old son and a one-year-old daughter—to a nearby Subway store.
The commercial exemplifies Subway's dependence on Fogle as its sole ambassador—a pop culture relic of the early 2000s who helped build Subway's reputation as a health-conscious fast-food alternative. Now, as the company struggles to stay relevant among such emerging competitors as Chipotle Mexican Grill and Jimmy John's, Fogle and his new image were poised to help revive the world's biggest fast-food chain.  
"My life has evolved," Fogle told Bloomberg Businessweek in an exclusive interview on June 17. "The next step in my story is I have a family, and a lot of parents can relate to that. You want to be a role model for your children, and obviously one of the most important things is maintaining the weight, keeping it off."
Fogle also made an appearance at the premiere of Disney's Inside Out and was scheduled to make a cameo in the upcoming Sharknado 3: Oh Hell No! movie this month. A spokesperson from NBCUniversal confirmed Wednesday that Fogle will no longer appear in the film.
Fogle's updated family-man image was rolling out just as McDonald's was releasing a remade Ronald McDonald, KFC was bringing back the Colonel, and Burger King was reviving its crown-clad mascot. But unlike fictional fast-food mascots, launching a new Jared campaign meant framing a narrative around real-life changes.
"I'm not just a stagnant person like some of those other mascots," Fogle said. "I hope to be a great parent and a great role model for kids anywhere. I hope to be with Subway for a long time to come."
Those plans unraveled after FBI agents showed up at Fogle's sprawling Indiana home and started hauling out armfuls of electronics. The raid came just two months after Russell Taylor, the former director of the Jared Foundation, Fogle's not-for-profit focused on eliminating childhood obesity, was arrested on charges of possessing, selling, and producing child pornography.
"It was a very sad situation that came out of that, but my goal is to make something very positive out of all this," Fogle said of Taylor's arrest.
Fogle also gave Subway tearful credit for encouraging him to maintain his weight loss and embracing his new life as a dad in their advertising.
"I think their support was a big reason why I lost the weight and am keeping it off," he said. "Not only did it save my life—it turned my life around."
Remnants of "Jared's Journey" were scrubbed from Subway's website on Tuesday, and the Jared Foundation's website went blank a day later.
Please enable JavaScript to view this content.