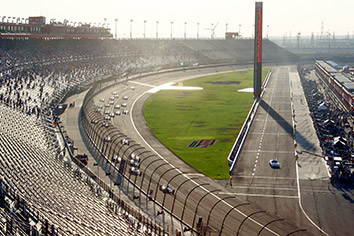 IndyCar Series television ratings aren't exactly rivaling stick-and-ball sports or even NASCAR but they're definitely gaining ground—and eclipsing major cable-viewing milestones.
The Aug. 2 broadcast of the Honda Indy 200 at Mid-Ohio drew 660,000 viewers, making it the most watched IndyCar race on NBC Sports Network since the open-wheel series signed its 10-year deal with the cable channel in 2008, according to New York-based Nielsen Media Research.
Viewership of the NBCSN broadcast at Mid-Ohio eclipsed coverage of the Edmonton race in 2011 (642,000 viewers) and was the most-watched IndyCar Series telecast on cable TV since the 2008 race at Sonoma Raceway (685,000 on ESPN2).
The race, won by Ohio native Graham Rahal 30 years after his father, Bobby, won an IndyCar race on the same Mid-Ohio Sports Car Course, was broadcast live earlier in the day on CNBC. It was broadcast early Sunday evening on NBCSN.
In total, the Aug. 2 telecasts on CNBC and NBCSN drew 838,000 viewers. This provided the largest single-day viewership for IndyCar since the major-network broadcast of the second race of the Dual in Detroit on May 31, 2015. That ABC broadcast of the Chevrolet Detroit Belle Isle Grand Prix delivered 1.2 million viewers, according to Nielsen.
Mid-Ohio also marked the first time that four consecutive IndyCar telecasts on NBCSN surpassed 500,000 viewers, according to Nielsen.
Improvement in ratings is vital for IndyCar, as viewership helps drive sponsorships for the series and its drivers.
Average TV viewership for the series' races this season is up nearly 10 percent, according to Nielsen, but some races are seeing much bigger gains.
Viewership was up dramatically over 2014 for the races at Iowa Speedway (22 percent), the Milwaukee Mile (66 percent) and Auto Club Speedway (83 percent), according to Nielsen.
Mark Miles, president of IndyCar parent Hulman & Co., credited the increased TV ratings to improved marketing by the series, better broadcast execution and programming by NBCSN, and compelling racing involving an up-and-coming American driver and an established veteran.
"We're making progress," Miles said. "A lot of sports properties are struggling to maintain audience, so our trend is right. We're still a long way from where we want to be."
Miles said he's confident next season will mark the third consecutive year of IndyCar TV ratings increases, but admitted "it will be a tough challenge."
"In 2016, we have the Summer Olympics, and NBC will be devoting a lot of time to that as well as (various) Olympic trials," Miles said. "A lot of people are really tuned into those events. But we're gaining momentum and our goal is to keep pushing our numbers up."
This year's Indianapolis 500 on ABC scored a 4.1 national rating, translating to 6.4 million viewers, according to Nielsen. That rating was up 5 percent over 2014 and was the race's best viewership since 2011.
With the young American Rahal just nine points behind Colombian Juan Pablo Montoya for the IndyCar Series championship, there should be plenty of excitement to drive ratings for the remaining two races this year. The open-wheel series concludes Aug. 30 in Sonoma, California.
IndyCar's improvement in the ratings department still doesn't put it in the same league as NASCAR. Even beyond its marquee events, NASCAR races still average between 3 and 4 million viewers.
Please enable JavaScript to view this content.