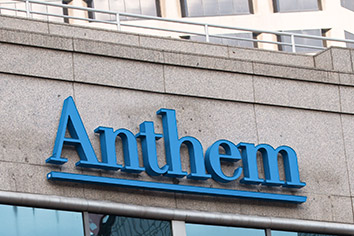 Anthem Inc. has used the Blue Cross and Blue Shield brand names as a powerful tool on its way to becoming the nation's second-largest health insurer.
But those Blue brands now are a hurdle for Anthem's $54.2 billion acquisition of Cigna Corp.
Anthem executives are confident they can leap over that hurdle, but it's not a foregone conclusion.
For Anthem to remain eligible to use the Blue Cross and Blue Shield names and symbols, the Indianapolis-based insurer must make sure it derives at least two-thirds of its health care revenue across the country from its Blue-branded businesses.
In addition, in each of the 14 states where Anthem operates a Blue Cross health plan, it must derive 80 percent of its health care revenue from that plan.
But buying Cigna will put Anthem out of compliance with those rules, according to an analysis of each company's revenue by state, conducted by CRT Capital Group LLC. It showed that the combined companies would derive just 64 percent of their revenue from Blue Cross plans.
Further, the combined companies would have less than 75 percent of their revenue under the Blue brands in Colorado, and would be right at the 80-percent line in Connecticut, according to CRT's analysis, which is based on 2013 data filed with the National Association of Insurance Commissioners.
So Anthem must convert some of Cigna's health insurance business to the Blue Cross and Blue Shield brand names. And it might have to assuage the fears of other Blue Cross insurance plans—possibly by offering them a few concessions.
Anthem CEO Joe Swedish has stressed that Anthem has about three years before it must be in compliance.

Swedish
"We are a Blue organization, and we will abide by those rules. And shortly after closing, then we will have to administer or deliver a plan that recognizes how we may adjust or adapt to those rules," Swedish said during a July 24 conference call with investors.
Anthem does not need to win formal approval for its Cigna purchase from the Blue Cross and Blue Shield Association, the trade group for Blues plans nationwide. But there is no indication the Chicago-based association, whose board is filled by Blue Cross health plan CEOs from around the country, will bend its rules to help Anthem swallow Cigna.
"As part of our regular practices, we routinely review mergers and acquisitions involving our member companies to ensure compliance with the standards that the Blue Cross and Blue Shield brands have established over generations," wrote association spokeswoman Marie Cocco in an email. "As Anthem has indicated, the government regulatory review process is anticipated to take many months, and the Association review will take that into account."
But individual Blues plans certainly could raise a fuss with the U.S. Department of Justice and state insurance departments, which will scrutinize the deal for its impact on competition.
Messages sent to individual Blue Cross plans in non-Anthem states were referred to the national association.
Few of those plans have said anything publicly since the Anthem-Cigna deal was officially announced July 24. Forbes columnist Bruce Japsen, a former health care reporter at the Chicago Tribune, interpreted that silence as disapproval in a July 27 column headlined, "Why Blue Cross hates Anthem's Cigna deal."
"The deal, which comes after Aetna announced plans to buy Humana, would seemingly make Anthem a stronger competitor with scale to negotiate better contracts with employers, potential national accounts and other clients," Japsen wrote.
Past tension
This isn't the first time Anthem has gotten sideways with the Blue Cross association and its other members. In the late 1980s, Anthem (then called The Associated Group) started selling health insurance to companies with workers in other states, competing directly against its peer Blue Cross plans.


Then in 1992, the Blue Cross association asked Anthem to delay its plans to do a public stock offering for an insurance brokerage subsidiary it had created, called Acordia. The association questioned whether such a move would satisfy the association's rules that its members use their "best efforts" to promote the Blue Cross and Blue Shield brand names.
Anthem moved ahead, anyway, spinning off Acordia as a public company, and still kept its Blue Cross licenses.
Now, it is those same "best efforts" rules that are the hurdles to Anthem's acquisition of Cigna.
The Blue Cross and Blue Shield brand names give a significant boost to Anthem and the 35 other insurance companies nationwide that have a license to use them. Anthem is the largest member of the association because it converted to for-profit status in 2001 and went on a buying spree of Blue Cross plans in other states.
In a survey of more than 1,000 insurance customers in April, the Wedbush Securities investment bank found that 45 percent viewed Anthem's Blue Cross and Blue Shield brands more favorably than any of the other national insurers, such as Cigna and UnitedHealthcare.
One in five customers actually was willing to pay more—about 7 percent, on average—to have the Blue Cross and Blue Shield brand name.
Anthem executives have said they will continue to use the Cigna name to sell coverage in states where Anthem does not have the Blue Cross and Blue Shield license.
At least one Blue Cross plan says it's up to the competitive challenge.
"As new competitors enter and leave the market from time to time, we've found the best approach is staying focused on our customers and their needs," Roy Vaughn, a vice president at Blue Cross and Blue Shield of Tennessee, said in a statement. "While doing so, we have proven to be one of the highest-performing Blue plans in terms of efficiency, affordability and service."
But after the merger, Anthem would have advantages few other insurers have ever had. The combined entity—which will have more than $115 billion in annual revenue—will have economies of scale that dwarf all other Blue Cross plans. Anthem has expertise in the individual and small-employer markets, while Cigna and other national insurers typically compete only for large employers. And Anthem has access to the prices other Blues plans have negotiated with hospitals and doctors via the Blue Card network.
That network is built on a series of agreements between all the Blue Cross and Blue Shield plans to process the medical bills for any customer of any other Blues plan.
Competition could get particularly fierce in Tennessee, where Anthem's Medicaid contract and Cigna's strong Medicare presence already give the companies a combined market share of 14 percent, according to CRT Capital's analysis.
John Sorrow, head of the BB&T Huffaker Insurance brokerage in Chattanooga, said Anthem could steal significant market share from Blue Cross and Blue Shield of Tennessee.
"In Tennessee, Anthem has a real opportunity to compete and perhaps dominate if they truly invest locally," he wrote in a blog post after the Anthem-Cigna deal was announced.
Raymond James health care analyst Michael Baker predicted that Anthem will offer concessions to the other Blue Cross plans—and he expects to see some non-Anthem Blue Cross plans merge.
"The Anthem/Cigna transaction brings the added challenge of addressing increased tension among Blue Cross/Blue Shield plans as Anthem moves more aggressively into their territories. We will closely monitor the state of the Blues as well as concessions that will be provided," he wrote in a July 24 note to investors.
"We note the potential for consolidation of private Blues plans to occur as they wrestle with exchange-related losses and a more aggressive 'Big Brother.'"
Anthem's two strategies
Anthem can do two things to bring itself into compliance with the Blue Cross association's rules.
First, in the 14 states where Anthem operates a Blue Cross plan, it could ask Cigna's customers to switch their business to Anthem. If all of Cigna's customers switched—bringing their combined $6 billion in annual premiums with them—that would solve Anthem's problem all at once.
But that's easier said than done. Cigna focuses on large employers with sophisticated human resources staffs. For example, the St. Vincent Health hospital system is one of Cigna's largest clients in Indiana.
Such employers are used to shopping insurance companies for the best deal. So just Anthem's request to switch an employer from the Cigna brand to the Anthem brand will cause some Cigna customers to review their options and choose a different insurer, said Andy Kaelin, a health benefits consultant at Indianapolis-based KBIC Insurance Administration Solutions.
That's why Anthem is "calculating an attrition rate on the Cigna business," Kaelin wrote in an email. "After this process is complete, Anthem will renew a lot of the 'Cigna Loyalist' business because they provide strong value, but there will be some outliers."
The second way Anthem could boost its percentage of Blues-branded revenue is to get Cigna clients in the states where Anthem does not hold the Blue Cross license to switch their business to Anthem.
Anthem can't use the Blue Cross brand in those states. But for employers that have workers in multiple states, they could switch their benefits plan so it is handled by an Anthem plan in one of the states where its workers are located.
Anthem can still serve customers in states where it doesn't operate a Blue Cross plan via the Blue Card network.
It typically costs a Blue Cross and Blue Shield plan $5 to $9 per month to process medical bills for each customer enrolled in another state's Blue Cross plan, according to the Sherlock Co., a Pennsylvania-based firm that provides expense benchmark reports to Blue Cross plans around the country.
And for the typical Blue Cross plan, about 25 percent of the claims it processes are for patients actually enrolled by Blue Cross plans in other states, said Sherlock CEO Doug Sherlock. He said Anthem would have to pay other Blue Cross plans to cover those expenses, plus a fee on top.
Anthem CEO Swedish has said that extra revenue could be a benefit to non-Anthem Blues plans, which should prompt them to support the Anthem-Cigna deal.
"Our relationship with the association, it has never been stronger," he told Wall Street analysts in June, adding that, after the deal with Cigna, "I see it only getting better." •
Please enable JavaScript to view this content.