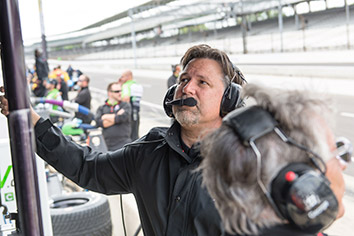 A lawsuit claims Michael Andretti's auto sports empire is teetering on insolvency and that the former driver has improperly used money from a marketing firm he co-owns to prop up the company he owns outright.
But Andretti says the allegations are "unfounded."
The suit was filed in Marion Superior Court by Andretti Sports Marketing LLC, which is a partnership involving Andretti, who owns 60 percent of the firm, and John Lopes and A. Starke Taylor, who each own 20 percent.
The firm—formed in 2012—organizes events and manages hospitality for racing and other sports.
The suit seeks unspecified damages from Andretti Autosport Holding Company Inc., for which Andretti is the sole owner. That company operates racing teams.
The suit also asks the court to let Lopes and Taylor buy Andretti's share of the marketing firm or declare the holding company insolvent and dissolve the partnership.
The lawsuit claims the whole mess was born out of Andretti Autosport's dire financial situation, and they want Michael Andretti out of Andretti Sports Marketing, which was founded in 2012.
In the lawsuit, filed on July 30, the plaintiffs claim Andretti Autosport in 2014 and so far in 2015 borrowed or obtained between $6 million and $8 million from "various sources" to cover its losses and to continue operating.
The suit then details examples of Andretti Autosport withholding payments to the marketing firm, moves that let the company lend "itself money for months at a time that should have been paid" to the marketing firm.
The money, the suit claims, was used to pay Andretti Autosport employees and other operational expenses without the permission of Lopes or Taylor, as is required by the partnership agreement for Andretti Sports Marketing.
Andretti is chief executive officer of Andretti Sports Marketing. Lopes, who began working for Andretti in 2005, served as manager and president of Andretti Sports Marketing—although the suit says Andretti ousted him in violation of the partnership terms.
Taylor serves as senior vice president and chief marketing officer.
Formerly, Lopes was also senior vice president and chief marketing officer of Andretti Autosport, a position he said he quit in July 2014 due to the financial pressures on the company and so he could concentrate on his duties with Andretti Sports Marketing.
The tiff over the money, the lawsuit claims, led to Lopes' termination last month from Andretti Sports Marketing. Lopes claims there was no cause for his termination, and he seeks to be reinstated. Michael Andretti, the lawsuit states, has attempted to take control of Andretti Sports Marketing, and Lopes and Taylor want him removed from his position of power.
The lawsuit seeks to have Andretti Autosport placed under the control of a court-appointed receiver.
The lawsuit says Andretti Autosport is insolvent with "less than $2 million in unencumbered assets and at least $7 million in debt, plus additional liabilities that may be in excess of $10 million." It further states that Michael Andretti and Andretti Autosport are under "immense financial pressure."
But in a statement, Andretti Autosport said, "Lopes and Taylor have filed a lawsuit over a partnership dispute. Michael, as 60-percent owner of Andretti Sports Marketing, was unhappy with the day-to-day operations of Andretti Sports Marketing and the manner in which Lopes was running the company. As a result, Lopes was terminated as manager from Andretti Sports Marketing."
Andretti Autosport encompasses Andretti's race teams in the IndyCar, Formula E and the Global Rallycross series. The IndyCar Series is the biggest part of the budget.
Andretti Sports Marketing was launched to handle race promotions and operations—including on the IndyCar and Formula E circuits—and corporate hospitality at those races. Andretti Sports Marketing has operated IndyCar races in Milwaukee, New Orleans and Baltimore. It later expanded into other areas, including promoting National Volleyball League professional beach volleyball events.
"Neither Lopes nor Taylor are owners of Andretti Autosport, and as such they do not have access to the financial information concerning Andretti Autosport," said Michael Andretti said in a statement to IBJ Wednesday. "Their allegations are unfounded."
The lawsuit claims that Andretti last month froze Lopes and Taylor out of Andretti Sports Marketing's bank account, even though Lopes was still the acting manager of the company and Taylor served as the company's treasurer.
This came after Lopes attempted to move Andretti Sports Marketing's account from Chase Bank to Key Bank and deny access to that account to Andretti Autosport controller Lori Crane, according to the lawsuit.
Other financial arrangements between Andretti Autosport and Andretti Sports Marketing have been ignored over the last year, the lawsuit claims, including moves that almost led to the cancellation of the Formula E race in Miami in March.
Lopes and his attorney, Rob MacGill of Barnes & Thornburg, did not return phone calls seeking comment.
Andretti said in a statement released Tuesday: "This lawsuit is a disingenuous and self-serving attempt to benefit John Lopes and Starke Taylor at the expense of Andretti Autosport and its 120 employees. The allegations by Lopes and Taylor will not be supported by the evidence and we will aggressively respond with the truth.
"My family has strived to earn an exemplary reputation in all facets of our personal and professional lives. We will not allow this reckless attempt at grabbing leverage to impact our family name."
Andretti Autosport hired high-profile Indianapolis attorney Jim Voyles to represent the company in the lawsuit. Voyles did not return a call seeking comment.
While Andretti officials acknowledge Andretti Sports Marketing has been downsized, they said the company is in the re-building process.
Please enable JavaScript to view this content.