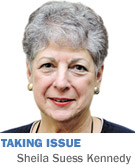 In my classes, one of the things I emphasize to my students is the importance of process. The way in which you achieve a goal is often just as important—sometimes even more important—than the goal itself.
This is, of course, a core precept of the rule of law.
There are plenty of examples: efforts to protect public safety, no matter how important, cannot justify imposition of a police state; eradicating racism cannot be used as an excuse to censor even hateful speech.
That principle also applies to economic- and community-development efforts.
I am an enthusiastic proponent of initiatives like BlueIndy. Unlike the naysayers who doubt the utility of electric car-sharing, I see enormous benefits: downtown residents who can go from being two-car to one-car families; young professionals who can dispense with a car altogether; apartment developers who can offer a new amenity; and people who usually depend upon public transportation but can now also go where buses don't.
However, these salutary ends cannot justify the high-handed and arguably illegal means pursued by Mayor Greg Ballard's administration in the introduction, financing and rollout of BlueIndy. Nor can it excuse the stonewalling and lack of transparency with which it has responded to legitimate questions about the process and the costs involved.
The City-County Council has been entirely cut out of the authorization process. The Board of Public Works recently transferred $6 million of city money to the project; this occurred without any council approval or debate, in a meeting where no public testimony was permitted.
There has been considerable public pushback over the installation of BlueIndy charging stations that have displaced parking in a number of prime locations without any notice to neighborhoods and merchants affected. And to the best of my knowledge, no one has disclosed how much money the city will have to pay to ParkIndy under the terms of the city's 50-year parking meter deal. (Under that agreement, the city can "bag" only a certain number of meters; it owes ParkIndy "compensation" for revenue lost whenever meters in excess of that number are removed from service.)
As the Ballard administration winds down, local media have begun running the predictable puff pieces, extolling the administration's positive accomplishments. And there have certainly been several. (Bike lanes come to mind.) But the real legacy of this administration might lie in the dubious deals it has made and the unanswered questions surrounding them.
The parking meter deal benefited a well-connected vendor to the arguable detriment of the city. There are serious and still unanswered questions raised by the still-largely-unused parking garage in Broad Ripple, developed by a crony of the mayor on an unsuitable site with public tax dollars. CityWay was a great project, but knowledgeable observers charge that the city put much more money into that deal than was necessary to leverage the private investment. Etcetera.
The suspicions aroused by this history and by the administration's autocratic approach have contributed to the BlueIndy controversy. There is a reason for the rules governing expenditure of public monies, a reason we expect public projects to be vetted through the democratic process. Those rules and that process serve to reassure citizens that proposals are feasible, that private partners are reputable, and that city government is acting on behalf of the greater good.
Good ends cannot justify ignoring democratic means.•
__________
Kennedy is a professor of law and public policy at the School of Public and Environmental Affairs at IUPUI. She blogs regularly at www.sheilakennedy.net. She can be reached at skennedy@ibj.com. Send comments on this column to ibjedit@ibj.com.
 
Please enable JavaScript to view this content.