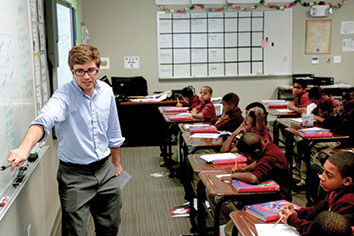 Teach for America painstakingly raised $5 million last year so it could afford to recruit, train and support each of the 83 new teachers placed this fall in at-risk public districts and charter schools across Indianapolis.
Each was desperately needed, the group says, to fill a wide range of teacher vacancies vexing school districts.
But the Indianapolis affiliate of the alternative teacher prep program fell short of its goal to train and place 110 recent college graduates and career-changers, said Rebecca Thompson Boyle, executive director of Teach for America Indianapolis. Another $300,000 would have made that possible.

Boyle
"We are not meeting the demand," she said. "Our single biggest limiting factor is the amount of money we can raise."
Teach for America's struggle to raise money in Indianapolis is not unique in the education-advocacy sector. Some groups are meeting the challenge by refining their efforts to reach new audiences. Others have closed up shop—even as the state is recognized as one of the friendliest in the nation for school reform ideas.
"It's a double-edged sword," Boyle said. "It's great there's so much interest and so many great things happening, but it is also increasingly challenging with every new non-profit or school that opens, because we are all going after the same people for money."
Education reform groups and donors here say the competition for funding is tight.
And the number of big private donors and philanthropists who want to support education reform is a fraction of what it is in other cities, said Kevin Teasley, a longtime advocate of school reform who runs the Indianapolis-based GEO Foundation and has founded several Indianapolis and Gary charter schools.
"I'm a little concerned about the heavy competition," Teasley said.
The question education reform groups are asking is whether the movement can sustain itself—or grow—given the fundraising environment here.

Harris
David Harris, CEO of The Mind Trust, which has brought several education reform groups to Indianapolis and runs programs here to incubate "innovative" schools and ideas, said he's not sounding alarm bells yet.
But the education reform community needs to think seriously about where the future of its funding lies, he said.
"We cannot rely forever on private philanthropy, or it's going to severely limit the potential of the reforms," Harris said.
'Not the most fertile ground'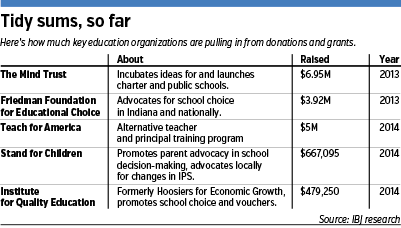 Democrats for Education Reform, a national group with state affiliates that launched here in 2011, had so much trouble raising money that it shuttered just two years later.
"Indianapolis is not the most fertile ground for fundraising," said Larry Grau, the former director of the group. "It really did contribute to the demise of DFER."
And College Summit, a national group that helped mentor thousands of at-risk teens in Indianapolis and encourage them to pursue higher education, unexpectedly closed its Indianapolis affiliate earlier this year, citing fundraising difficulties.
Other groups, like StudentsFirst, suspended their Indiana operations because of oversaturation in the market.
A school reform group founded by former Washington, D.C., Schools Chancellor Michelle Rhee, StudentsFirst is currently working in 11 other states. The group said fundraising wasn't an issue since it relies mostly on national donations.
"It was duplicative for us to also be there," spokesman Kellen Arno said.
Some groups said the environment in Indiana became even less fertile in 2011 after the General Assembly passed a sweeping education reform package that included an expansion of charter schools, a school voucher program, limits on union bargaining, and stricter teacher evaluation.
Donors who were once deeply engaged saw their job as done, Grau said.
"You claim success, and more often than not, groups tend to just shrink away," he said. "I would argue that you're leaving at the wrong time. You're leaving at the time that's most critical to keep up with those policies."
Getting by
Where local funding has lagged, education reform organizations have relied on national donors.
The Institute for Quality Education, formerly Hoosiers for Economic Growth, which advocates for the expansion of vouchers and charters at the state level, grew its contributions 40 percent from 2013 to 2014, to $479,250, according to its federal tax forms.

Sweitzer
But only about 15 percent of the money was raised locally, according to the group's communications director, Erin Sweitzer.
"We'd absolutely like to see" local funding increase, Sweitzer said. Having "more diverse funding donors is definitely a legitimate concern."
Others have zeroed in on their missions with the goal of creating a unique value proposition for donors.
Justin Ohlemiller, executive director of Stand for Children, a national organization with a local affiliate that advocates for school choice and changes at Indianapolis Public Schools, said he recognized early on that not enough attention was being paid to parent engagement in district decision-making.

Ohlemiller
He sought to change that by hosting "parent universities" at struggling IPS schools to teach parents how to make the most of teacher conferences and advocate at the school-board level.
Since then, the parents have pushed the IPS board more than once to act. Last year, Stand for Children parents convinced the board to approve plans to launch a local reform program called Project Restore at School 93.
"We really doubled down on our effort to engage and empower parents in IPS," Ohlemiller said. "When you see an active parent base really get involved in pushing for change and improvement and start to see a movement … donors have really been inspired by that."
The result: Ohlemiller's group has met its fundraising goals two years in a row, raising $667,095 in its 2014 fiscal year for overall operations. It raised $531,725 in its 2015 fiscal year, which, according to spokeswoman Kate Shepherd, was shortened as the group moved to align with an academic year.
Pressure on donors
The high demand for funding education reform efforts has put pressure on the philanthropic community.
Rob Smith, vice president of the Lilly Foundation, the not-for-profit arm of Eli Lilly and Co. and a supporter of efforts like Teach for America and The Mind Trust, said donors often feel bombarded with funding requests.
"Is there competition for funding? Yes. Is it intense? Yes," Smith said. "But I would much rather be wrestling with that set of problems than the alternative."
The demand has made it more important for organizations seeking funding to demonstrate a plan for long-term sustainability, Smith said. But he's also willing to take a risk on a new idea every once in a while.
"If there's a very clear path to sustainability, that's good," Smith said. "But if you're trying to fund things that are innovative, that path is a little less clear."
Some, including Harris, say public funding is one solution to long-term sustainability.
"If we're really going to scale the kinds of reform efforts that are working, we need to put more and more public dollars into this space," Harris said.
Smith agreed. He last year led the business community's charge to convince the City-County Council to pass a preschool program that relied on both public and private funding.
Harris said there's no reason successful programs should be struggling to expand. He cited Herron High School, which was recently ranked by U.S. News and World Report as the No. 2 high school in Indiana, as an example.
The Indianapolis public charter has a wait list of about 300 students, according to the school's website, and was recently approved to open a second campus.
"They still struggle to get the resources they need," Harris said. "If we're going to scale up what works, we can't expect people who are great at educating kids to also be great at fundraising."
For Teach for America, which is responsible for raising its Indianapolis budget locally, a key concern for Boyle is being able to provide the workforce necessary to support new and existing public schools.
Teach for America has 166 first- and second-year teachers in more than 50 Indianapolis schools. It has a local staff of 18, most of whom are coaches for teachers.
If the Indianapolis affiliate meets a $5.27 million fundraising goal this year, it will be able to add another 83 teachers next year. Boyle said there's demand to do even more, but it will be difficult getting there.
"As schools keep opening or people keep expanding, they're not thinking about, who is their talent pool?" Boyle said. "We are not going to be able to help them with that if we don't get funding to grow our [teacher] base. We just don't have them to give."•
Please enable JavaScript to view this content.