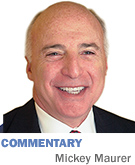 It's the national election that has me worried, particularly the plight of the Republican Party. The list of nearly two dozen aspirants is headlined by a circus clown. I thought by the time I stopped laughing he would have disappeared, but he is still out there—really out there. Turns out, there is more corn in Iowa than meets the eye.
I'm not laughing anymore. What I am doing is sitting here daydreaming and wondering: Suppose, just suppose, we had an opportunity to create our own candidate—kind of like build your own burger. What would that candidate look like?
It could be a he or a she, but for purposes of discussion, just say the candidate is a he. Let's construct a warm home environment—a caring mother and father, a sister and a dog. Our candidate also should have a solid set of Midwestern values learned at home and confirmed in church—a church indoctrination that does not lead to bigoted behavior in the name of religion. Indiana has seen enough of that.
As long as we're daydreaming, he should have an Ivy League education—Princeton. Yes, Princeton would work. And what should he have majored in? International affairs and government would prepare him for the challenges ahead.
He will need political experience—a stint with one of the most-brilliant statesmen of our time, Sen. Richard Lugar. Let's make our candidate Sen. Lugar's chief of staff. We'll put him in charge of Lugar's office, and after that he can advise other senators as chair of the National Republican Senatorial Committee—the group that helps the party's current and prospective candidates with everything from budget planning to research and strategy.
If he is going to be president, he should work for a president. Let's place him with President Reagan as a top political and governmental adviser. A little face time with Reagan and a few rides on Air Force One will lend seasoning and confidence to our candidate.
He's going to need to develop his own political philosophy. So what's the best way to do that—why don't we put him in charge of a think tank, say the Hudson Institute, where he can have the time and support to develop theories and ideas.
Real life experience in the business world is essential. He has to learn the rhythm of business and appreciate in real time the wonders of our system of free enterprise. Eli Lilly and Co. is a great venue for that. And why not put him in charge of a major division at Lilly—North American pharmaceutical sales? And then maybe strategic planning for the entire company.
Since the economy is so important, our candidate ought to have experience in presiding over the federal budget—perhaps the Office of Management and Budget for the Bush administration? He can probably do that while keeping clear of Bush's ugly war in Iraq.
In order to be an able president, he would have to have experience as a governor. State governance is a developmental laboratory for the presidency. Why don't we make him governor of an important Midwest state—how about Indiana? In Indiana, let's say he institutes programs and policies that make Indiana one of the most vibrant and forward-thinking states in the union in terms of infrastructure, educational policy, job creation, balanced budgets and credit rating.
Let's give this guy a philosophy—a simple philosophy. Let's give him something that we can get our arms around—something like, "We will aim, higher but we won't spend more money than we take in." How about that?
Have we fashioned an extraordinary leader and extraordinary guy—not a clown but someone this country desperately needs? But could we ever find a candidate of that caliber? I asked that question to my friend, political pundit Mark Lubbers. He said, "You're dreaming."•
__________
Maurer is a shareholder in IBJ Corp., which owns Indianapolis Business Journal.  His column appears every other week. To comment on this column, send e-mail to mmaurer@ibj.com.
Please enable JavaScript to view this content.