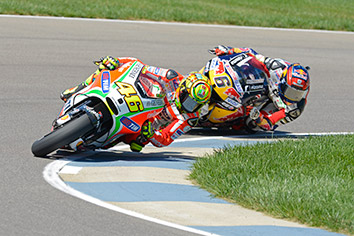 The Red Bull Indianapolis Grand Prix motorcycle race will not return to the Indianapolis Motor Speedway next August, ending an eight-year run, track officials announced Friday morning.
A press release said the cancellation was a mutual decision by IMS and Dorna Sports, the Madrid-based rights holder for the MotoGP series.
"This outcome reflects the best interests of both the Indianapolis Motor Speedway and Dorna Sports," IMS President Doug Boles said in a statement. "We are proud of our efforts to increase attendance in recent years and successfully host a truly international sporting and cultural event. "
Boles added that "the timing is right to pursue other opportunities that drive greater revenue for both the Speedway and our central Indiana economy."
The international series has struggled to draw fans in the United States, in part because of a dearth of top American competitors. Attendance at this year's race, held Aug. 9, was only about 67,000.

Dorna said that after the removal of the Mazda Raceway Laguna Seca from the MotoGP schedule in 2014, the Red Bull Indianapolis Grand Prix became the only summer MotoGP event in North America for the last two seasons. 

This caused both financial and logistical challenges that no longer made the event viable for the foreseeable future, Dorna said.
"Bringing MotoGP to the Indianapolis Motor Speedway has been a tremendously rewarding experience," Dorna Sports CEO Carmelo Ezpeleta said in a statement.
"While both sides recognize it's the right time to pause this relationship, the door is not closed on future collaborations together should current circumstances change."

The event had been under contract at the IMS through 2017.

IMS said it now is exploring adding additional racing events and concerts for the venue. In addition to the Indianapolis 500, it hosts the Crown Royal 400 at the Brickyard, the Angie's List Grand Prix of Indianapolis and the Brickyard Vintage Racing Invitational. The Rolling Stones performed at IMS on July 4, attracting an estimated audience of 50,000.
Please enable JavaScript to view this content.