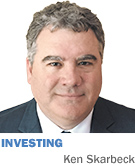 The recent volatility in the stock market has exposed problems with the fast-growing Wall Street products called exchange-traded funds. ETFs are prized by investors as a liquid means to invest in mutual funds. There are now more than 1,500 ETFs with more than $2 trillion in assets.

ETFs are popular with investors because their fees are typically lower than traditional open-end funds, and while open-end funds only can be bought and sold at day-end prices, ETFs can be traded just like stocks on the exchanges.

However, ETFs have come under scrutiny after trading irregularities occurred Aug. 24. That morning, the Dow Jones industrial average tumbled more than 1,000 points in the first few minutes of trading. Many observers have concluded that computer algorithmic trading was responsible for this market air pocket.

During the market chaos on Aug. 24, several ETFs traded at prices that were not equivalent to the value of the underlying securities held within the ETFs. One of the largest ETF firms is BlackRock, which manages the popular iShares ETF products. BlackRock's iShares Select Dividend ETF (ticker symbol DVY) has $13 billion invested in a number of blue chip U.S. stocks.

At one point on Aug. 24, the DVY ETF sank 35 percent, to $48 per share, far below the $72.42 per share net asset value of the stocks in the ETF. The stocks in the DVY ETF actually were down only 2.7 percent that day. Several other ETFs traded down to double-digit percentage losses that day while their underlying stocks were down only a few percentage points.

This has many observers, including principals at BlackRock, concerned that in times of market stress, the value of an ETF share might not be equivalent to the value of the underlying securities held in the ETF.

One potential fault with ETFs has to do with the market mechanisms that facilitate daily liquidity for their shares. It gets a little complex, but arbitrage operations are conducted throughout the day where the underlying securities in an ETF are bought or sold to maintain an ETF's net asset value. In periods of market anxiety like, say, Aug. 24, a large number of ETF holders are motivated to either buy or sell. Their collective actions could cause a lack of market liquidity that results in a significant divergence between the market price of an ETF and its actual net asset value.

Value investor Howard Marks addressed the market liquidity issue in one of his memos back in March, noting that "many recent innovations have promised high liquidity from low-liquidity assets. … However, no investment vehicle should promise more liquidity than is afforded by its underlying assets."

To no surprise, certain hedge funds have recognized the recent liquidity issues and are seeking to exploit this weakness to their advantage. Controversial hedge fund manager Steven A. Cohen reportedly has found ways to game the movements of commodity ETFs in advance of their trades that "roll" futures contracts each month.

Investors in ETFs should be aware that, in periods of market volatility, they should be careful when making snap decisions to buy or sell these products.•

__________

Skarbeck is managing partner of Indianapolis-based Aldebaran Capital LLC, a money-management firm. His column appears every other week. Views expressed are his own. He can be reached at 818-7827 or ken@aldebarancapital.com.