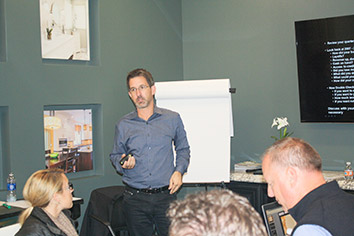 Business owner John St. Clair Jr. felt horrible about cutting jobs in 2009. He felt even worse that he couldn't give severance pay to those let go from his pool-cover service company.
So lately, St. Clair has been devising a plan to divert profits into a nest egg of sorts that would fund employee severance in the event of future layoffs. The Coverstar Central president hopes he never has to tap it, but he's dead set on making sure it's there.
"It isn't going to be as bad as it was in '09," St. Clair said about the year in which revenue dipped 50 percent. "But I want to be a little bit more prepared."
While many CEOs are planning for the next fiscal year, St. Clair and a cohort of other local executives are planning for the next fiscal downturn. They have their eyes on 2019, forecast by some economists to be the year the next economic contraction arrives.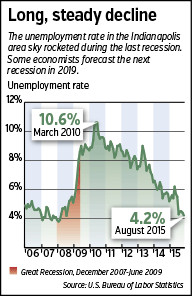 The group of 16 works with local executive coach Peter Fuller, who conceived the idea after enduring some of his own Great Recession nightmares. The members of the group are in industries including commercial real estate, design and health care, and they represent about 1,000 jobs and close to $1 billion in annual revenue in the Indianapolis area.  
Some of them are trying to minimize the pain the next recession may bring, and others are positioning themselves to gain market share while competitors are off balance.
"They're focused on employees and making sure they're in a position to grow and not contract during the next recession," said Fuller, who's an independent contractor with leadership training behemoth Vistage International Inc.
According to the U.S. Bureau of Labor Statistics, the Indianapolis metro area boasted about 938,000 public- and private-sector jobs at its peak in July 2008. It then shed nearly 105,000 jobs, or 11 percent, by February 2010.
At that point, the local unemployment rate was 10.6 percent—at least a 20-year high.
Fuller said the 36-month recession planning exercise, which is only one component of his coaching, is based on projections from economists at ITR Economics in New Hampshire. They anticipate the economy turning negative in about three years.

Beaulieu-Greene
"We'll start feeling that slowdown early in 2019, but we'll actually be in a full recession throughout the second half of the year," said Jackie Beaulieu-Greene, director of economics at ITR.
Beaulieu-Greene said the forecasted recession isn't expected to be as severe as the previous one, which officially lasted from December 2007 to June 2009. She said the 2019 recession should end the following year, but she cautioned that "the timing really varies by industry."
Over about 60 years, ITR's accuracy rate in predicting recessions averages about 95 percent, according to its website.
The pain of the last recession has shaped the goals of the local executives who are bracing for the next one. 
St. Clair, the owner of the pool-service company, said he lamented cutting five of 25 jobs at a time people needed employment most. The lack of severance for employees, some of whom had been with his company for years, weighed on him.
"It didn't sit right with my conscience," said St. Clair, who noted that he had never previously cut jobs in 20-plus years of business. "But I had no choice."
St. Clair said he's still ironing the details of his recession plan, but it will likely involve paying affected employees a few weeks of severance pay based on their tenures.
Derrick Christy of Christy Enterprises, whose holdings include real estate, technology and education companies, said he had to cut about 40 of 100 employees during the last recession. His plans for the next one involve building a rainy day fund, which can be used to cover potential losses and possibly prevent layoffs.
"We work really hard to build a mature team of people that are familiar with the organization," Christy said. "So the last thing we want to do is let somebody go just because the market may take a dip."
The methods aren't all just about reserving cash. Tim Isle, president of construction-consulting firm Inova Technical Services, said he's spending on employee cross-training today so workers can be versatile enough to serve multiple functions tomorrow. That's especially useful when certain business lines dry up, Isle said.
"When you cross-train people, you make them employable in a lot of different types of roles," Isle said. He said training and education does eat into profits, but it "pays off in the long term in not having fluctuations in manpower."
The idea came from Fuller, a serial entrepreneur who's dealt in technology and other industries and is a co-founder of Scale Computing Inc.
In the fall of 2008, Fuller said, he was getting ready to secure $8 million in venture capital to help launch a solar company. Then the financial-market meltdown hit, investors retreated, and the company he spent 18 months and $500,000 building never took off.
He started coaching a group last year. And after thinking about ITR's 2019 recession projections, he suggested the members focus on planning for the next downturn—something they took on about six months ago.
The members meet monthly and work in rotating groups of four, he said, holding one another accountable to the action steps devised to get the companies "where they need to be by the end of 2018."
Fuller said the steps members are taking should benefit not only their companies, but also their employees' families.
"We started asking the tough questions like, 'What does it mean to protect our business? Is it just to protect ourselves and our own assets as business owners?'" Fuller said.
"'What if we took it one step further and tried to protect the people who are so important to growing our businesses?'"•
Please enable JavaScript to view this content.