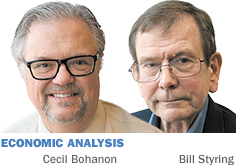 Nov. 5 shapes up as the federal debt limit drop-dead day. That's when the Treasury runs out of borrowing authority to pay bills. Under the Constitution's Article 1 Section 8, only Congress can borrow money on the full faith and credit of the United States.
We've all seen this kabuki dance before. Everyone postures. Anyone voting to raise the debt limit is painted as a big spender. Not voting to raise the limit is "playing politics with the nation's credit." Political salvos roar like a World War I artillery barrage.
For the first 128 years of the republic, federal government borrowing was so rare that Congress voted on every single debt issue. During WWI, borrowing became so common that Congress decided to delegate its borrowing authority to the Treasury, but only up to a certain point; otherwise, Congress would be doing little else beyond voting on bond issues which, come to think about it, might not be such a bad idea. This is the "debt limit."
In this impending fracas, our sympathies are with the smaller-government forces. Fighting over the debt ceiling is, however, the wrong place to pick a fight. This is not so much economics as it is third grade arithmetic. Over a given time period, spending (S) must equal revenue (R). Revenue can come from a combination of taxes (T) or borrowed money (B), but S=T+B.
Once Congress votes a certain spending level—annual appropriations plus entitlements—it must be financed. It's the spending, not the borrowing, that produces big government.
And if Congress refuses to raise B, the executive branch always wins the PR war. Never mind that spending and borrowing are Congress' job or even whether it's a presidential veto that triggers the shutdown. Any president always has a bigger megaphone.
Plus, not all the government shuts down. The federal deficit is on the order of 10 percent of the federal budget. Taxes produce enough money for 90 percent to keep going. Presidents pick which 10 percent closes, and they always shut down the most visible, popular parts, like the Washington Monument. Might as well put up a big sign saying, "This popular attraction closed because of those irresponsible yahoos on Capitol Hill."
We agree that there's at least 10 percent waste in the federal budget. But what makes you think that's the 10 percent that will be cut?
Congress can't win a debt limit fight.• 
__________
Bohanon is a professor of economics at Ball State University. Styring is an economist and independent researcher. Both also blog at INforefront.com. Send comments to ibjedit@ibj.com.
 
Please enable JavaScript to view this content.