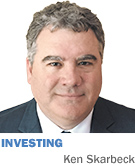 "A nickel ain't worth a dime anymore" is one of many classic Yogi-isms uttered by the recently departed Yogi Berra. As is the case with many of his malapropisms, there is a lot of truth behind this particular observation.
In an amusing seven-word sentence, Berra has boiled down the damaging effects of inflation. In fact, over the course of his playing career from 1946-1965, the purchasing power of a dime dropped to about 6 cents, so Yogi's math was pretty close.
In Warren Buffett's 2014 annual letter to Berkshire Hathaway shareholders, he discusses inflation's effect on the dollar and the risk it poses to investors. He notes that, in the past 50 years, the purchasing power of the dollar has fallen 87 percent. In other words, it now takes $1 to buy an item that could be bought for 13 cents in 1965.
In contrast, Buffett points out that, during that same 1964-2014 period, the S&P 500 advanced from 84 to 2,059 with dividends reinvested, for an 11,196 percent total return. He states, "The unconventional, but inescapable, conclusion to be drawn from the past 50 years is that it has been far safer to invest in a diversified collection of American businesses than to invest in securities—Treasuries, for example—whose values have been tied to American currency."
Further, while Buffett acknowledges that stock prices will always be more volatile than cash or bonds, currency-denominated investments (cash and bonds) over the long term are riskier. Let that soak in for a moment. With the caveat that we are talking about the long term, have you ever heard an investment professional state that it is riskier to hold cash and fixed-income securities vs. stocks?
This brings perspective to older investors who are often wrongly counseled to shed most of their stock holdings in favor of more "stable" investments. The overwhelming evidence shows that, to retain purchasing power through your retirement, say perhaps the next 20 years, a significant commitment to the stock market is safer than retreating to cash or bonds.
Inflation works against fixed-income investments that pay a fixed rate of return over time and then returns the original principal. As the years tick by, inflation chisels away at the purchasing power of those interest payments, and at maturity the original investment will also buy fewer goods and services. On the contrary, investing in businesses that increase their earnings over time will keep investors ahead of the debilitating effects inflation has on accumulated net worth.
Buffett counsels readers to heed these lessons provided by history. In the 50 years preceding 1964, it was also safer to own American businesses instead of securities tied to American currency (even though it was a period that included the Great Depression and two world wars). He avers that it is almost certain that stocks will prove to be safer than cash or bonds in the next century.
At present, inflation seems tame largely due to the huge decrease in energy prices. However, history shows that inflation will return and exact its toll on the purchasing power of your savings. The best way for investors to combat inflation is to own a portfolio of stocks for the long run.•
__________
Skarbeck is managing partner of Indianapolis-based Aldebaran Capital LLC, a money-management firm. His column appears every other week. Views expressed are his own. He can be reached at 818-7827 or ken@aldebarancapital.com.
Please enable JavaScript to view this content.