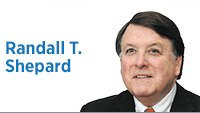 When apartment magnate Sam Zell recently announced he was selling off a quarter of Equity Residential's apartment units, it signaled that the development strategy Indianapolis has used still positions the city for success.

Zell is selling 23,000 low-rise and mid-rise units in suburban markets. The reason: He thinks there are better prospects in downtown urban centers where young people are moving in ever-greater numbers.

He might as well have added that Mayor Greg Ballard and both of the candidates to succeed him have been on the right track. The administration under Ballard's leadership carefully analyzed various options and concluded that working to encourage in-migration by upper-middle-income people, while still working on low- and moderate-income projects, would maximize new construction jobs and public revenue.

The benefit of new construction jobs is self-evident. The revenue implications are not so widely recognized.

Property tax revenue available to finance city and county services has fallen over the last decade from roughly $400 million a year to about $300 million a year. The drivers of this decline have been the new constitutional caps on property tax and falling property values during the Great Recession. The only way to pay for fire, police and school construction, then, has been to collect more income tax. Marion County residents now pay almost as much income tax to local governments as they do to state government.

So, other than wishing for higher assessments, the only way for local government to generate more property tax is to induce business construction. The way to generate more income tax is to attract residents, including residents with higher income.

Indianapolis under Ballard succeeded in doing that. The population of Center Township, for example, has actually risen during his administration, after falling relentlessly for 50 years.

The metrics of the Ballard approach have been remarkable. More people have moved to the Mile Square and beyond, with downtown rent growth more robust last year than in any other part of the state. And more than a third of the new residents have moved from other states. New talent and new revenue.

The momentum of this activity is extraordinary. Downtown Indy reports 60 projects under way with a total value of $1.4 billion over the next 24 months. These projects include everything from corporate headquarters, a new YMCA and some 4,000 units of housing.

Fortunately, the civic benefits of this strategy have been so powerful that the candidates of both political parties in the recent mayoral election applauded it and pledged to expand upon it. Joe Hogsett declared he would "continue the Ballard administration's encouragement of downtown residential development" and seek to broaden the approach to other parts of the city.

Chuck Brewer proposed "revitalizing the economic corridors" to foster neighborhoods where business could thrive and where people could live and send their children to a nearby school. He called this an approach that examines the "micro-economies."

There are plenty of places where this might work beyond the Mile Square, which has been turned into an effective mixed-use magnet with still more potential. Research by Indiana University's Public Policy Institute has identified multiple areas in Marion County where savvy and energetic public investment could produce tangible results.

Leaders closest to the millennial scene celebrate the power of the strategy linking housing, jobs and urban amenities. Molly Chavers of the IndyHub young professionals network called it the city's "special sauce."

Do you suppose we could induce Sam Zell to invest in Indianapolis?•

__________

Shepard, formerly Indiana chief justice, now serves as senior judge and teaches law. Send comments on this column to ibjedit@ibj.com.