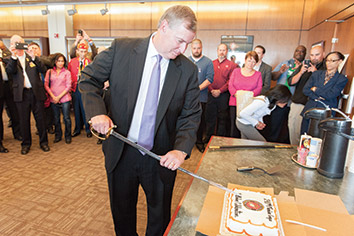 Greg Ballard wants to change the world.
Or, at the very least, the outgoing mayor of Indianapolis is trying to spark a national conversation about how America's dependence on oil is killing our troops—and how we can fix it.
"Technology now allows us to change the transportation sector," said Ballard, a Republican and a retired U.S. Marine and Gulf War veteran who championed electric cars during two terms in office. "If we want to stop kids [from] coming home in caskets, we need to start moving in that direction."
After leaving office, Ballard plans to turn his focus to advocacy work centered on energy security—specifically, moving the transportation sector away from oil and toward alternative fuels and electric or hybrid cars.

Ballard
"We're going to go city by city and get this in the consciousness of America in a grass-roots fashion," Ballard said. "I want to make people understand that, when you fill up your car, you're contributing to propping up the oil market. We've got to depress the oil market so that we are no longer being out-leveraged by the Middle East, which will then stop the terrorism."
Ballard is writing a book about energy security, which he's eager to finish once he leaves office. And he said he's encouraged by the response he's gotten in talks he's given about the subject already.
"It's really kind of exciting," he said.
But the problem is daunting. While the federal government predicts the global supply of crude oil, liquid hydrocarbons and biofuels can meet world demand the next 25 years, there is "substantial uncertainty" beyond that, according to the U.S. Energy Information Administration.
And because Ballard is frustrated by politicians' lack of action on the issue—"I've approached them about it and their eyes glaze over"—his focus will be on trying to help America's cities make some of the changes Indianapolis already has tackled, including converting its fleet to electric and plug-in hybrid vehicles.
"We're hoping to bring other cities along," Ballard said. He's "closely affiliated" with two groups—Securing America's Future Energy and the Truman National Security Project—that are helping him with research for his book, he said.

Raymond
Leigh Raymond, a political science professor at Purdue University who is also director of the school's Center for the Environment, said Ballard is wise to approach the issue with a local focus.
"Cities and counties are very important in determining how efficiently we're going to use transportation and fuel," Raymond said. "Indianapolis really has been a leader in this area. An ex-mayor … is the kind of person other leaders will look to."
But energy security has global implications. And experts who study it say Ballard is well-positioned to have international influence on the debate.
Roger Sorkin, director of the 2015 documentary film "The Burden," which features Ballard and is about the nation's fossil-fuel dependence, said the mayor's history as a Marine responsible for logistics in the Gulf War gives him unique credibility.
"He was responsible for moving fuel through the battlefields," Sorkin said. "He served in the shadow of oil fires. He's not ideological about it. He is someone who can help depoliticize it."
Ballard is especially concerned with galvanizing Republican support.
"The left is already there on this issue," Ballard said. "My goal is to get the Republicans there. They will respond to a national security argument. I'm not saying everybody has to sell their cars tomorrow. We need to think differently."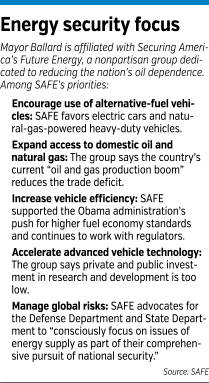 Ballard said his own thinking about how to solve this problem has evolved, too. It all started when he was deployed in the Gulf War.
"I would not suggest to you that I had an aha moment over there," Ballard said. "That was not the case. I just started to put things in my brain."
Over time, he watched with interest as the technology around fuel-efficient, hybrid and electric vehicles improved. When it finally became cost-effective, he became serious about a change. He issued an executive order in late 2012 to convert Indianapolis' municipal vehicle fleet to post-oil technologies by 2025.
"I wasn't going to move unless I was going to save a buck doing this," Ballard said.
He is trying to resurrect the energy security debate at a time when its fervor has died down—at least compared with where it was a decade ago in the aftermath of 9/11.
Last year, about 27 percent of the petroleum consumed in the United States was imported from other countries, according to the U.S. Energy Information Administration. That's the lowest level since 1985.
But America still faces key challenges, said Jeff Dukes, director of Purdue University's Center for Climate Change.
"Our reliance on imported oil has gone way down," Dukes said. "I think that has reduced the urgency of the energy security conversation.
"But it's a matter of time," he added. "If we don't move away from depending on oil, at some point we're going to be back to the same place we were five or 10 years ago. Our own domestic supply isn't going to last forever."
Dukes said Ballard is smart to frame the argument for transforming our transportation sector around energy security, which he said is more likely to appeal to Republicans.

Dukes
"If you frame it as a climate-change issue, you're going to make some people less likely to support it," Dukes said. "If Mayor Ballard can end up helping us take a long-term perspective on energy by focusing on some efficiency measures and looking at where renewables make sense, that's going to benefit everyone."
Before ramping up his advocacy effort, though, Ballard wants to finish his book.
"In my mind, it was finished a year ago," he said. "There's a little bit more analysis to be done. Maybe when I get done being the mayor."
Then he'll start by laying the groundwork for his argument city by city.
"Frankly," he said, "with just a little push, we can make a hell of a lot of difference."•
Please enable JavaScript to view this content.