Thriving in the higher education world these days is all about proving value.

Rising college costs and student debt levels have triggered a national debate about whether the investment is worth it. So now, higher education institutions are seeking better ways to differentiate themselves from the pack through accelerated degree programs, tuition freezes and other cost-saving strategies.

They're also trying to answer a key question from prospective students: How will a degree from your institution shape my future?

Indiana Higher Education Commissioner Teresa Lubbers is trying to help the state's public and private colleges answer that question through a new partnership with national polling group Gallup.

The Indiana College Value Index, set to launch next spring, will seek to provide a clearer picture of the success of Indiana college graduates by asking them probing questions about their learning in college, career opportunities and long-term life satisfaction after graduation.

The project is about "measuring satisfaction in a comprehensive way," Lubbers said. That includes giving colleges actionable feedback they can use to improve their academic programs and arming prospective students with better information.
Grace College in Winona Lake is one of the schools participating in the Indiana College Value Index, which aims to offer a clearer picture of the success of graduates. (Photo courtesy of Grace College)
"We think it's indisputable that attending college has value," Lubbers said. "There are some ways we can make it a more valuable experience. We think that kind of information is important to put in the hands of the consumers."

Both public and private colleges are participating in the Gallup survey. On the list are Ball State University, Ivy Tech Community College, two Indiana University regional campuses, Purdue University's regional campuses, Grace College, Taylor University, Manchester University, Calumet College of St. Joseph and WGU Indiana.

Lubbers said she hopes to grow that list.

"It's conceptual in some ways," she said. "They're buying into the idea of doing this."

The state's initiative is in part inspired by Purdue University's work with Gallup through its Gallup-Purdue Index, an effort former Gov. Mitch Daniels has championed during his time as Purdue's president. Among that survey's 2015 findings is that graduates with student loan debt are postponing additional education and home purchases as well as putting off decisions to start a business.



The Gallup-Purdue Index "continues to highlight deficiencies on which we in higher education should be focused," Daniels said in a statement earlier this fall. "This year's results serve as another reminder that student loan debt can be a significant obstacle to a student's future success—and, in some cases, a long-term handicap."

Lubbers said Daniels' "willingness to use his national exposure on issues related to value and affordability and return on investment has been very important to the national discussion."

For schools participating in the Indiana College Value Index, survey results will eventually be melded with existing economic data on colleges through the commission's Return on Investment reports.

Among the possible survey questions: Did you receive support outside the classroom that helped you graduate? Did you graduate with the skills and knowledge you need to succeed at work? Do you find work fulfilling?

Anne Valentine, Ivy Tech's vice president for student experience and customer service, said questions like that will give colleges better insight into how their alumni are doing out in the real world—and how their college contributed to that—compared to a school's typical annual survey that asks whether graduates are employed and what their incomes are.

"When you run into someone you went to college with, this is more what that conversation really is," Valentine said. "Like, 'How are you doing?' This is a way for us to quantify that for our alumni."

Ball State's prime interest in working with Gallup is having more data to drive decision-making around student services offerings, said Sam Snideman, the college's director of government relations.

"One of the things we think we do well and certainly can do better at is preparing students for life after college," Snideman said. "If we're not doing as well as we hope, this will help us drive programming in ways that will remedy those deficits."

The survey could also provide a better picture of how Indiana colleges are meeting the state's workforce-development needs.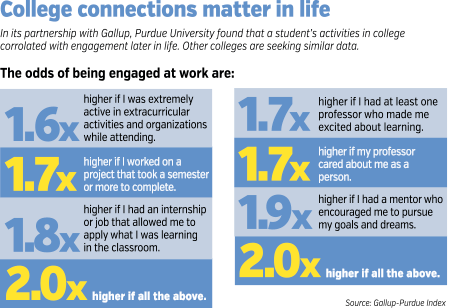 "Marrying personal aspiration and the need for economic opportunity with a state's economy and employers' needs—perhaps it's a new way of thinking, but it's an appropriate way to think," Lubbers said.

That's why online university WGU Indiana wanted to participate, said the school's president, Allison Barber. She said it's an appropriate time to "stress-test the model" in a collaborative way.

"Students should be really happy about that if they're going to invest the money and time to go to college," Barber said.

USA Funds, the Fishers-based not-for-profit that guarantees federally funded student loans, is supporting the higher education commission's work by substantially subsidizing the costs for colleges that participate. It's part of USA Funds' new focus on return-on-investment work.

"We've been talking about accountability in K-12 education for decades and now we're starting to get serious about accountability in higher education," said Derek Redelman, a senior program director for the group. "We hope the higher ed [sector] will pay attention to this, and where there are gaps, they'll try to address them."

A few colleges said USA Funds' willingness to subsidize the effort made the difference in their decision to participate.

Public colleges can sign up for the Gallup survey for a cost of $63,500 over three years. For private colleges, the three-year rate will be about $37,500 for a scaled-back report. USA Funds will pay roughly half the cost for each college.

Grace College, a private Christian college of about 1,750 students in Winona Lake, has been trying on its own to answer the question about value for prospective students. Drew Flamm, the college's vice president of advancement, said USA Funds' contribution brought that effort "into the realm of affordable and doable."

Over the last few years, the college has launched three-year degree programs, reduced tuition 9 percent, started giving students free book rentals, and has awarded students a retention bonus of $500 for each year they return to school.

The college also started an applied learning program to make sure students have meaningful out-of-class learning experiences.

Now, Grace officials say they're working with Gallup to make sure they're on the right course.

"We feel like Grace has done something unique in the higher education space to get at affordability, value and career-readiness," Flamm said. "Now we have the opportunity to validate that externally."•