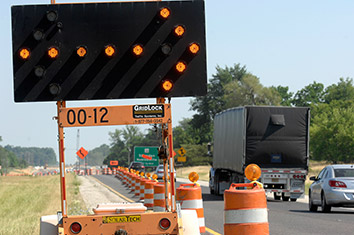 Indiana would receive at least $5 billion in federal highway money over the next five years to tackle infrastructure projects under a congressional compromise hammered out this week as part of a long-term reauthorization of federal programs.
The state would also receive about $500 million over the same period for public transit programs. Both houses of Congress still need to vote on the funding measure, with the House expected to consider it Thursday afternoon.
The House and Senate reached the deal this week on the $281 billion transportation bill that would increase spending to address the nation's aging and congested highways and transit systems—a legislative feat that lawmakers and President Barack Obama have struggled throughout his administration to achieve.
Members of Indiana's congressional delegation said the bipartisan compromise is not perfect. But Democratic U.S. Sen. Joe Donnelly said it is "without question the best solution to address our pressing need to repair Indiana roads and bridges and make sure that transit systems continue to run safely and efficiently."
The five-year agreement, unveiled Tuesday, also would put an end to the cycle of temporary extensions and threatened shutdowns of transportation programs that have bedeviled Congress for the past seven years, making it difficult for states to plan long-term projects. The need for infrastructure improvements has become a politically prickly issue in Indiana of late, too, and will likely shape discussions in the next two legislative sessions and in the 2016 governor's race.
"The bill will facilitate major state projects, such as I-69 Evansville to Indianapolis, and provide funding for bridge maintenance and repair," said Matt Lahr, a spokesman for Republican U.S. Sen. Dan Coats.
The offices of Republican U.S. Reps. Susan Brooks and Luke Messer said Indiana would receive a roughly $500 million increase over current spending under the so-called Fixing America's Surface Transportation Act, bringing the funding level to little more than $5 billion over the next five years.
Republican Sen. Dan Coats' office estimated that Indiana could receive as much as $5.5 billion—which includes the public transportation dollars. Other congressional offices said they were still reading the bill to try to make sense of what it would mean for the state.
State officials said late Wednesday that they didn't yet know how much Indiana would receive.
"INDOT is monitoring the federal highway bill and is still gathering information specific to Indiana," said Kara Brooks, Gov. Mike Pence's spokeswoman.
U.S. Rep. Andre Carson, D-Indianapolis, called the measure "far from perfect" but said it will provide "certainty" to state and local governments trying to plan their infrastructure spending. 
He cited U.S. Department of Transportation data that 25 percent of U.S. bridges need to be replaced. He said the percentage in Indiana is even higher, 38 percent.
The 1,300-page measure was "a mammoth task," said Sen. Barbara Boxer, D-California, one of the bill's key negotiators.
"I expect this bill to have a huge amount of support throughout the country from businesses and workers alike," she said in a statement. "Although it is not perfect, I believe it is a major accomplishment for our people who expect us to fund a top-notch transportation system."
The bill boosts highway spending by 15 percent and transit spending by 18 percent over its duration. It also authorizes $10 billion over five years for Amtrak, $12 billion for mass transit and $1 billion for vehicle safety programs. However, that money is subject to annual spending decisions by Congress rather than being paid for from the federal Highway Trust Fund.
"Indiana is the Crossroads of America," Indiana Rep. Andre said in a written statement. "Our roads, bridges and highways not only help support our national economy, they support countless Hoosier jobs by transporting goods and services produced across our state. That's why today I supported a five-year federal highway bill that puts in place policies to improve our nation's infrastructure and provide funds for Indiana's roads."
Carson, a member of the Emergency Management Subcommittee, said the bill included his amendment "to ensure that fire trucks and other heavy emergency vehicles are exempt from axle weight rules, allowing them to save time and money."
The bill still falls far short of the $400 billion over six years that Transportation Secretary Anthony Foxx has said is needed to keep traffic congestion from worsening, and it puts off the difficult decision of how to sustainably pay for transportation programs.
The federal 18.4 cents-a-gallon gas tax, the main source of Trust Fund revenues, hasn't been increased since 1993 and no longer covers annual spending on transportation.
The House and Senate must still vote on the final bill. Passage is expected by Friday, when government authority to process aid payments to states expires.
The bill is paid for through a series of revenue-raising provisions, some of which have been criticized as gimmicks and budgetary sleight of hand.
One of the hallmarks of the bill is the creation of new programs to focus transportation aid on highways regarded as important "freight corridors" in an effort to reduce major bottlenecks and speed the delivery of goods.
Please enable JavaScript to view this content.