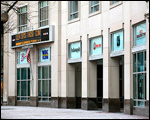 Emmis Communications Corp. has been warned that it is in danger of being delisted from the Nasdaq Stock Market, the Indianapolis-based media company disclosed Thursday.
Emmis said it received a letter from Nasdaq on Monday notifying the company that its stock had closed below the exchange's minimum $1-per-share requirement for 30 straight business days.
According to Nasdaq rules, Emmis has 180 days, or until June 6, to get back in compliance. To do so, Emmis stock must close above $1 per share for 10 straight business days before the end of the 180-day period. If it doesn't, Nasdaq will move to delist the stock.
Emmis shares closed Thursday at 68 cents each—the 34th straight trading day the shares have closed below the $1 requirement. The last time Emmis stock closed at $1 was Oct. 22.
The stock has fallen 64 percent since closing at $1.87 on the final trading day of 2014. It hit a peak of $2.20 this year on Feb. 23 and Feb. 24.
Without its Nasdaq listing, Emmis shares would be relegated to penny-stock status on the over-the-counter bulletin board or on the pink sheets. Once that happens, shares are harder for investors to buy and sell.
Emmis could avoid that scenario by launching a reverse stock split, a possibility the company said it was considering. A firm that did a one-for-10 reverse stock split, for instance, would give stockholders one share for every 10 they own. At Emmis' current price, a holder of 10 shares would end up with one share worth $6.80.
The situation isn't a new one for the company. Emmis has averted a delisting three times in the last six years. The company was warned about possible delistings in November 2010 and in October 2009, but its stock rebounded both times.
The company received another warning from Nasdaq in August 2011 and was granted an extension when it was still out of compliance six months later. Its stock finally bounced back above requirements in May 2012.
Emmis owns 19 FM and 4 AM radio stations in New York, Los Angeles, St. Louis, Indianapolis, Terre Haute and Austin, Texas. The traditional radio business has struggled in recent years as listeners moved to other entertainment and audio-delivery options.
"Broadcast radio has now entered a long-term decline similar to the one experienced by print media in the last 10 years and for similar reasons: reach and listening remains high overall but younger demographics become hard to reach as they shift to digital, mostly on-demand audio," international research firm Magna Global said this week in a report on the industry.
The report predicted radio advertising revenue would fall 3 percent overall in 2015, the same decline seen in 2014.
Radio revenue at Emmis was down 2.6 percent during the first half of this fiscal year, dropping from $92.6 million to $90.2 million.
Emmis said it foresees a rebound and is hoping for a boost from NextRadio, an application that that brings terrestrial FM radio to the smartphone.  
"We are optimistic that 2016 will be a better year for radio revenues, partly due to political advertisements," Emmis said in an email to IBJ on Thursday night. "While we expect our core radio business to benefit from the political tailwinds, we are also excited about the progress we are making with NextRadio and the promise it holds for long-term value for Emmis shareholders."
Please enable JavaScript to view this content.