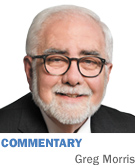 This is a big year for ensuring our future well-being as citizens of the United States of America. As President Obama delivers his last State of the Union speech, we find ourselves at a crossroads and in desperate need of a change in course.
As of this publication date, there are 374 days left until we inaugurate a new president on Jan. 20, 2017. So, in a little more than a year, the most divisive, ideological, activist president in my lifetime will finally leave office.
You would think with only 374 days left, a feeling of relief is in order. We can manage for that long. But the process of trying to keep his constantly evolving unconstitutional power grabs in check for another year could easily prove to be a daunting task. With this guy in charge, a year feels like a lifetime.
Actually, I don't think he's going anywhere after he leaves office. Why would he? He's relatively young as presidents go. He has a personal agenda to promote, and I predict he'll have a willing national media that will continue to look for every opportunity to put him on camera.
Have you noticed how each previous president finishes his term in office and retreats from the limelight—at least for a time—so the new president can do the job without interference from the old president? I predict Barack Obama will be the first president to break from this long-standing tradition. He'll remain very visible, questioning everything being done that doesn't fit his view of the way the world should be.
It could be like the movie "What about Bob?," in which Bill Murray, a disturbed patient of his psychiatrist, Richard Dreyfus, latches onto people and won't let go. There's a scene in the movie involving a blowup between doctor and patient, and Dreyfus kicks Bob out of the family lake house. Family members are trying to get Dreyfus to calm down, and one of them asks why he kicked Bob out.
Dreyfus goes berserk and screams, "You think he's gone. He's not gone. That's the whole point. He's never gone." Dreyfus opens the front door, and there's Bob still standing on the porch. Dreyfus shouts, "See!"
I'm having a recurring nightmare where, every time I look out on the porch, there's Barack Obama standing there. It would be really funny if the thought weren't so frightening.
All right, let's say we make it to next January's presidential inauguration. Who's going to be standing on the Capitol steps taking the oath of office? Hillary? The Donald? I can't even consider either possibility. Please don't put me in that position. I can't vote for either of them. If this is what comes to pass, I might have to make good on my threat to my wife that we need to sell everything and move to high ground in Montana. But whenever I mention this to her, she always says, "Good luck to you," so I guess that's not an option.
Seriously, folks. The next president cannot be Hillary Clinton or Donald Trump. You know, a very interesting thing has happened to me during the Obama years, and I wonder if others have had a similar experience. I've always considered myself a moderate when it comes to politics. Historically, I've never been too far off center. I don't like extremists in either direction. But to counter Obama's extremism to the left, I've been pulling for the far right to fight his ideology at every turn. My thinking has been, "Who better to keep an extremist in check than an extremist from the other side?"
But now that Obama is leaving office, that doesn't mean I want the person with the extreme view from the other side as my next commander-in-chief. It's all complicated and an interesting phenomenon as I try to work my way back to center.
In any case, this pre-election circus has to end soon and we need to get down to the serious business of electing a leader who can begin the healing process. A true leader who will start unifying this country instead of dividing it and return us to our rightful leadership role in the world. It could take decades to roll back the damage done in the past eight years. But this is a great country, and we will prevail again.•
__________
Morris is publisher of IBJ. His column appears every other week. To comment on this column, send e-mail to gmorris@ibj.com.
Please enable JavaScript to view this content.