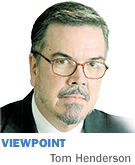 At first, I thought it might be like high-speed bumper cars: Just imagine 33 driverless cars careening around the Indianapolis Motor Speedway. Visions of the auto-cars from Google, Tesla, perhaps Toyota, BMW, Nissan, without a single human at the wheel! Would anyone pay for tickets to watch? Oh, yeah—how many gamers are there in your local social circles?

Thirty-three (or more) cars, being programmatically driven at the highest possible speeds around the four corners at Georgetown Road and 16th Street would pit the skills of engineers, software artists, plentiful pit crews and, yes, I believe plentiful fans.

Where's the glory, you might ask, as there are no fan-club patches and swag for Helio Castroneves, an Andretti family member, or even a Jeff Gordon? Ah, that's where the fun comes in. This is a game of technology. The drivers of IMS winning cars use huge physical strength, split-second decisions, and not a small amount of guts to win a race at The Track. They have huge fan clubs. And we need their skills to mate with the programmers of the world's driverless cars.

It's time to consider that, not only is technology evolving, but people are having a blast with the possible futures. Hybrid- and electric-car makers have spawned huge market caps. Municipalities are investing in rapid chargers and special parking and parking-place-position exemptions for zero-polluting cars, and auto-cars are even getting tickets. Well, perhaps the tickets are for going too slowly, as media stories have charged. No one has a track or test regimen for these. Instead, at most, you currently get a bland statistic about an electric car's all-important range.

But Tesla has an insane mode. Untold amounts of torque can rocket one of their models to insane, clearly illegal speeds. It pushes you so far back in your seat that you can feel your cheeks pull backward like the famous pictures of pilots of rocket sleds.

If you know any online gamer, you know the skills and cooperativeness, not to mention tiny incremental technological edges, they employ to win. Indy is all about winning, whether it's the IMS, the NHRA Drags in Clermont, Sprints on Kitley, or even the Colts, Pacers, Racers or NCAA Final Four tourneys. Most counties in Indiana have drag strips or sprint tracks or more. It's what we do, sometimes even on I-465.

It's time to consider: Just how fast can that electric car—on Outrageous or Insane mode—really go on a five-mile track? How long is that battery pack going to last with an intense center of gravity unlike any four-wheeler that's been on the 16th Street track in decades? How fast can we actually top up a battery in the pits? Who can propel an electric car, full of pulsing batteries, down the track? Imagine: You could go to race day and leave the earplugs at home!

Here's my great fear: Indianapolis fails to capture the imagination, creativity, business ecosystems and mind share of what must become a new version of racing machines—those with different engines for a different era—and perhaps driverless/semi-driverless vehicles that have but one mission, to cross that finish line first.

We cede the title of Racing Capital of the World, unless we grab it back from proving grounds now growing up in other states and areas—like California.

Racing has helped build the reputations of Indianapolis and Indiana and also its myriad transportation businesses. I'm guessing a new generation of racers is willing to take the wheel—even if it's electrically powered or the "drivers" are a group of programmers operating a remote control.•

__________

Henderson is managing director of ExtremeLabs Inc., a local computer analysis firm.